Sweet
By
Kim L.

(Lynnfield, MA) - September 18, 2013 (
See all reviews by this customer
)
I found this to be constructed well, and it feels like good quality workmanship. Although this is small, it is exactly as the measurements describe and is commensurate with the picture of it atop the jewelry box in the ad.

I was happy with my purchase but wish it were offered in other colors.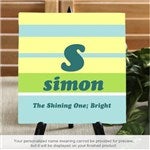 Adorable!!!
By
Shopper

(EATON RAPIDS, MI) - August 5, 2013
I ordered this for my niece's son's baptism. I also got the easel to go with it. The canvas colors are bright & vibrant & I think it's a wonderful, personal gift. I love giving gifts that are not only personal, but that will become a treasured part of their history.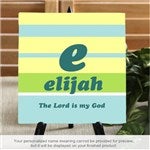 Perfect baby gift
By
Shopper

(Roanoke, TX) - July 9, 2013
I love that you get to choose the meaning of the name...wording is important!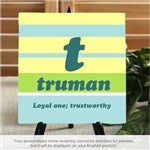 Great gift!!
By
Shopper

(Citrus Heights, CA) - May 25, 2013
I couldn't have purchased a more perfect gift for a christening. The parents of the recipient couldn't have been more pleased.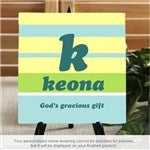 FABULOUS!!!
By
Martina W.

(Jeffersonville, IN) - March 16, 2013 (
See all reviews by this customer
)
AS Always NEVER disappointed by my purchase! This canvas is perfect!!!! Sleeper was great too, wish sleeper would have been available in smaller size but engraving was perfect and quality!!! I will return!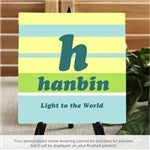 Wonderful gift
By
Cindy C.

(Chicago, IL) - December 30, 2012 (
See all reviews by this customer
)
My friend absolute loves this gift. In fact, when she had her second child, she asked where I ordered the one for her first. Little did she know that the one for her youngest was already on it's way!

I Love Them!
By
Shopper

(WHITE LAKE, MI) - November 27, 2012
I ordered three of these for my friends for Christmas and I just received them today. They look amazing!! The size is perfect and it just looks great!! I cannot wait to give these to my friends; they are going to love them!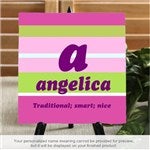 Great price!
By
Danielle A.

(Valdosta, GA) - August 1, 2012 (
See all reviews by this customer
)
Great item for a great price. Looks very cute!

Very nice
By
Pam H.

(Temple, TX) - February 21, 2012 (
See all reviews by this customer
)
Well pleased with this item. Quality is very good and the delivery time was actually sooner than I expected.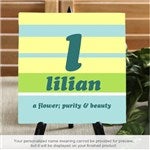 Cute addition to daughter's room!
By
Grace M.

(Weddington, NC) - February 17, 2012 (
See all reviews by this customer
)
This is a very sweet personalized piece of art to hang in a child's room! I changed the meaning of my child's name because I did not care for what came up when I entered it (A quick online search of her name gave me several other descriptions to choose from), and I like that I was able to override it with my own personal words. My only caution to a purchaser is that this canvas is very small (less than 6 inches squared), so don't expect it to fill a wall space. In fact, I chose to hang it in her bathroom because the walls were much smaller. Putting it on the recommended stand to sit on a dresser would probably be perfect too. Still it was worth the price & looks good!

Excellent
By
Shopper

(Kaukauna, WI) - December 30, 2011
This gift was perfect for our daughter whose room we are about to re-decorate using the colors in this plaque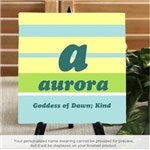 sweet!
By
Shopper

(west chester, PA) - December 11, 2011
i purchased this for my granddaughter and wrote my own meaning for her name. it is very sweet, will look great in her room.

Crazy for Stripes
By
Shopper

(Indianapolis, IN) - October 3, 2011
I was very pleased with the item...gave it as a baptism gift. The gift was well made.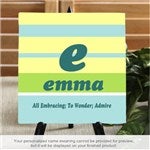 NAME MEANING CANVAS
By
Mike M.

(Escondido, CA) - April 10, 2011 (
See all reviews by this customer
)
OUR GRAND-DAUGHTER THOUGHT THIS WAS AWESOME AS IT RELATED THE MEANING OF HER NAME! SHE IS HANGING IT ON HER WALL IN HER BEDROOM.



great gift
By
Stefanie B.

(San Diego, CA) - March 31, 2011 (
See all reviews by this customer
)
I purchased two of these as a gift and was pleased with how good they looked when they arrived. The canvas was high quality and colors true to the pictures on the site. I would recommend this product.

great gift idea!
By
Shopper

(chicago, IL) - February 11, 2011
I received the order 2 days after placing with normal delivery!! I read the reviews and knew it was smaller than appears...quality is great and would order again. Recomend entering your own name meaning.

I love them
By
Kerry M.

(Rochester, NY) - November 16, 2010 (
See all reviews by this customer
)
I was very please and happy with the producted. It was at my house within 5 to 7 days of when I ordered it. To be honest I was surprised when I saw it outside my house door.
Thank you! I already have them hung up and they look GREAT!! It is just what I was looking for!!

Thanks! I will be back to order more!!

My daughter loved it!
By
Tracey D.

(Alpharetta, GA) - November 10, 2010 (
See all reviews by this customer
)
My teen daughter loved the name meaning canvas and easel. She has is displayed on desk next to her laptop. Also green and blue are her favorite colors.

Great gift
By
Tabitha D.

(Shelbyville, KY) - September 20, 2010 (
See all reviews by this customer
)
Just what I wanted...

Unique
By
June B.

(La Verne, CA) - September 8, 2010 (
See all reviews by this customer
)
My friend just turned 91 years old. I just didn't know what to get for her but when I saw this; it was perfect. Thank you so much.

Adorable!
By
Kimmarie B.

(King City, OR) - August 1, 2010 (
See all reviews by this customer
)
An adorable and well-made keep-sake or gift for anyone. We gave it as a gift for a new baby and the parents loved it. The colors are bright and vibrant (we go the purple, green & pink one) and the quality is great.

Birthday Gift
By
Randi R.

(Wichita Falls, TX) - July 13, 2010 (
See all reviews by this customer
)
I bought this for my 8 year old niece's birthday! She turned 8 years old this year and has a beautiful princess styled room....so the pink/purple/green canvas was great! She's definitely a special little girl after 2 open heart surgeries and finally a heart transplant....I wanted her to know the meaning of her name which was "Sturdy & Strong" so she would be reminded everyday that her name was truly God given! I don't always get to see her b/c I'm still working on a Masters and in school and live over 6 hours away...so it was nice and extremely convenient to have this ordered and shipped within a few short days! She called me the day she got it and was thrilled! Her mom (my sister) hung it up in her room and it's been a family conversation piece! Thanks for a great item and making a little girl's birthday very special!!! ~Aunt Randi~

Name Meaning Canvas
By
Judy L.

(Canada) - July 3, 2010 (
See all reviews by this customer
)
LOVED IT!!! it's so sweet.... I got "a ainsley" and wrote "sweet little sister"...instead of a name meaning! I can't wait to hang it on her wall.

5 stars
By
Natasha F.

(Baltimore, MD) - June 2, 2010 (
See all reviews by this customer
)
I'm very satisfied with my purchase. The canvas has a very nice, authentic texture. It is small, but because I'd read the reviews before I purchased, I wasn't surprised or disappointed. I actually think it is a very appropriate size for a small child's room.

A DeVinci!
By
La Verne B.

(Mokena, IL) - January 7, 2010 (
See all reviews by this customer
)
For the money, I think this is unique. I am giving it to my grandaughter for her 17th. Birthday. I just hope she thinks of me everytime she looks at it! I had them print Loving/Strong Will which is what she is!

Perfect Gift
By
Debra K.

(Big Spring, TX) - December 28, 2009 (
See all reviews by this customer
)
I ordered this for my daughter and was so impressed with it when I saw it. She loved it too. It was so much better than I expected and we both love it. Thank you.