Dee
By
Shopper

(Poway, CA) - September 1, 2014
The necklaces and engraving are beautiful. (even prettier in person!) They shipped quickly! Company responded to my questions immediately. I highly recommend and will use them again!

Great gift
By
Shopper

(Odessa, FL) - September 1, 2014
Name was very legible on tiny shoe!

Favorite Necklace
By
Shopper

(Miami, FL) - August 23, 2014
I purchased this necklace for myself after my second child and it is my favorite necklace to date. It is beautiful and simple but definitely admired by all who see it. I have received countless compliments on it and it is a beautiful reminder of my precious babies. Just beautiful!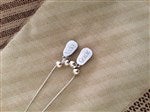 Little Shoes
By
Kathleen A.

(Freehold, NJ) - August 19, 2014 (
See all reviews by this customer
)
I purchased both a pink & blue shoe with my Grandchildren's name engraved on bottom. I put both shoes on my pandora bracelet. They look adorable!

Perfect First Mom's Day
By
Jeammie R.

(Grand Prairie, TX) - May 24, 2014 (
See all reviews by this customer
)
The necklace was a perfect gift for my sis in law's first moms day who just had twin boys. The quality was remarkable. I will reorder for myself and other new moms in the future.

Mother's Day
By
Jeff P.

(Manteca, CA) - May 18, 2014 (
See all reviews by this customer
)
Got this for my wife for our first born, she loved it so much she was in tears. The personal touch is what makes it so special. Highly Recommend.

Absolutely Beautiful !
By
Lynn S.

(Phoenix, AZ) - May 17, 2014 (
See all reviews by this customer
)
Momma to be loved them. She was so excited all of this is real (twins) and is so overwhelmed by having the babies names on the booties. High quality but the chain was a little short so she put them on her longer one. Looks Awesome !!!

baby bootie
By Shopper (glens falls, NY) - May 3, 2014
I have bought the baby girl bootie for a friend who had a baby sister die, I had it engraved in memory of and I thought it came out great, so now I AM ordering the necklace for someone else I have been very happy with all the stuff I have ordered so far, just wish I got a discount with all the stuff I have ordered, I bought my mom a beautiful nana bag with all my kids name on it also and that is great quality also.


Baby Bootie Necklace
By
Shopper

(New Port Richey, FL) - April 29, 2014
The necklace and booties are shiny, spelling is correct and spacers make it look very nice. Great product!

Excellent
By
Shopper

(miami, FL) - April 29, 2014
The necklace is very nice and very good quality. I loved it. Everything, I've done on this site is wonderful.

Just as pictured
By
Sarah D.

(Carmel, IN) - April 20, 2014 (
See all reviews by this customer
)
The necklace came quickly and it looks just like I expected! The chain is also high quality.

Great Gift
By
Shopper

(Bronx, NY) - February 17, 2014
I started buying these for my family and friends every time they have a baby. The first one I bought was 5 years ago. They are all still looking great. Everyone loves them. Thank you for a great product. Everything I've gotten from your site has been outstanding in quality, style and price.

Cute
By
Leony L.

(New jersey, NJ) - December 29, 2013 (
See all reviews by this customer
)
Very cute i wish its a lil bit cheaper than orig.price.

Great quality and quick service
By
Shopper

(apopka, FL) - December 28, 2013
The blue bootie necklace was received much quicker than I expected. Especially since it was personalized. Even more surprised when I opened it and saw the quality. Just wish the chain was a little longer. A beautiful gift for a new mother.

Baby Bootie Necklace
By
Shopper

(NORTHERN CAMBRIA , PA) - December 14, 2013
This is for my daughter. First time grandma. The bootie is so sweet,done nicely necklace nice too.Only thing baby's name so long I had to have initials put on instead of name.But it's a very nice product

Love it!!
By
Dana H.

(Rocky Mount, NC) - December 8, 2013 (
See all reviews by this customer
)
I love the necklace! This is actually the second one we purchased. I received one for my birthday with one for my son and one for my daughter. The shoe charms are so cute and the engraving came out perfectly. My daughter loved mine so good she wanted one too so we got this for her for Christmas and engraved "sister" on hers. As always shipping was fast and just as scheduled.

Very Pleased
By
Shopper

(Powell, OH) - September 30, 2013
I was very pleased with the quality of the necklace and baby bootie. The engraving was great. My only suggestion is that the necklace should come in various lengths. I needed to purchase an extender for this item.

love them
By
Shopper

(Glasgow , KY) - August 26, 2013
I ordered 2 of these baby booties with my sons names on them. I thought they were so cute online but the online photo does them no justice as to how beautiful they are in person.They look so expensive yet are anything but. Though i was unhappy it took them 7 days to ship out i was thrilled to receive them only a couple days latr.And i must admit that when i took them out of their lil pouch,i cried bcuz they touched my heart so much.I Will be recommennding them to everyone ik with children,moms to be,moms who have lost a child/children or for anyone who just wants alil something cute with a childs name on it

Absolutely adorable!
By
Sue W.

(Hoffman Estates, IL) - August 10, 2013 (
See all reviews by this customer
)
I loved this necklace when I saw it in the photo and read the reviews, but when I got the two I ordered, I was ecstatic. The engraving is perfect and the weight is heavy and sturdy. Even the chain, which I was expecting to replace, was really nice. I LOVE this purchase and have two more ladies I think it will be perfect for, so I will be ordering again.

She cried!
By
Shopper

(Philadelphia, PA) - July 5, 2013
My cousin had twins after some difficulties. These charms on these necklaces are such the perfect size that she can wear it daily. She was elated and had me put it on here right then and there. Others saw it and they have ordered these as well.

perfect for me
By
Nanci D.

(Boise, ID) - June 4, 2013 (
See all reviews by this customer
)
I love these and as a new gramma am proud to have my pink and blue shoes for my first two grandchildren. It's a great value with the included chain and silver balls... any mom, aunt, or grams will be delighted! I might figure a way to attach them to my Pandora bracelet and I'll definitely purchase more shoes as the grands continue to come. I recommend this with or without the engraving! (which is nice and FREE)

So adorable for Grandma's as well as mom's!
By
Anissa G. N.

(North Aurora, IL) - May 30, 2013 (
See all reviews by this customer
)
So cute and well made! Fits on the Pandora bracelet's too! I bought 3! One for me and one for each of my daughter's Grandmothers and they LOVED it!

Awesome Keepsake for Moms and Grandmothers
By
Rebecca B C.

(Friendswood, TX) - May 18, 2013 (
See all reviews by this customer
)
These sterling silver booties are so cute and well made. The free engraving on them makes them so special for both mothers and grandmothers. These are also great as gifts for friends who have just had babies. The price is really reasonable so you can afford to order plenty of them for friends and family. I highly recommend ordering these - you won't be disappointed. The engraving is lovely, not a poor job -----but pretty and clear and easy to read. These are some of the best gifts I have ever ordered.

great idea
By
Shopper

(Manhattan, IL) - May 13, 2013
I got this for a mom to be it was a lovely gift she loved it

great gift
By
Shopper

(Kansas City, MO) - May 11, 2013
The engraved baby bootie pendant is beautiful. I had looked at other websites but this one was a better price and high quality. I would highly recommend this and was amazed how fast I received it.

One of the best gifts I've ever given
By
Shopper

(Jacksonville, FL) - March 25, 2013
I bought this for all the moms within my close knit circle... Nothing but praise and tears received. Love the design, love the quality. Perfect! Would buy again and again

Baby Bootie Charms
By
Michelle F.

(Canton, MI) - January 21, 2013 (
See all reviews by this customer
)
I love these charms. I have 3 grandchildren and one on the way and I get one for each one as they are born. They are great quality, the personalization is very clear and well done.

Beautiful!
By
Teresa H.

(Trinity, NC) - October 15, 2012 (
See all reviews by this customer
)
Ordered this to help my son-in-law who wanted a special "push" present for my daughter after she delivered their twins. He was amazed at the quality for the price, and I thought it was beautiful as well. I can't wait to here what my daughter thinks! It is a necklace anyone would be proud to wear!

Gift for daughter
By
Elaine R.

(Houston, TX) - October 14, 2012 (
See all reviews by this customer
)
Excellent quality. Purchased as a charm. My daughter added it to her bracelet. First grandchild. Needed one more character space for name. Instead had to use initials.

Perfect gift for mom
By
Shopper

(West Point, NY) - September 18, 2012
I have six children and I have a personalized bootie for each child. I absolutely love these little charms. I wear them on my necklace and get so many compliments. The chain that comes with it is not very strong and did not last, however, I replaced it with a much stronger one. The oldest charm is 7 years old and the newest just arrived last week. They all still look great and have lasted through a lot of wear. This is a great gift for any mom, but especially, the new mom. I personally, bought each bootie as a gift to myself after each baby was born!

Adorable
By
Shopper

(Londonderry, NH) - August 20, 2012
This little charm with babies name on it thrilled my daughter when I gave it to her. She now has 2 (gave her same one for her daughter a few years ago) She wears them on a white gold chain and they look adorable. Love your products. THank you!

memorial
By
Tina D.

(Burr Ridge, IL) - August 20, 2012 (
See all reviews by this customer
)
I an very happy with my shoe. I have a blue one for my grandson and now a pink one for my granddaughter. Both now up in heaven

So adorable!
By
Jeannie M.

(Knoxville, TN) - August 18, 2012 (
See all reviews by this customer
)
These booties are so cute. The only negative comment I have is that the name can not have more than six letters. Had to use the middle name of one of the children instead of the first. Overall very satisfied.

Gift for Mommy
By
Erin R.

(Holland, OH) - August 1, 2012 (
See all reviews by this customer
)
My daughter loved this!

Mother's day approved
By
Shopper

(New Castle, DE) - May 14, 2012
perfect gift to a mother she can were with a nice necklace

Great Mother's Day gift!
By
Shopper

(Chattanooga, TN) - May 13, 2012
I bought these for both my mother and mother-in-law, and they both absolutely loved it. The necklace is of good quality, and the monogramming was great too. All in all, a great success for Mother's Day this year.

LOVE IT :-)
By
lazette T.

(jacksonville, FL) - May 8, 2012 (
See all reviews by this customer
)
I PURCHASED THIS ITEM FOR MY SISTER'S FOR MOTHER'S DAY MY HEART MELTED WHEN I SAW IT IN PERSON I SO WANT ONE FOR MYSELF SO I BROUGHT ONE FOR ME I LOVE THIS GIFT A MUST BUY PERSONALIZATION MALL YOU DONE IT AGAIN YOU GOT A CUSTOMER FOR LIFE.

love it!
By
Sandra L.

(Boonville, NC) - May 8, 2012 (
See all reviews by this customer
)
Fast service, loved the item even more than I thought I would, great.

Beautiful and Worth the Price
By
Shopper

(Monroe, NY) - May 8, 2012
So adorable and engraving looks great!

Perfect Mother-to-be Mother's Day Gift
By
Shopper

(Carrollton, TX) - May 4, 2012
This little engraved bootie is perfect for a mother-to-be's 1st Mother's Day gift. A little treasure to have for years to come. It arrived very, very quickly in a nice little nylon pouch.