Awesome gift idea
By
Shopper

(Lake City, FL) - September 25, 2014
I ordered this photo box to be given to my sister from her husband, she absolutely loved it!!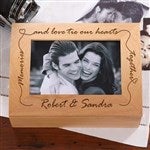 Very well made, makes a great gift
By
Marilyn B.

(Pequannock, NJ) - August 23, 2014 (
See all reviews by this customer
)
This box is very well made, is a good size, and looks exactly as pictured. I will be very satisfied when giving this as a 10th wedding anniversary gift.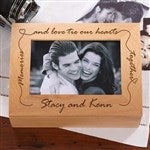 Happy couple
By
Shopper

(Kenilworth, NJ) - June 11, 2014
I gave this to my son and future daughter-in-law as an engagement gift. They both loved it. It was really nice looking (not cheap looking).The box was actually bigger than I thought. They were very happy.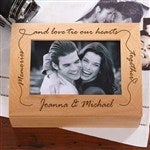 Great Product, Fast Shipping
By
susan T.

(Monticello, IN) - May 22, 2014 (
See all reviews by this customer
)
Beautiful box, perfect gift for newlywed couple. SUPER FAST Shipping. I ordered this item on Tuesday afternoon and had it in my hands at 8:30 Thursday morning.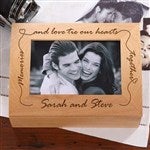 Loved it
By
Sara O.

(Van Nuys, CA) - April 14, 2014 (
See all reviews by this customer
)
Bought this as a gift. I did not see the actual item, since it was shipped directly to the person, but they said they loved it. The person I sent it to is pretty direct and would tell me otherwise, so I believe them. :) I would recommend it. :)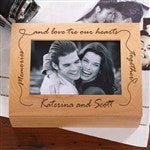 My wife loved it!
By
Karen S.

(Martinez, CA) - March 2, 2014 (
See all reviews by this customer
)
My wife has always liked boxes but she especially liked this one and plans to keep special treasures in it.

Wonderful Gift
By
Shopper

(El Paso, TX) - February 24, 2014
The photo box arrived on time with no flaws! My girlfriend loved the box and put it to use immediately. The engraving on the box was beautiful too. This gift was worth the price.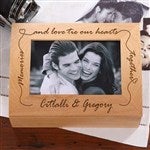 Excellent quality my wife was delighted!
By
ED A.

(TRUMBULL, CT) - February 21, 2014 (
See all reviews by this customer
)
I thought that this photo box would be something lasting and more thoughtful than to buy a dozen roses or something similar.

I picked a hundred or so photos of our wedding, stages of family life, grandchildren etc. from my photo gallery and ordered 4x6 prints to pick up at the local Walgreen's and put them in the box.

My wife, expecting to find a box of candy, was delighted when she opened the gift wrapped photo box. I will hard pressed to come up with something to match this next year.

The box was of excellent quality, I believe it is made of cherry wood. The finish is excellent. I know quality, having manufactured and sold quality furniture for over 40 years.

A nice enhancement that might be considered is to allow for a photo on the inside of the lid as I have stuck in place in the attached photo.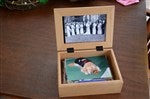 Photo box
By
Shopper

(waterbury, CT) - February 21, 2014
Love it. Perfect for what I want it for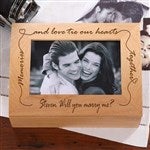 better than expected
By
Shopper

(wanatah, IN) - February 17, 2014
This was the perfect valentine gift for my boyfriend. He loved it, I love how it turned out. Would definitely recommend this site to other people!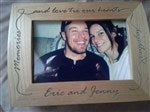 Great gift
By
Melissa G.

(Jaffrey , NH) - February 16, 2014 (
See all reviews by this customer
)
Memory box was made with care with fine engraving

Excellent gift
By
Linda D.

(Blair, NE) - February 12, 2014 (
See all reviews by this customer
)
Ordered this for my friends 25th anniversary. I went to the party and took pictures. I then got them developed next day and put them in the memory box. Great gift for them to see the special family photos and to add special ones going thru their life.
I ordered this on a Saturday and I was so excited that it was at my house by the next Wednesday or Thursday before the event on Friday! That was wonderful--so excellent delivery and a beautiful gift.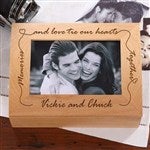 Beautiful keepsake photo box!
By
Medy S.

(San Jose, CA) - January 25, 2014 (
See all reviews by this customer
)
This is the second box I purchased, it is beautifully and well made. The first one is a gift for my son and daughter in law for their anniversary. I know its for a couple, but I wanted one for myself. I personalized it with my name, and it turned out really nice. The engraving was perfect. A lot of room for anything and a treasured keepsake box that will last a lifetime! I recommend getting this. Thanks again for another great product.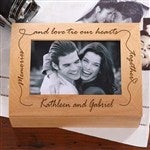 Attractive
By
Eleanor S.

(Fresno, CA) - December 14, 2013 (
See all reviews by this customer
)
This photo box was just right to include as part of a wedding gift.
Good quality and the engraving is excellent.

Personalized Photo Box
By
Shopper

(Neshanic Station, NJ) - November 3, 2013
good price good quality great service

Great Buy
By
Shopper

(Lincoln, NE) - September 15, 2013
This is a great buy! I looked around at several different websites before puchasing this item. It is of great quality and the laser engraving was done really well! I ordered this as a surprise for my boyfriend (who used to be a laser engraving superviser), and he is thrilled with the purchase! He thinks that personalizationmall did an excellent job. I have always had success with this company (I have purchased about 10 items so far).

Beautiful!
By
Melody K.

(Pearl, MS) - March 9, 2013 (
See all reviews by this customer
)
I ordered the box as a gift for my husband. He loved it and so did I. It was beautiful! I was very impressed! It is certainly worth the buy. I don't think you could find any type of keepsake box so pretty and well made, for the price, anywhere else!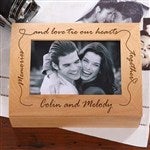 LOVE IT!!!!
By
Leslie P.

(Bassett, VA) - March 5, 2013 (
See all reviews by this customer
)
I bought this as a wedding gift and loved it! Makes me want to get one for myself now. Looks even better in person than in the picture!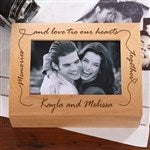 A beautiful Maid of Honor gift
By
Pamela E.

(Minneapolis, MN) - December 16, 2012 (
See all reviews by this customer
)
I ordered this memory box as a gift for my maid of honor in my wedding, for her to keep treasured photos and keepsake memories. The product arrived quickly, was accurately personalized, and really looks well made and of good quality. It was an affordable, personalized gift option that really brings quality and sentiment to my gift.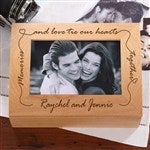 Quality attractive gift
By
Sharon C.

(Berryville, VA) - December 13, 2012 (
See all reviews by this customer
)
The construction and engraving of this box is very good. It is attractive, sturdy and just the right size -- not too big or too small. My husband loved it!

Great gift!!
By
Julie J.

(MONROE, LA) - November 2, 2012 (
See all reviews by this customer
)
I love the personalized memory box. Great quality and the engraving in the wood was awesome. Will definitely by from you again.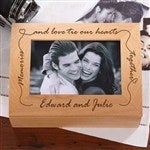 Beautiful Keepsake
By
Shopper

(Prineville, OR) - July 2, 2012
I purchased this for my Granddaughters Wedding. It is so nicly made, no staples or glue. Just perfect for her keepsakes and treasures. I am writing a "Special Letter" from Grandma and putting it in the box along with a gift card for them. I know they will love this Memories & Love Photo Box. Their names are so nicely done. It is just beautiful! I will be ordering from Personalization Mall.com again!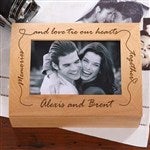 Good quality
By
Shopper

(Post Falls, ID) - June 6, 2012
The wood was nice and the engraved words looked good! I filled it with pictures for my best friend and it made her cry.

Great Gift
By
Shopper

(georgetown, DE) - March 26, 2012
I was looking for a little something different for a wedding gift, and this was perfect, and a great price. Very happy with this product.

High quality must-have keepsake
By
Shopper

(Bloomington, MN) - March 4, 2012
Love it!! Received item yesterday & have to agree with the others--the workmanship is top notch! Very high quality & the size is just right. I got this for myself to hold my boyfriend & I's momentos. He doesn't think I save anything of ours but I have been & will show this to him one day when it's full:) Perfect gift for yourself or your loved one. Highly recommend.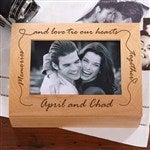 Wonderful gift
By
Sharon R.

(Portland, OR) - March 3, 2012 (
See all reviews by this customer
)
Personalizing gifts is as cheap as going to the main stream retail stores...they are more of a keepsake plus so personal to the receiver.

Surprised & pleased
By
Shopper

(Crystal Lake, IL) - February 24, 2012
The photo box is made out of quality materials. Workmanship is excellent & laser etching exquisite. It looks even better than the picture.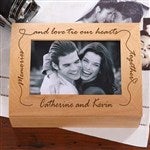 Very pleased
By
Shopper

(oshkosh, WI) - February 19, 2012
I got this for my boyfriend for valentines day, all the pictures we have that are not in frames just lay around the house in piles. It was perfect and he loved it! The engraved names add the perfect touch!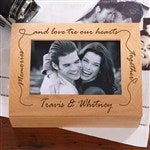 How you use the product
By
Shopper

(Oak Lawn, IL) - February 14, 2012
Came very quickly and was EXACTLY what I wanted. I gave it to my goddaughter for her christening gift instead of a couple and just had her full name engraved on the bottom. Now she has a keepsake box that she can hold on to forever. Was very, very happy with this purchase and it makes an excellent gift for anyone since any name (couple or not) can be engraved on the bottom.

Great Valentine Gift
By
Kristen G.

(Stony Brook, NY) - February 14, 2012 (
See all reviews by this customer
)
This item looked nice on line, and was just as promised when I got it. I got if for my boyfriend to hold love notes that I leave him. He has kept them all and I find them stuffed in drawers around the house. This makes nice little place to store them. I love the fact that you can see what your engraving looks like on the box before you purchase it.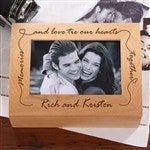 Very nice gift
By
Shopper

(Canada) - February 4, 2012
Happy with purchase - makes nice wedding or anniversary gift.

Memorable Keepsake
By
Samilla S.

(Houston, TX) - January 31, 2012 (
See all reviews by this customer
)
I purchased this box for my boyfriend to place our date night photos, movie tickets, etc in and he smiled ear to ear! The box is well put and so classic! It's made very well and we both love it!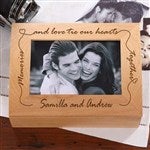 Awesome
By
Shopper

(Cortland, NY) - January 31, 2012
Very pretty and good quality. Amazing price

Personalized photo box
By
Shopper

(Ormond Beach, FL) - January 21, 2012
Very happy with the quality of this item and fast service.

Perfect Gift!
By
Shopper

(Diamond Bar, CA) - January 13, 2012
I decided to purchase this for my boyfriend of nearly 3 years for Christmas. He really didn't have a place to put all of the ticket stubs, photos, and the cards that I have made for him over the years. When I found this Personalized Photo Box, I knew it would be perfect. I had also gotten him some other things as part of his gift, but he said the box was his favorite part.

Quality Engraving
By
Donna M.

(Watertown, CT) - January 9, 2012 (
See all reviews by this customer
)
The item was on sale which was a big plus. It did not take long to arrive. The product was quality and the engraving just right.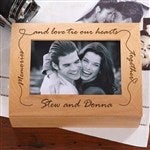 Great Gift
By
Shopper

(Clearfield, PA) - December 15, 2011
Very nice peice.

The Perfect Wedding Gift
By
T.J. S.

(napa, CA) - December 6, 2011 (
See all reviews by this customer
)
I'm a wedding photographer and I love the "Our Memories of Love" photo box. The personalized engraving and photo opening allows me to customize the box for my brides. Their feedback has been so positive. I'm certain that the Memories of Love box is leaving a wonderful impression with them.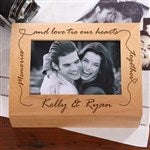 Beautiful box
By
Melissa T.

(Dublin, OH) - November 4, 2011 (
See all reviews by this customer
)
My boyfriend had got me so many cards and notes and such that I wanted a special place to keep everything safe! I saw this photo box and decided to get it, it is so beautiful and I can fit almost everything in it.

5th year Engagement Gift
By Shopper (San Antonio, TX) - September 12, 2011
Wonderful box, high quality.