Great gift
By
Shopper

(North chicago, IL) - August 24, 2013
This item was the best gift I have given to my boyfriend. The quality was beyond excellent and even thought it was a little small, it was the size I wanted. Personalization Mall also had amazing customer service. Since the pictures didn't come out perfect the first time, without any hassle they asked me for the pictures and redid the entire thing with the corrections I had noted out perfectly for free. I will definitely be using this website for future gifts knowing that they have such high quality products and great customer service!

excellent
By
Shopper

(Jonestown, PA) - June 3, 2013
I wanted this to be bigger pictures and was worried they were too small, but they are fine. It is actually much nicer than I anticipated and I love it. He is deployed and we didn't know what to get him and this is perfect. I can not wait till he receives it to see what he thinks. I will definetly get more for Christmas gifts.

LOVE IT !!!!!!
By
Becky H.

(Bronx, NY) - May 28, 2013 (
See all reviews by this customer
)
This item is beautiful. I love the folding and I love you can put 3 different name, words, phrases, etc. I bought two already and will definitely be buying more.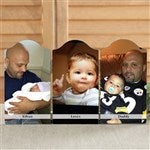 Great product!!
By
Trishia P.

(Rocklin, CA) - May 14, 2013 (
See all reviews by this customer
)
I got this frame for my mom for Mother's Day. I have three kids so this frame worked out perfect! It was easy to upload the pictures from my iPhone. The quality was great! The frame dimensions are listed, but it was a little smaller than I thought. Still perfect for a desk or bookshelf presentation! I'm very pleased with my purchase :)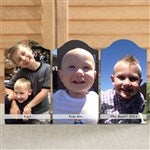 I cryed when I saw it
By
Shopper

(tarentum, PA) - November 27, 2012
I love this, I got my Cloe's photo on this. She passed away Nov 1, 2012.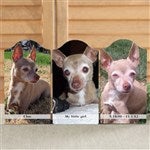 Wonderful gift
By
Dawn D.

(Rancho Mirage, CA) - August 1, 2012 (
See all reviews by this customer
)
My son had the immense opportunity to play golf with 2 great legends. This was the perfect item to immortalize the event. I have ordered over 20 of these to give as gifts and everyone raves about them. They are a wonderful keepsake. I highly recommend not only this but all of personalization malls items. I have ordered baby gifts, wedding gifts, personalized blankets, etc and everyone is always so impressed and they want to know where I got the items from. This is my top shopping spot. The quality of all the items I have ordered is excellent!

Perfect!
By
Nicole B.

(Santa Cruz, CA) - March 26, 2012 (
See all reviews by this customer
)
Exactly what I needed! Perfect size for my desk!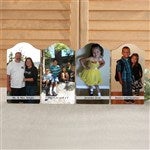 adorable!
By
Karen L.

(Belle Plaine, KS) - December 19, 2011 (
See all reviews by this customer
)
I cant wait to give this to him on Christmas!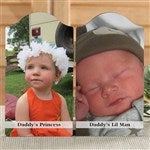 Very Nice
By
Danielle N.

(La Crosse, WI) - December 17, 2011 (
See all reviews by this customer
)
I recently got married and ordered this as a xmas gift for my sisters. I used wedding pictures and am so happy with the way it turned out. They are my step sisters so across the bottom I put 'it's the hart that makes us a true family'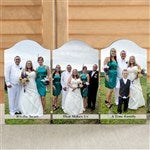 Wonderful
By
Shopper

(Moreno Valley, CA) - October 1, 2011
Just wonderful pictures work well done and will order this product again.

MORE THAN SATISFIED
By
Shopper

(Canada) - July 5, 2011
WOW I AM SO AMAZED.RIGHT ON TIME.MY HUSBAND LOVES IT(LET'S SAY THE WHOLE FAMILY)
THANK YOU.BIRTHDAYS,ANNIVERSARY ARE COMING UP...IT'S GOOD TO KNOW THAT I CAN TRUST YOU (STUFF)...SEE YOU SOON THEN

Perfect Fathers day gift
By
Tiffany D.

(Houma, LA) - June 26, 2011 (
See all reviews by this customer
)
My husband works alot so this was the perfect gift. It is amazing how bright the pictures look.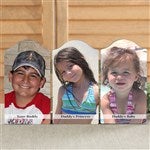 Exactly what I ordered!
By
Shopper

(Georgetown, KY) - June 25, 2011
I got exactly what I ordered! There is no guessing with Personalization Malls ability to show a preview picture! Also, I ordered this item on Tuesday night with a guarantee that it would be here by Saturday and I recieved it Thursday evening. I am completely satisfied in all aspects of my experience!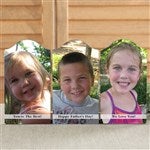 Great gift for Him
By
Cathy C.

(Austin, TX) - June 20, 2011 (
See all reviews by this customer
)
Made this as a Father's Day gift for my son (with pics of his 3 kids) - I couldn't have been be more pleased with the quality. Perfect size for his desk at work and he loved it!

more than expected
By
Sheri S.

(Watertown , NY) - June 15, 2011 (
See all reviews by this customer
)
I purchased this as a father's day gift for my fiance. It arrived and looked just like I had previewed it. It comes on what appears to be wood and has a nice glossy finish. It's not too big and would fit great on a desk or on a mantel with other pictures. The personalization of each picture looks like it was done on the picture and not on top of it which I really liked. I have purchaed other things in the past from this site and will continue to purchase more. I love the uniqueness of the gifts when I give them, and the personalization is nice memories to pass down.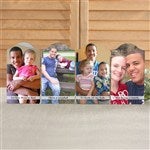 AMAZING!!!!!!!!
By
Miriam K.

(Woodmere, NY) - December 13, 2010 (
See all reviews by this customer
)
i bought this for a friend for her birthday. it's PERFECT. the pictures are amazing quality and the overall item is PERFECT!!!! i can't wait to give it to her but im sure she will LOVE it! its a glossy finish which makes it even better and it's a great price considering how AMAZING it is!!!!!
VERYYYYYYYY SATISFIED!!!

Captured memories
By
STEPHANIE E.

(APO, AE) - July 1, 2010 (
See all reviews by this customer
)
I bought this gift for my boyfriend of 4 months just to capture percious moments he has with his daughter and he absolutely loved it. Something nice, small, and sentimental that meant alot to him. Just the perfect everyday gift for a man.

Great
By
Samantha S.

(Chuckey, TN) - March 4, 2010 (
See all reviews by this customer
)
I love it!!!

love it!
By
kelley B.

(townsend, DE) - December 9, 2009 (
See all reviews by this customer
)
I made this for my husband with pictures of our daughter. The pictures were printed very clearly! The plaque is well constructed. I really liked that I could preview the final product before purchasing. Would order again!



Perfect Keepsake!
By
Patricia S.

(Forest City, NC) - December 7, 2009 (
See all reviews by this customer
)
I was completly satisfied with the photo plaque. It is exactly what I expected at a very good price. Being able to actually see the final product prior to ordering is such a big plus! I have definately marked this web store as one of my favorites!!!!