Satisfied Customer
By
Shopper

(Gardner, MA) - December 21, 2013
I was so happy with this frame. It looks even better in real life. Don't hesitate to order this frame for that special girl(s). It really is a cute frame. I would definitely order it again.

I found just what I was looking for!
By
Sheryl C.

(Redlands, CA) - September 30, 2013 (
See all reviews by this customer
)
I purchased this for my very first picture with my sweet granddaughter. With the picture in it, it looked absolutely precious.

I have bought several items on your site & I am always impressed!

Thanks for the great selection that you provide for your customers. I will definitely be shopping in the future.

Blessings,
Sheryl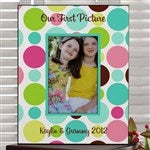 PolkaDot Frame
By
Shopper

(Westfield, NJ) - July 2, 2013
The frame was made very quickly and I loved the result!

Fabulous Frame!
By
Terrie B.

(Louisville, KY) - April 29, 2013 (
See all reviews by this customer
)
Love, Love, Love this frame! Is perfect gift for a special cousin!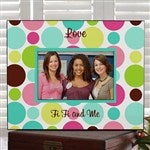 ADORABLE!
By
Shopper

(NEPTUNE BEACH, FL) - April 22, 2013
I ordered this a few months early for my beloved niece's birthday (which is in early July). My beautiful great-niece and great-nephew's picture will look great in this stunning frame. She and my nephew-in-law are such wonderful parents and I wanted to get their names on the frame, as well. This frame came fast, along with a sympathy gift ordered, and both were PERFECT! I love this website and wish all items ordered online from other websites could be this reliable and always so classy looking and with such quality.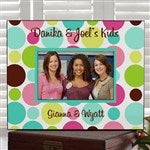 Perfection
By
Michael B.

(Sandy Springs, GA) - April 6, 2013 (
See all reviews by this customer
)
I was really surprised that the frame was so nice and good quality, I did not expect that but I guess I should of known better its coming from personalization mall of course its going to be good quality. My niece loved it, worth every penny!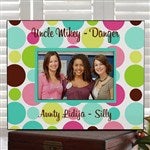 Beautiful
By
Angela J.

(Rogersville, TN) - March 19, 2013 (
See all reviews by this customer
)
I have ordered from this site many, many times and I've never been disappointed. This particular order was for a friend who should be having her first grandchild very soon! This frame shipped very quickly and was absolutely beautiful when it arrived. Great colors, nice finish. Very professional. Loved it. As always, I will continue to purchase from PersonalizationMall.com.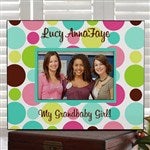 Fantastic Frame for the Grandkids
By
Judy S.

(Phoenix , AZ) - December 16, 2012 (
See all reviews by this customer
)
What can I say but these are the best. You can put anything you want on them which is great. The quality of these frames are outstanding and the colors are so very bright. Happy colors make a happy day. Thank you Personalization Mall for always helping me with a great gift Will be back for more.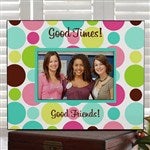 Adorable picture frame
By
Shopper

(Troy, MI) - October 19, 2012
I ordered this for my niece (hard to buy for) for her birthday (tween). I had it sent to me so i could see the quality before i mailed it to her. Wow! Better then i expected. The frame is adorable. My other two girls are so jealous....they want one for their rooms. I am going to order one for them too now....maybe for Christmas. You won't be disappointed!

They will love them!
By
Jaimie B.

(Pine, AZ) - December 23, 2011 (
See all reviews by this customer
)
Very pleased with the quality and speediness of my order. I was looking for a speical gift for my "Friday group." My girlfriends will love them!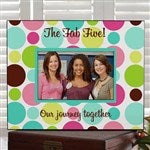 So Pretty
By
Shopper

(Kernersville, NC) - December 4, 2011
I could never find a frame in any stores for a brother. Well to my surprise and delight I found I could personalize on your web site. The site is easy easy to use. One of the most user friendly I have ever used. Now for the product itself
IT WAS GORGEOUS! QUALITY EXCELLENT! Thank you for a very personalized special gift. Super fast service also.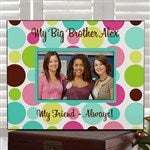 My niece was so happy!
By
Shopper

(Dallas, TX) - May 27, 2011
My niece is going to Europe this summer and I sent this frame to her to remember this special trip and her first time to Europe. She loved it and can't wait to put a photo in it when she returns.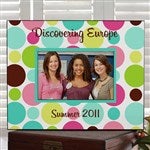 Great gift
By
Shopper

(Southlake , TX) - April 2, 2011
This was my first time ordering from personalizationmall.com, I was very pleased with the quality of the picture frame and the lettering. Colors were great and looked good with the photo I used. The frame was a gift and my friend loved it. I will definitely return for more personalized items.

Sweet 16 Gift
By
Shopper

(Bethlehem, GA) - January 22, 2011
I ordered this for my neice's Sweet 16 with her name and the date of her birthday. It arrived VERY quickly and looks fantastic!

Great!!
By
James M.

(Clifton, NJ) - November 10, 2010 (
See all reviews by this customer
)
Frame arrived completely to my satisfaction, I have ordered from them before - and they never disappoint!



Polka Dot Frame
By
Abigail W.

(Akron, OH) - September 21, 2010 (
See all reviews by this customer
)
I absolutely love my polka dot frame and it came very quickly!

Very Cute Frame
By
Nancy Z.

(Lumberton, NJ) - September 7, 2010 (
See all reviews by this customer
)
Purchased this for a 14-year old's birthday present! What a hit. Had her name put on top, and since she loves pink and polka dots, she was thrilled when she opened it.

Super fast shipping for this company is a huge factor in my decision to buy from them frequently.



Polka dot frame
By
Sue Z.

(Saint Charles , MO) - June 4, 2010 (
See all reviews by this customer
)
The frames were beautiful and arrived in less than a week.

Great for preteens
By
Karen C.

(Dubuque, IA) - June 4, 2010 (
See all reviews by this customer
)
I was looking for a present for my 12 year old niece. This picture frame would go great in her room. The quality is way better than the picture indicates. It is very sturdy and durable. I am sure it will be a hit, especially when I tucked some money in the back to finish her present.

Polka Dot Birthday Party
By
Gabrielle B.

(Lafayette, LA) - April 19, 2010 (
See all reviews by this customer
)
I ordered the frame for my daughter's Second Birthday Picture. She had a polka dot party, so the frame was perfect. I love the personalization and the frame looks even cuter in person!

fun frame
By
tara K.

(breinigsville, PA) - January 3, 2010 (
See all reviews by this customer
)
This is a very cute personal gift idea to keep memories fresh. I would purchase this again. The item came exactly as pictured and was at my house within two days!

Better than expected!
By
Teresa L.

(Lauderdale, MS) - December 6, 2009 (
See all reviews by this customer
)
This is better quality in person!! Great deal for the money - and was quick to receive. Highly recommend!

Very Cute
By
Glicer S.

(Silver Spring, MD) - October 21, 2009 (
See all reviews by this customer
)
Very Cute frame - substantial in size. Colors are vibrant!
I was very happy with this purchase.