Charley
By
Timothy N.

(Guadalupe, CA) - November 27, 2013 (
See all reviews by this customer
)
This item was received EXACTLY as advertised with no surprises at all as the preview that was shown to me BEFORE I purchased, showed exactly what I would be receiving. Shipping was prompt and we received it a few days later. Thank you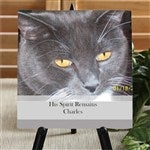 My Treasured Pet Buster
By
Constantina R.

(Astoria, NY) - August 17, 2013 (
See all reviews by this customer
)
This photo canvas print was perfect for my little display of my adored pet Buster who was a member of the family (our baby) for 12 years. It keeps him with us and on view every day.... Many family members and friends loved it. The quality of the product is well done. The only thing is you have to work with the photo to get the right size put on the canvas but once you do you have a lifetime memory.

Papap Moses
By
Brenda W.

(North Charleston, SC) - March 14, 2013 (
See all reviews by this customer
)
Outstanding Canvas Art! Truly love it.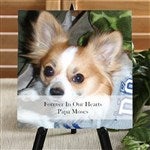 Perfect
By
Shopper

(Windsor Locks, CT) - December 28, 2012
My photo came out perfect! Good quality workmanship! It looks so nice sitting on the easel on top of my entertainment center! What a wonderful way to memorialize my recent loss of my cat.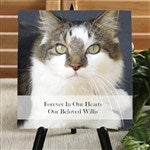 Perfect item to help heal a broken heart
By
Katie W.

(Melrose, MA) - September 8, 2012 (
See all reviews by this customer
)
It turned out great, I could not ask for a better quality. I bought this as a gift for a family member who lost their four legged friend. I was told, it is really helping to honor her pup and heal her heart.
My only complaint is that, I wish the buyer had the ability to move the text box up or down. I was not able to use the picture I planned on using because the text box covered up part of the face.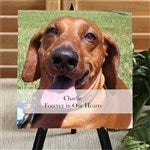 Perfect Picture
By
Venessa A.

(Pasadena, TX) - August 24, 2012 (
See all reviews by this customer
)
This photo I received was everything I wanted, I loved it and I received my shippment faster than expected. I have it in my living room to always remember my beloved pet. Thank you for this memory

Great!
By
Nicole P.

(Tecumseh, MI) - August 1, 2012 (
See all reviews by this customer
)
It turned out wonderful and even better than I expected!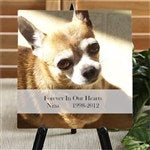 Great Memory
By
Shopper

(Bethesda, MD) - November 25, 2011
This was a great ay to remember our precious dogs. Just wish we could have gotten a bigger print.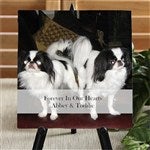 Wonderful!
By
Shopper

(Tucson, AZ) - October 23, 2011
Our family dog of almost 13 years passed away this past February. We had to put her to sleep one week after my dad moved out-of-state for a new job. I know that he misses her and I thought it would be nice to get him something to put in his new apartment that would remind him of her. He hasn't seen it yet (it's a Christmas gift), but I know he's going to love it. When it arrived in the mail, I took a look at it before I wrapped it up and I thought it was beautiful. It wasn't as big as I had hoped, but of course that's my fault for not looking at the measurements beforehand. Otherwise, it was perfect. Thank you so much!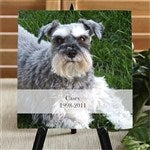 AMAZING
By
Shopper

(GILBERT, AZ) - September 17, 2011
This came out beautifully. Great Quality!!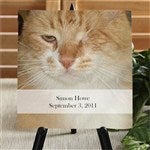 ~ A Perfect Memorial photo ~
By
Shopper

(Eden, NC) - July 10, 2011
I ordered this canvas art with a photo of our beloved cat, Braveheart. He had passed away recently and the photo I used was my husband's favorite picture of Braveheart, which he had mentioned wanting a copy of the pic to put on his desk.
So this was a perfect gift not only for my husband's birthday but just in memory of Braveheart, it is beatiful and unique. Having the caption: Forever In Our Hearts is perfect.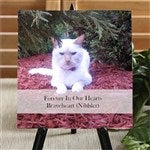 love personalizationmall.com!
By
Christi G.

(Battle Ground, IN) - June 17, 2011 (
See all reviews by this customer
)
I was so very delighted when I received the canvas of my dog, Bodi ,who passed away a few months ago. Even though we have his ashes displayed in a beautiful handcarved box, I needed to see his face everyday and this product enabled me to do that. For those of you who have lost a pet, I highly suggest this item. It is not too big nor too small and makes a nice display next to Bodi's box of ashes.

Fabulous
By
Julia D.

(Arlington, TX) - March 21, 2011 (
See all reviews by this customer
)
I was pleasantly surprised by the quality of this product. The picture is crisp and clean- the canvas is nice weight and something I am proud to give.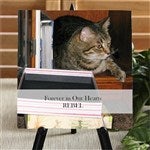 A beautiful memory
By
Isabel T.

(Naples, FL) - August 4, 2010 (
See all reviews by this customer
)
If you want to keep your dog in your heart, this is the product. It has an excellent quality! Shippment was very quick. Thank you, Personalization Mall !!

Perfect keepsake
By
Katie M.

(Glendale Heights, IL) - July 23, 2010 (
See all reviews by this customer
)
My husband recently lost his 13-year old Siamese cat. I purchased this canvas art (without stand, as there is anchor in back to hang on the wall, and it stands on its own). The picture was easy to crop on personalizationmall.com and it turned out just as I expected. I would recommend this to anyone who wants to keep their pet with them forever!

Perfect
By
Lisa M.

(Forest Ranch, CA) - March 11, 2010 (
See all reviews by this customer
)
The canvas was exactly as we had hoped, it arrived in a very timely manor; we were all very pleased with the results; thank-you!!

Absolutely Wonderful
By
Marcy O.

(Mohnton, PA) - February 26, 2010 (
See all reviews by this customer
)
I ordered two of these for my daughters and they turned out wonderful! I would definetly recommend this!

Absolutely beautiful!!!!!
By
Shetarra W.

(Charlottesville, VA) - October 7, 2009 (
See all reviews by this customer
)
I searched for a tasteful way to honor our dog which recently passed away. I came across your web site and thought that the pet photo canvas was a unique way to honor her. I was plesantly surprised by the quality of the product. The color popped off of the canvas and it fit perfectly on the hearth in the living room. I highly recommend this product.