Great Mug!
By
Shopper

(Madison, NJ) - September 29, 2014
I needed a last minute gift so I ordered the personalized mug for overnight delivery. Not only was the mug and print on it excellent, it shipped right in time. I received the mug less than 2 days after I ordered it and the quality was not sacrificed at all! I highly recommend this product and website! Great!

coffee mug
By
Shopper

(Fort Worth, TX) - September 22, 2014
I ordered a mug with my granddaughters on it and love it.

Great shape & size for picture mug!
By
shari S.

(Lawrence, NY) - March 15, 2014 (
See all reviews by this customer
)
Great quality and price on this photo gift!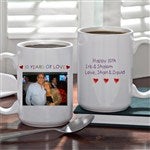 Morning Cup Larga handle
By
Shopper

(Huntsville, AL) - October 27, 2013
Love the Cup this is the second one he has had the first one he used so much it started to fade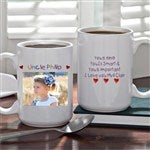 Perfect Mug
By
Michele C.

(Oviedo, FL) - September 27, 2013 (
See all reviews by this customer
)
I purchased this mug for my husband and cannot wait to give it to him for Christmas! I also purchased one for myself with my dearly departed cat - my favorite and use it everyday, that way she is always with me.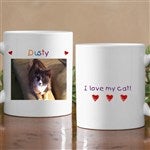 Great gift for any occasion!
By
Katherine M.

(Waterford, MI) - May 19, 2013 (
See all reviews by this customer
)
Extremely pleased with the photo quality on the mug! What a great gift for any occasion :)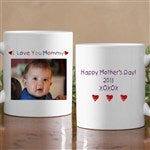 Better than expected!
By
Gennady B.

(Santa Clara, CA) - May 16, 2013 (
See all reviews by this customer
)
Very nice. Service, quality and price are excellent!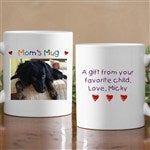 Another Great Gift from PersonalizationMall.com
By
Shopper

(Waterloo, IA) - February 15, 2013
I purchased a "We Love Mommy" mug as a gift for our daughter-in-law for Valentine's Day. She loved it! Great quality mug, the picture is very clear, love the 15 oz. size, and the personalized message adds that special touch. The perfect gift for anyone who would enjoy seeing someone they adore every time they take a sip of coffee or hot chocolate!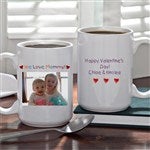 Very Pleased
By
Robin H.

(longview, WA) - January 24, 2013 (
See all reviews by this customer
)
Very happy with my coffee mugs these are the 2nd set I have ordered because they do such an awesome job I ordered 2 for my sister as a wedding gift then 2 more for my Dad and other sister. I just love how nice they turn out! Great job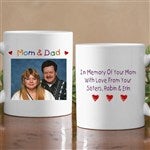 Nice way to save and share a memory
By
Susan O.

(Prospect Heights, IL) - January 22, 2013 (
See all reviews by this customer
)
Had 4 identical mugs made - and they turned out great. Love that there is a large size mug (15oz) available. Designing the mug online was easy & gave a true representation of the final product.

Valentine Gift
By
Shopper

(Rolling Meadows, IL) - January 15, 2013
As usual, the product I ordered from Personalization Mall arrived quickly and didn't disappoint. The mug was lovely. Everything I have ordered from this company has been top quality. I'm always pleased. I would have no problem recommending this gift or any other item I have ordered to a friend.

Beautiful gift!
By
Shopper

(Antioch, TN) - December 31, 2012
My elderly Mother (with dementia) loves this mug. It's a comfortable weight & size for her, and no matter how many times she uses it, she's always surprised to find a picture of her cat on the mug! Personalizationmall makes it very easy to design the mug, and I appreciated the chance to preview the gift before ordering. It's a very thoughtful yet affordable gift.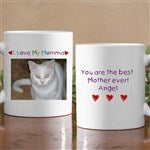 Great Mug!
By
StarLight S.

(Sedona, AZ) - December 29, 2012 (
See all reviews by this customer
)
Just wanted to review the 15 oz mug. It looks great and was delivered in nice packing and a timely manner. It's nice to be able to upload any picture and personalize the wording. The mug was loved.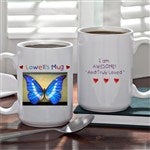 Happy Customer
By
Shopper

(Mission Viejo, CA) - December 19, 2012
Final product was exactly what I expected. The ability to view the personalization before makes for a great end produt.

Awsome
By
Brenda M.

(Topton, PA) - December 19, 2012 (
See all reviews by this customer
)
We personalized this for our dog groomer and I wasn't sure about the picture with sending it throug the internet. I was afraid it might look grainy but it is perfectly clear. Our groomer loved it.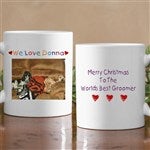 Love these mugs
By
Shopper

(Trafford, PA) - December 6, 2012
I was very happy with this product when it arrived. Very true to preview picture the website provides. Serves as great gifts for grandparents who are difficult to buy for!

Nice Picture Mug
By
Shopper

(Crown Point, IN) - November 16, 2012
This is the second mug of this kind I purchased. Looks amazing! Very clear and detailed! Fast shipping. I am very pleased. Makes a great unique gift!

Great product, great value.
By
Shopper

(Miami, FL) - September 15, 2012
Made two of these as gifts. The recipients (grandparents) liked them so much they teared up.

AWESOME!
By
Melissa R.

(Bluffton, IN) - June 22, 2012 (
See all reviews by this customer
)
I couldn't be happier with my beautiful "grandpa" mug. I was absolutely blown away at how quickly I received my mug. I ordered it on a Monday morning and literally received it the next late afternoon. I still can't figure out how that's even possible but I am thrilled nonetheless! The picture on the mug is like you're seeing it in person . . . it's that clear! I will definitely be a repeat customer to Personalization Mall!!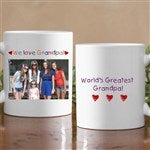 Personalized Photo Mugs
By
Shopper

(Lakeville, MN) - May 21, 2012
They were awesome....it was easy to personalize and the mugs turned out
incredibly well! Very pleased!

Cup of Joe
By
Shopper

(Wayne, NJ) - May 8, 2012
The picture came out great. The mug is a good size.

happy
By
Shopper

(Pearland, TX) - April 22, 2012
my mother in law was so happy with the idea, smart decision. finish product is good

Better than expected
By
Jamie B.

(Ocean Springs, MS) - April 15, 2012 (
See all reviews by this customer
)
I got this for a Mothers day gift for the kids grandmother. I used the 6 of the grandkids pic and wrote we love you Grandmaw on one side and wrote Happy Mothers Day 2012 on the other...PERFECT gift and cant wait to give it to her! Looks awesome and I am extremely happy with my purchase.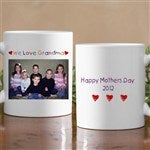 Personalized coffee cup
By
Ethel B.

(Homosassa, FL) - February 10, 2012 (
See all reviews by this customer
)
My 92 year old Uncle was so very pleased with the picture and sentiment on the cup .That someone thought of him in a nursing home was a thrill and he is showing it to everyone. I'm glad I did that for him. Little things sometimes have so much more meaning then we can ever imagine.Let loved ones know you care before they are gone.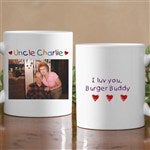 Perfect gift
By
Shopper

(San Antonio, TX) - January 17, 2012
I love this mug and the ability to personalize with the photo. I purchased this for my father in law for Christmas and he loved it. I absolutely love this website. the products ship so fast and great quality as well. This is my new favorite shopping place.

Personalized Mug = Best Gift
By
Shopper

(Southaven, MS) - January 9, 2012
The picture came out perfect, I ordered 3 of the same mug with different pictures and all 3 came out great! I actually have to order more..

Photo Coffee Mug
By
JoAnn S.

(Bradenton, FL) - January 2, 2012 (
See all reviews by this customer
)
The mug was just beautiful. I just loved it, and so did the person who was a Grandma for the first time. It will defintely be a keepsake forever.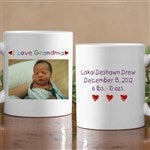 Loved it!
By
Shopper

(Shirley, NY) - December 31, 2011
We purchased this for Grandpa this year, everyone loved it! It came out beautiful. The picture and writing was crystal clear and perfect! We will definitely be buying this for another family member!

Perfect Mug
By
Shopper

(Farmington , MI) - December 27, 2011
These mugs are so perfect and the quality is beyond what I was expecting! I bought these as Christmas gifts for the grandparents since I just had my little boy and as soon as my husband saw it he told me to order on for him so that he could see his little guy everyday at the office!

Wonderful Gift
By
Shopper

(Glen Allen, VA) - December 27, 2011
We got this for our daughter's grandfather! He loved it!

Good
By Shopper (houston, TX) - December 22, 2011
this is a good mug

Best Gift I Bought This Year!
By
Shopper

(Spring Hill, TN) - December 6, 2011
The mug turned out even more beautiful than I had imagined. Love it!

Gift that is a memory.
By
Shopper

(Santa Fe, NM) - November 20, 2011
I was so pleased with the ceramic coffee mugs that featured photos. Photos
make memories and having a coffee mug with a favorite, memorable photo is
a fabulous gift. Personalization.com gave great service on my order and I
received my order in less than a week.

Wonderful product
By
Shopper

(Bossier City, LA) - September 18, 2011
My daughter ordered this mug for her grandparents for Grandparent's Day. We were very pleased with the product and so were her grandparents.

Absolutely Love It!
I received this mug for Mother's Day from my 3 great-nephews and niece. I love the design, and it keeps my coffee nice and hot. I work in the office at a Middle School and I enjoy showing it off with their picture on it. I was so impressed with the quality and clarity of the picture I am now a customer of Personalization Mall too! Waiting on an order right now as a matter of fact! Highly recommend this product.

Cute
By
Dina W.

(Aston, PA) - June 4, 2011 (
See all reviews by this customer
)
Got this mug for my dad from his grandson! You do not see alot of personalized items saying Pop Pop, which is what my son will call him so this was perfect. It turned out very nice!!! The picture I uploaded to the mug came out perfectly clear!! Love it!! And I'm sure my dad will too!!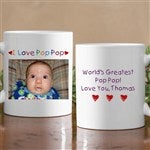 Mom and Dad loved their Coffee Mugs
By
Shopper

(France) - May 17, 2011
Didn't want to send my mom flowers, again, for Mother's Day. They just don't last and they are very expensive. Stumbled across these Personalized Photo Coffee Mugs. It was easy to load pictures,of their grandkids, crop them and send the request off and then I thought Father's Day is around the corner, I decided to send them to Dad too!
I had a question about the order, sent PersonalizationMall.com an email and they were prompt to tend to my needs.
Order arrived just as previewed and my parents were delighted!
Only bad part.. my Mom is too afraid to use the mugs and break them! Mom!!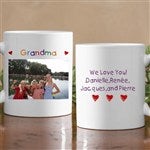 coffee cup
By
Tom W.

(Merritt Island, FL) - May 2, 2011 (
See all reviews by this customer
)
good picture, quick delivery, kinda' pricey though

Great and super timely
By
Shopper

(Apple Valley, MN) - April 17, 2011
I received this in 3 days!!!! I couldn't believe how fast it came!! Everything about the mug was perfect! The picture and wording turned out very clear!

Great Gift
By
Sunny B.

(Killeen, TX) - March 7, 2011 (
See all reviews by this customer
)
I ordered this for my dad to be from his grandson for his birthday. He absolutely loved it. He is a big time coffee drinker so it was a perfect gift for him.