Review
By
Shopper

(Louisville, KY) - September 14, 2014
It's just what we were looking for and he will absolutely love it, it's perfect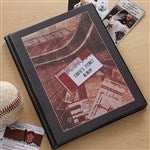 Great Gift for a Guy
By
Lesli K.

(Macomb, IL) - February 7, 2014 (
See all reviews by this customer
)
The ticket album came exactly as expected. This is a great gift for the hard to shop for guy!

Awesome
By
Shopper

(Fitchburg, MA) - February 22, 2013
When I ordered this I wanted something that could hold MLB baseball game tickets and when I got it in the mail, it was perfect for that! BUT, I warn you that if you are trying to buy this for the use of football of basketball tickets that are much larger.. THEY WILL NOT FIT. it was much smaller than I expected but i got lucky and it worked out for me. But other than that, the product overall looked exactly like it did on my screen , was high quality and shipped fast.

Great product
By
Katy G.

(Statesboro, GA) - January 3, 2013 (
See all reviews by this customer
)
I had ordered one of these for my husband for his concert tickets. He didn't want to mix his sports tickets with them so I surprised him with this one! Note that personalization on these will be in all caps regardless of how you type it!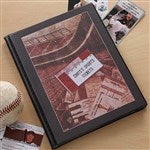 Ticket album
By
Shopper

(Canton, MA) - December 23, 2012
This turned out to be the perfect gift we didn't realize everyone could use. Everyone keeps their tickets from games and shows they have been to. This gives them a safe place to keep them and look at them. Can't wait to see how much my husband loves it!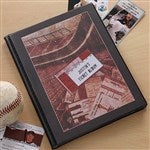 Perfect Gift for a Sports Fan
By
Shopper

(Mattituck, NY) - October 12, 2012
I bought these personalized ticket albums for my 9 and 10 year old sons. We are on a quest to visit all MLB stadiums, so this is actually the 2nd ticket album I have purchased for them. The first album that they are currently using has not held up well, and the binding is broken. The personalization mall album looks sturdier, although we have not yet put tickets in it. I wish that there was an extra pocket for other memorabilia, but other than that, I am very happy with this product. The price was reasonable, especially for a personalized item.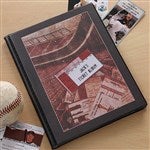 loved it
By
Shopper

(Piggott, AR) - September 2, 2012
I bought this for my husband, who is a big football fan. The only thing is I wish it has some larger slots for some of his bigger tickets. He loves it, though!

great product
By
Jim A.

(Signal Hill , CA) - June 15, 2012 (
See all reviews by this customer
)
Book's came out great arrived very quickly after I ordered them!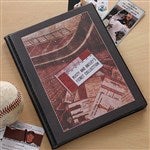 Ticket Album
By
Shopper

(Louisville, KY) - April 30, 2012
I love this thing. It will be a great way to keep track of all the fun times my fiance and I have had. Great gift for a guy. Was shipped very fast as well.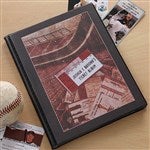 Great gift
By
Shopper

(Manhattan Beach, CA) - January 20, 2012
This is one of those gifts that no one thinks of but loves once you get it! Who doesn't have those special ticket stubs lying around? This is a perfect item to organize it all. Wish it could hold more stubs but not a deal breaker.

Awesome Idea for a Sports Lover :)
By
Shopper

(Evansville, WI) - October 8, 2011
This was a great gift idea for my boyfriend who is in love with sports and always keeps his tickets to everything, now when he moves, he'll have somewhere safe and personal to keep them.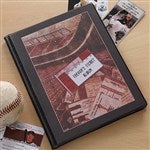 Great Idea!!
By
Martina B.

(Glendale, AZ) - June 14, 2011 (
See all reviews by this customer
)
I cannot wait to give this to my husband as part of his Father's Day present, what a great idea, better than keeping all of those stubs in a shoe box :)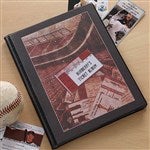 Awesome book!!
By
Shopper

(Peoria, IL) - March 11, 2011
My daughter ordered the Sports Event Ticket album for her boyfriend for his 20th birthday. He had many sporting events tickets taped all over the mirror in his dorm room. When he opened the gift he was MORE than thrilled! He said it was the best gift she could have gotten for him!

FABULOUS TICKET ALBUM
By
Frances F.

(Lakewood Ranch, FL) - February 6, 2011 (
See all reviews by this customer
)
This album is exactly what I wanted for my husband. It came in just a few days, and my husband was thrilled. Now he can finally do something with all his ticket stub souveniers..... I love it.

Great Guy Gift
By
Shopper

(Pekin, IL) - February 4, 2011
I am really impressed with this item! It looks just like it does online, and it is really nice. My husband loved it!

gift for my husband
By
Kari F.

(Atlanta, GA) - January 28, 2011 (
See all reviews by this customer
)
I am giving it to my husband for Valentines day. He is going to love it because he will have a place to put all of his ticket stubs. Good quality and the perfect size.

Unique Idea
By
Heather G.

(Land O Lakes, FL) - December 10, 2010 (
See all reviews by this customer
)
This was purchased for a friend who attends a lot of events...both sporting and concerts. The size is nice, not too bulky, and the personalization makes a great touch. Very unique idea!!

Perfect
By
Jessica G.

(Birmingham, AL) - November 24, 2010 (
See all reviews by this customer
)
I purchased this gift for my husband to keep our stubs from the college football games we attend. I was expecting the book to be the size of a notebook/picture album, but I am very happy that it is smaller and will fit nicely on a table or dresser. I would purchase again and will probably purchase a personalized album for my daughter to keep her memories.

Great gifts!
By
Dana S.

(Lancaster, SC) - November 12, 2010 (
See all reviews by this customer
)
I love these albums. I bought some as Christmas gifts last year and was so pleased, that I bought two more this year.

Perfect gift!!!
By
Dezna N.

(Richmond, KY) - June 11, 2010 (
See all reviews by this customer
)
I ordered the ticket album for my husband for Father's day and it is PERFECT!!!! The look of the book is beautiful and feels very sturdy.
This was the perfect gift for him!


Great for the sports fans
By
Gayle D.

(USAF Academy, CO) - May 24, 2010 (
See all reviews by this customer
)
This works perfect since my husband loves to hold on to tickets. The only problem is that many places don't use the regular tickets any more, they've gone to having you printing out your own. None-the-less... great gift!

The Perfect Ticket Stub Holder
I bought this for my boyfriend as he had saved all of our concerts, shows and sporting event ticket stubs and wanted an organized way to store them chronological order. This was perfect! It is compact, well made and the personalized "ticket" on front cracked him up (Jeff's Rock & Roll Fantasy). He got a kick out of it and for the price, you can't lose.