Love it!
By
Katherine G.

(Brentwood, NY) - June 24, 2013 (
See all reviews by this customer
)
I abolutely love this photo canvas art! It's beautiful and the photo I uploaded of me and my fiance came out great. It was a wonderful gift to give my fiance for our anniversary. I always come to this website to find nice gifts not only for my fiance but also for my family and friends.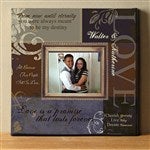 Great Anniversary Gift
By
Shopper

(Fish Creek, WI) - April 9, 2013
I was surprised at how fast the delivery was. When it arrived I opened it up to find a perfect photo of my boyfriend and I "painted" on a canvas. The quality was great; the only objection I have is that I wish the words on it could be customizable. Also- the hanger that comes with was taped onto the bubble wrap and if I hadn't spotted it it would have been thrown away.

Excellent choice
By
Shopper

(San Antonio, TX) - February 11, 2013
This item was beautiful! Excellent quality of print and canvas!

Love is a promise canvas art
By
Shopper

(New Castle, DE) - December 26, 2012
Bought as a Christmas present and my sister in law loved it!
Excellent quality, A+ as always personalizationmall!

perfect
By
Shopper

(Memphis, TN) - December 18, 2012
It was perfect and quick. I'm happy with it :)

Awesome!
By
Ashley F.

(Glen Fork, WV) - December 14, 2012 (
See all reviews by this customer
)
I love this frame! It was more than I expected and is the perfect gift for my parents!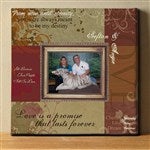 Better Than Expected
By
Jessica R.

(Nine Mile Falls, WA) - December 6, 2012 (
See all reviews by this customer
)
WOW.. This came in the mail and I opened it excitedly.... I pulled it out and the girly side of me kicked in... I got a little choked up.. It was beautiful... I LOVE IT! My husband is in Afghanistan right now and so I had to show him this over the webcam, but it is now hung up in our home and I absolutely love it!
Thank you Thank you!

Awesome wedding gift
By
Patty P.

(Dublin, VA) - November 12, 2012 (
See all reviews by this customer
)
I have purchased this item on two seperate occasions for wedding gifts.
The quality is great and the couples loved it being personalized to them.
Highly recommend this product and all others I have received from PersonalizationMall.com!!

Anniversary Gift
By
Melissa L.

(Shelton, , WA) - June 10, 2012 (
See all reviews by this customer
)
This was a perfect gift for my husband for our 19th anniversary! He loved it! It takes a regular picture and makes it that much more special!

Nice
By
Shopper

(Frankfort, IL) - March 24, 2012
Turned out nice, its a good size and colors are pretty

Romantic gift for him
By
Shopper

(spencerport, NY) - February 11, 2012
Cute valentines gift for him and able to use as a decoration for our new home.

Great Gift
By
Shopper

(Canyonville, OR) - November 8, 2011
I bought this as a wedding gift for a friend and she absolutely loved it. I would reccommend this item if you are looking for a sentimental gift to give a friend or family member.

Great Gift Idea
By
Shopper

(Green Bay, WI) - August 29, 2011
Beautiful canvas and great gift idea. Very pleased with this purchase!

Beautiful gift!
By
Shopper

(Coral Springs, FL) - August 26, 2011
I was so happy with the way my canvas turned out. It is beautiful and an awesome gift to give someone! I just got this for my boyfriend and I for our first place together. The colors are awesome. I would highly recommend this for someone!

Great romantic gift idea
By
Shopper

(Snellville, GA) - April 24, 2011
I got this for my boyfriend for our anniversary and it looks amazing! It well surpassed my expectations!

New favorite gift!
By
Shopper

(Costa Mesa, CA) - April 1, 2011
This is my 3rd order of this item and absolutely love, love, love it! I purchased one for my Aunt and Uncle for a Christmas gift, one for my Grandma as a birthday gift, and now this one for a wedding gift. It's personal and affordable and even better beautiful. So far it's brought tears to eyes, and great big smiles. I love seeing the look on their face when they first see it. Priceless. I will definitely continue to purchase this as future gifts as well. The quality is amazing and I was surprised at how wonderful it turned out!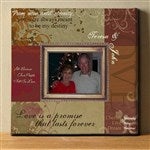 The Star of the Party!
By
Jill G.

(Lemont, IL) - February 4, 2011 (
See all reviews by this customer
)
This is the THIRD time I have given this canvas with the couple's engagement picture as their bridal shower gift.
And this is the THIRD time it was the ONLY gift to be passed from table to table while others were simply held up and then placed on a viewing table. The bride's mother was hoping her daughter would receive the "Special Gift" from me, and it has become the anticipated gift at the party.
The quality and value are unsurpassed and it looks like I will keep coming back for future gifts!

Taken Care Of
By
Shopper

(Bethlehem, GA) - January 25, 2011
This is a beautiful gift!! I gave it to my coworker with her wedding proposal picture in it, and she adored it! When I first received it, the canvas itself was not stapled on straight so I contacted customer service, and they sent me a replacement canvas very promptly. I have ordered several items before, and they have always been the perfect gift and wonderful quality. This was no exception. Loved it!!

Great Quality Product
By
Shelley M.

(Springfield, OH) - December 31, 2010 (
See all reviews by this customer
)
Couldn't be happier. I order a lot from Personalization Mall and have never been disappointed. Kudos!! 2 Thumbs Up~

Great quality and beautiful!
By
Nicole P.

(Johnston, RI) - December 30, 2010 (
See all reviews by this customer
)
I bought this for my dad and stepmom who were married about 2 years ago. It brought tears to their eyes. Highly recomend this as a gift. I ordered the violet shade since it matched well with the picture i used. I can't say enought nice about it.

Perfect Gift for any Occasion!
By
Rose V.

(Cocoa Beach, FL) - August 30, 2010 (
See all reviews by this customer
)
Wow! What a great idea for a 'Personalized Gift'!
This particular item would do for any 'occasion'! The recipients will love it! Thanks 'Personalization Mall'!

GOOD QUALITY
By
Kit Yee L.

(Fall River, MA) - August 10, 2010 (
See all reviews by this customer
)
WE LOVE IT :)

great quality
By
Catherine D.

(Fort Drum, NY) - May 7, 2010 (
See all reviews by this customer
)
The photo turned out great on this and I am so pleased with it. Really good quality canvas art.

Always My "Go To" Company for Gifts
By
Sharon A.

(Auburn, AL) - January 27, 2010 (
See all reviews by this customer
)
This canvas is absolutely beautiful, but I expected nothing less after ordering many, many gifts over the years and being more than pleased with all of them. PM has one of the best Customer Service Dept. that I've ever dealt with.

Awesome Response
By
Stacey R.

(Columbus, OH) - January 26, 2010 (
See all reviews by this customer
)
This Canvas Art photo received the biggest response I think I have ever gotten out of a gift given. As a matter of fact I was told that "this one would always be the one I will be trying to top"....Thanks!

WOW!
By
Shamai C.

(Sarasota, FL) - January 21, 2010 (
See all reviews by this customer
)
Others have suggested getting a frame and putting a picture into it. They haven't seen your canvas art!! This is done so professionally and looks so much better than a frame. My kids are getting this with their engagement photo. I LOVE how it came out!

Absolutely love this company
By
Christy H.

(Winchester, VA) - November 24, 2009 (
See all reviews by this customer
)
I will continue to use this company for all of my personalization needs. Everything i've ordered has turned out better than expected and I couldn't be more satisfied with the service and assistance given.

Awesome picture
By
Katie W.

(Evansville, IN) - November 3, 2009 (
See all reviews by this customer
)
Picture turned out beautiful. Ordering was so simple and it turned out just as I expected from the picture online. Great quality and colors are just as shown. I was a little disappointed with the cost of shipping but very pleased with my purchase. This is a great place to shop for personalized items. So much fun stuff!!!!

Perfect wedding gift
By
Debra G.

(Charlotte, NC) - October 13, 2009 (
See all reviews by this customer
)
Absolutely love it! I found it a unique alternative to a picture frame, and it seems much more personal.

Wedding Gift
By
Tiffany K.

(Davenport, IA) - October 7, 2009 (
See all reviews by this customer
)
I love this........I'm giving this to a really close friend for her wedding that's in a Week.

Perfect wedding gift
By
Wendy C.

(Corinth, TX) - October 6, 2009 (
See all reviews by this customer
)
I ordered this product for my friend as a wedding gift and it looks great! It is a great size and the colors are perfect for any decor. I got the olive one. Her wedding shower isn't for a couple of weeks and I can hardly wait to give it to her! Highly recommended...