Nice Quality!
By
Shopper

(Scotia, NY) - December 13, 2013
I ordered the garden tool bag and kneeling pad as a gift for a gardening family member. I'm so impressed, I may be ordering one for myself. It's a nice, heavy- duty bag, and the embroidery is well done. I'm sure she will love it as much as I do!

worthy garden bag
By
Joni G.

(Willits, CA) - March 22, 2013 (
See all reviews by this customer
)
I was so pleased to receive this roomy garden bag and knneling pad. As a Occupational therapy practitioner, protecting our joints is so important. This is a thank you gift and I can't wait to see the face of the recipient.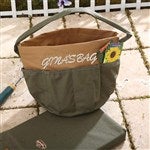 Great Qality
By
Shopper

(Muskegon, MI) - February 23, 2013
I have purchased a number of these bags from large retailers and none of them can match the quality of the canvas used. I am so prouc to give this as a gift.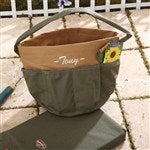 Love it
By
DANIEL P.

(Baton Rouge, LA) - May 12, 2012 (
See all reviews by this customer
)
Bought this beautiful garden set for a patio shower for my future daughter in law. great quality!!!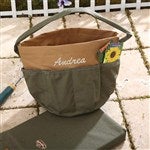 Loved...
By
Shopper

(Valley Stream, NY) - May 4, 2012
My boyfriends mother absolutely loved this bag and kneeler. The embroidery was perfect! I added this gift to a basket full of gardening supplies and knick knacks.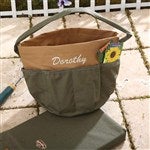 Great Gift
By
Shopper

(San Jose, CA) - December 26, 2011
My father likes to garden. I got this for him as a Christmas present and he loves it!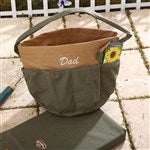 Friend loved it
By
Kimberly H.

(Sherman Oaks, CA) - December 23, 2011 (
See all reviews by this customer
)
My friend is such a great gift giver that I wanted something special to give back to her. She got it in the mail and loved it. Uses it every time she gardens, and she didn't have one before!

Secret Santa Gift
By
Shopper

(Aurora, CO) - December 10, 2011
I purchased this as a Secret Santa gift. I like that I was able to personalize. Looks like it is good quality. The only complaint I have is that it does not come in more colors. I would have liked to see if offered in at least 3 colors. Thank you!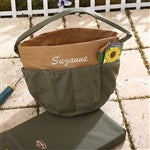 Very nice garden tool bag & kneeling pad!
By
Shopper

(Saint Louis, MO) - October 3, 2011
Got 3 personalized embroidered garden tool bags & kneeling pads for gifts. They are made from very durable material. The tool bag has a handle, and pockets for tools and the bag can fit a lot of stuff in it. The kneeling pad has pretty decent padding, they could've made it a bit firmer though. I think the recipients will be quite pleased. I wish these items came in more than one color choice though. These would be really fun in some bright, beautiful colors.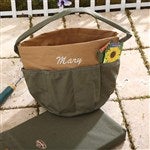 Great Quality!
By
Shopper

(Reynoldsburg, OH) - May 16, 2011
The canvas was really good quality the the personalization was well done. It was beautiful gift for my grandmother!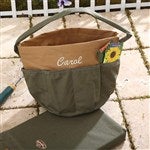 good size
By
Sridevi D.

(Topeka, KS) - February 4, 2011 (
See all reviews by this customer
)
nice size tote for carrying veggies and i think will be very handy for my mom, the avid gardener who's difficult to shop for. and personalizing makes everything more special.

Embroidered Garden Tool Bag & Kneeling Pad
By
Carolyn L.

(Evergreen, CO) - December 30, 2010 (
See all reviews by this customer
)
It was exactly as the picture portrayed. The color, quality, personalization and craftsmanship was excellent. It was shipped right away and here in time for Christmas.

Adorable
By
Cortney C.

(Sycamore, IL) - July 17, 2010 (
See all reviews by this customer
)
I bought this as a gift for my sister. I had it shipped directly to her. I have seen it in person. It turned out so cute and seems to be great quality! The tote part of it seems like it would hold quite a bit as well.

Great Purchase
By
Kendra H.

(Greenfield, IN) - May 13, 2010 (
See all reviews by this customer
)
I purchased two of these, one for my mom and one for my mother-in-law for Mothers' Day and I must say the bags themselves seem to have been made extremely well and appeared of high quality. The embroidery topped the cake and overall it was a spectacular gift. They both enjoyed them. I highly recommend.

Mother-in law gift
By
Marsha K.

(Houston, TX) - May 10, 2010 (
See all reviews by this customer
)
I ordered this for my mother-in-law. I knew she gardened and thought it would come in handy. She called my husband and told him she loved it. She is going to put all her tools in the bag. I cant wait to see it when we visit in a few weeks. The gift was well received.

Nice Gift
By
Melita O.

(Capron, IL) - April 26, 2010 (
See all reviews by this customer
)
I was very happy with this purchase. It seems to be durable and of good quality.