Beautiful Gift
By
Shopper

(Downers Grove, IL) - July 28, 2014
I bought this has a baptismal gift for a baby girl and when it arrived I was very happy. It was a beautiful keepsake and also something that can be used. I would definitely purchase this again.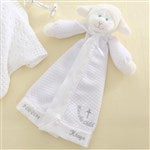 Bless this Child Personalized Lamb Blankie
By
Shopper

(Laurel, MD) - June 13, 2014
I was very pleased with the quality if this item and the turn around time was quick,
Hopefully the baby to whom I gave it will find it special too!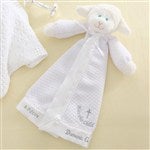 baby blessings
By
Shopper

(HAMPTON, VA) - June 2, 2014
just as pictured, first quality personalization, excellent choice for a new born

As expected !!
By
Shopper

(Bristol , CT) - May 19, 2014
I am pleased with my recent purchase ... It is exactly as I had hoped :) My niece can enjoy this beyond her Baptism ceremony !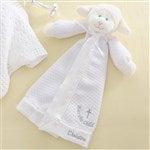 Lamb blanket
By
Michelle K.

(Fayetteville, TN) - May 12, 2014 (
See all reviews by this customer
)
Beautiful!!!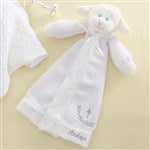 baptism lamb blanket
By
Shopper

(Auburn, NH) - May 9, 2014
This has to be the cutest blanket ever. Just the right size for small hands. And her name looks beautiful stitched on it.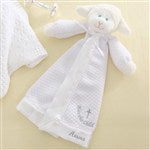 perfect
By
Shopper

(Grass Valley, CA) - May 6, 2014
This is a perfect baptism gift! great quality - soft and cuddly! I can't wait to give it to my baby girl!

Perfect "Blankie" gift for newborn
By
Cheryl M.

(Oakland, MI) - April 19, 2014 (
See all reviews by this customer
)
I gave this little Lamb Blankie to the new grandparents of a much longed-for baby . . . and they actually cried. The spiritual significance, along with the intimate personal touch of the baby's name and birthdate, were immensely appreciated. It is small and therefore more likely to "work" as a beloved and comforting blankie for this precious little baby. Just so sweet.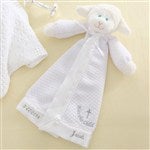 Perfect gift for baptism
By
Carleen S.

(Watertown, WI) - March 22, 2014 (
See all reviews by this customer
)
I ordered the Lamb Blankie for our grand-daughter's baptism. It will be perfect, nicely made, beautiful and accurate personalization. Name and baptism date are in silver and perfectly match the cross and Bless this child. Others were disappointed by the size, but I think it will be perfect for infant/young toddler. Thanks so much!

Adorable Lamb
By
Shopper

(Tucson , AZ) - March 15, 2014
I bought this for my boys to give my Goddaughter so they could be included. It's perfect just enough class and the price and size are incredible.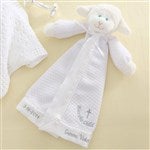 Lovely Lamb
By
Shopper

(Mullins, SC) - March 9, 2014
I was very pleased with the lamb. The quality of work was well done. I was proud to give this gift to celebrate this special event.

Beautiful
By
Shopper

(Kittanning, PA) - February 20, 2014
This was a replacement for my first lamb blankie that I wasn't satisfied with. Customer service was very helpful and my replacement came quickly. I have purchased a number of items from this company and they have always made sure that I was satisfied with whatever I purchased. I purchased this Lamb Blankie for my Great Nephews Baptism, perfect gift for that occasion.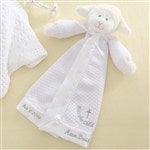 So pretty. So soft.
By
Shopper

(Beech Grove, IN) - February 8, 2014
Wonderful for baby blankie. Satin trim will be the hit! Great job.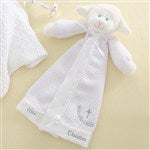 Very Cute!
By
Stefanie D.

(Graham, WA) - November 23, 2013 (
See all reviews by this customer
)
It was a very cute lamb! It was perfect for are daughters dedication day!!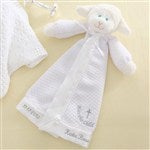 Lamb Blankie
By
Patricia L O.

(Cinnaminson, NJ) - November 9, 2013 (
See all reviews by this customer
)
I was so happy with the Lamb Blankie...it is beautiful....so special with date and name.Love it great gift for baptism...

Great quality items
By
Linda K.

(Manville, NJ) - October 19, 2013 (
See all reviews by this customer
)
I can't say enough about PersonalizationMall.com. I stumbled on this site while looking for that something special for my granddaughter. Their selection is so large it would be impossible not to find something for your occaision. It was very easy to place my order, and even with personalization, my order arrived in less than a week, using regular delivery. The quality was everything I could ask for, and my gift was a great hit! I HIGHLY recommend this site for personalized gifts...you won't be disappointed!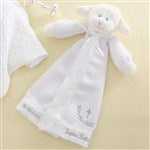 Lovely gift
By
Donna L.

(McDonough, GA) - October 18, 2013 (
See all reviews by this customer
)
I've ordered 5 of these & they are so precious. It makes a great gift for a new baby

Child Dedication Gift
By
Shopper

(Fremont, WI) - October 17, 2013
Perfect gift!

personalized lamb blankie
By
debbie D.

(bloomington, IN) - October 6, 2013 (
See all reviews by this customer
)
when we received the blankie it was just absolutely beautiful! this is a highly grade material and lettering on it was very elegant. it was the best christening gift we could get the baby. she loves it ALOT!!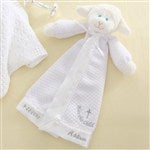 Lamb blankie
By
Sandy M.

(Rochester, NY) - September 11, 2013 (
See all reviews by this customer
)
We gave this to my granddaughter for her Baptism. It is so beautiful and is now her favorite
"Lovey".

Very pleased
By
Shopper

(Newport, MI) - July 27, 2013
This cute little lamb blankie is absolutely beautiful! It is made very well and is so soft. I am very pleased with this!!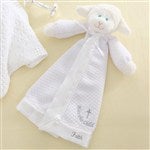 Love the Lamb Blankie
By
BETTY M.

(WRIGHT CITY, MO) - July 16, 2013 (
See all reviews by this customer
)
I purchased the lamb Blankie for my great niece's baptism and it was perfect with silver stitching of her name and Baptism date. I will definitely order this item again for another Baptism.

Very pleased Grandma
By
Shopper

(Green Lake, WI) - May 27, 2013
I ordered this for my Granddaughter's Baptism. It is the most beautiful and precious keepsake with such gorgeous stitching that has glittery thread. Top quality! So happy I ordered it!

Baby Baptism.
By
Charlene A.

(Eudora, AR) - April 14, 2013 (
See all reviews by this customer
)

Absolutely the most precious gift for baby's baptism. I am always very pleased with ordering from your company. Everyone is always so helpful & very nice when placing orders..
Thank you..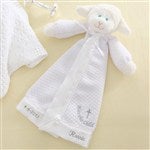 Loved it!
By
Shopper

(West Islip, NY) - March 26, 2013
I couldn't be happier with the lamb Blankie. It was exactly what I was looking for for my goddaughter. It is adorable! We love it! And think she'll love it too.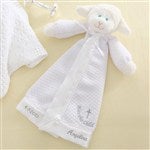 Second one
By
Donna H.

(Lawrenceburg, IN) - February 20, 2013 (
See all reviews by this customer
)
I purchased one of these for my grandaughter when she was just a few months old. She is now 15 months, and has loved her "Lambie" so much I needed to buy a second one as a backup so she would never be without him, or in case the first one gets lost. This is a really cute little friend for a child and washes in the washing machine very nicely. Great gift!

Beautiful!
By
mary S.

(georgetown, DE) - February 11, 2013 (
See all reviews by this customer
)
We got this for our great grandaughter and could not be happier. The quality was excellent. I have seen similar items advertised but they don't look as nice.The name and date on it was very nicely done. I would definetly order another one for future Baptisms!!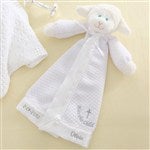 Favorite Gift
By
Shopper

(Beacon, NY) - January 18, 2013
The Bless This Child personalized Lamb Blankie is my favorite gift to give as an infants Baptismal Gift. Having a remembrance with the child's name, baptismal date, and prayer on it delights the parents and the Blankie itself provides a cuddly, soft lamb for the child to snuggle for years. It is a winner in every respect!

Baptism
By
sherry S.

(strongsville, OH) - January 17, 2013 (
See all reviews by this customer
)
I bought this for my granddaughter Hailey's Baptism. This is a great keepsake. It is something for her to remember the day and know she is blessed and loved. Great quality and quick service.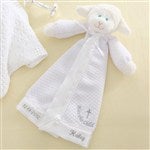 Quality of product
By
Shopper

(Lakeland, FL) - November 30, 2012
Was just what I was hoping for. Beautiful, soft, engraving was perfect. Just became a Grandma and my little granddaughter will love this!!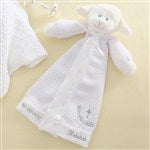 Great product!
By
Shopper

(Kensington, KS) - November 26, 2012
I bought this for my grandon's baptism. Very nice and personalized with his name and birth date. Very fast shipping, too! Thank you!!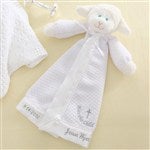 Best baptism gift ever!
By
Angela W.

(Dallas, TX) - November 21, 2012 (
See all reviews by this customer
)
This was exactly what I expected from the photos on the website. I can't wait to give this to my little niece. I know my sister/in-law will love it!! Such a great keepsake for her special day!!

Great keepsake
By
Shopper

(Canada) - October 31, 2012
I bought this blankie for my Goddaughter's christening and my sister and her husband absolutely loved it. The two sides at the bottom of the blankie didn't line up but it is worth 5 stars anyway.

Great product and quick shipping
By
Shopper

(Stamford, CT) - September 30, 2012
Perfect gift for my nephew. We were very impressed with the quality of the product and the speed of processing and shipping. We will definitely continue to shop here.

Sweet Blankie!
By
Shopper

(Hinsdale, IL) - September 15, 2012
I love this blankie as a newborn or Christening gift - the perfect size, very nice quality, and everyone loves it - including the baby!

Baptismal Lamb
By
Marilou R.

(Lutz, FL) - August 1, 2012 (
See all reviews by this customer
)
The baptismal lamb was a perfect gift. My daughter-in-law loved it! It is something that can either be displayed or in time hugged and loved by my little new granddaughter.

Baptism gift
By
Shopper

(Paso Robles, CA) - July 31, 2012
So easy to order and when the parents sent us a picture of the baby sleeping with the lambie... Priceless.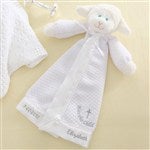 Lamb baby sleeping blankie
By
Terri D.

(Allen, TX) - June 24, 2012 (
See all reviews by this customer
)
I bought this for my grand baby to be "used" and not to sit on a shelf. It came just like I wanted it. It is soft and adorable and personalized just for her. She will love it!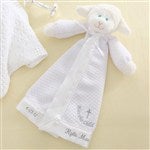 Great Baptism Gift
By
Shopper

(Philadelphia, PA) - June 12, 2012
This arrived on time and was exactly what I ordered. Made a great gift for a four month old who has everything.

Perfect for Baby Dedication
By
Shopper

(Catoosa, OK) - June 11, 2012
This soft little lamb blankie was a perfect gift for my grandsons' baby dedications.