Great product and service
By
Jeanne B.

(Hemet, CA) - May 6, 2014 (
See all reviews by this customer
)
Thanks for the bright and "happy" selection for a welcoming door mat.
We purchased it for the new owners of a home we sold because we had so
many wonderful memories there and wanted them to start out with
a similar "feeling." I know they will be thrilled.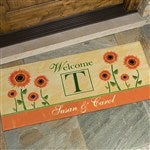 Summer sunflower Doormat
By
Shopper

(Maryville, TN) - April 8, 2014
I ordered this for a wedding present. It turned out really cute. The bride loved it.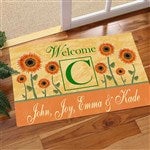 summer sunflower & personal photo mats
By
Shopper

(South Pasadena, FL) - January 27, 2014
phenomenal conversation pieces . . . and the construction and quality is excellent!

Aweomse!
By
Shopper

(Johnston, RI) - December 27, 2013
Loved it! Great quality .. came out perfectly. Bought them as Christmas gifts, everyone loved them.

EXCELLENT
By
LINDA P.

(WOODBRIDGE, VA) - June 29, 2013 (
See all reviews by this customer
)
THIS IS THE 4TH ITEM I'VE PURCHASED AND EACH ONE IS EXACTLY LIKE WHAT THE PICTURE SHOWS. EACH WAS A GIFT AND THE PERSON RECEIVING IT WAS PLEASED.

sunflower doormat
By
Shopper

(Newark, CA) - June 23, 2013
I love that there was space for extra characters on this door mat. It gives a lot more options than the usually amount.
Thank you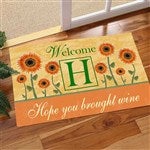 Mother's day
By
Shopper

(BLACKLICK, OH) - June 18, 2013
Just as expected ! Will buy again

Better than I expected!
By
Shopper

(Orlando, FL) - June 4, 2013
This was my first time ordering from an online personalization vendor, so I was skeptical to say the least. However, this doormat turned out to be so beautiful and welcoming! I ordered this as a house-warming gift for a soon-to-be wed family member to help make her new home with her husband feel more welcoming, and I expect that it will do just that! I saw that there was a spring themed doormat very similar to this - if there had been a fall and winter, I may have ended up doing a set for all four seasons!

Perfect for home or gift
By
Shopper

(Alpharetta, GA) - May 15, 2013
My mother in law loved her mothers day present. Will be buying one for our home too !

First Personalized Doormat
By
Shopper

(Bronx, NY) - March 21, 2012
This is my first order of a doormat (personalized, at that) and it looks EXACTLY like the product picture. The color is precise, the font is clear and beautiful. I will be ordering more for holidays and seasons. <3 this site!

love it
By
THERESA P.

(seminole, OK) - January 31, 2012 (
See all reviews by this customer
)
i love the size and the look very pleased with it..........................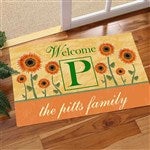 Just what I expected
By
Erika J. A.

(Sun Valley, CA) - November 5, 2011 (
See all reviews by this customer
)
This I choose for my mother since her whole kitchen is all about sunflowers when I gave it to her she didn't want to put it on the floor because she said it was too pretty to get dirty but I convinced her that's what it's for. Other than her not wanting it to get dirty she LOVED it!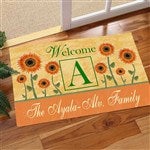 Perfect Gift!
By
Shopper

(West Mifflin, PA) - June 16, 2011
I bought this doormat for a friend & she just loved it! She thought it was so thoughtful & kept asking me where I got it. The Personalization looks really good on the doormat. It was definitely a hit!

Summer Sunflowers Doormat
By
Lori A.

(Millington, IL) - June 15, 2011 (
See all reviews by this customer
)
I purchased this doormat as an anniversary gift for my daughter and son-in-law. I had it delivered to me, so I could wrap it and present it to them. We were all very happy with the personalization results and the quality of the doormat. Once again at a great price and quick delivery!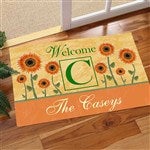 Great Summer Doormat
By
Shopper

(York, PA) - June 6, 2011
Colors are bright, have received compliments from the neighbors. Quick shipping, very pleased!

Makes a Great Gift
By
Shopper

(Coralville, IA) - May 20, 2011
I bought this for my mom for Mother's day and she loved it! It's easy to clean and fit right in with her new house and patio.

Beautiful and Fast!!
By
Elaine Z.

(McHenry, IL) - April 30, 2011 (
See all reviews by this customer
)
My neice and her new husband just bought a new home and I wanted to get something special for a housewarming gift.. Their house is yellow and she loves sunflowers so your Sunflower doormat was perfect.. I was excited I could get it personalized and delivered fast... And when it arrived, it was even a great quality for the price!!! Will definitely refer everyone to you..Thank you Thank you Thank you..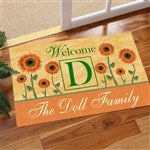 Summer Fun!!!
By
Shopper

(Fort Worth, TX) - March 27, 2011
I love this summer mat!
My porch will be so colorful and the monogram was perfect!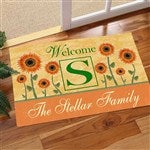 Beautiful!
By
Kathy T.

(Pleasant Valley, NY) - February 10, 2011 (
See all reviews by this customer
)
The colors in this mat are beautiful. Very bright and cheery. The rubber backing is great also. Got to include the whole family including my dog in personalization. Love It!

Lovely
By
Kathleen I.

(Mount Prospect, IL) - December 15, 2010 (
See all reviews by this customer
)
Cute housewarming gift!

Pretty doormat
By
Rocky N.

(Lincoln, NE) - November 17, 2010 (
See all reviews by this customer
)
I bought this for my ex-husband and his wife for Christmas and the grandkids will give it to them. Very pretty and different and also perky. Hope they like it as well as the kids did and had such fun picking one out.

BEAUTIFUL!!!
By
Kendra M.

(Perryville, MO) - September 7, 2010 (
See all reviews by this customer
)
I loved this doormat! So much prettier than the picture gives it credit for!

Want One for Myself
By
Rachel S.

(Hudgins, VA) - June 8, 2010 (
See all reviews by this customer
)
Ordered this for my mother-in-law and now I want one too! It looks just like the picture...so cute!

Outstanding results
By
JoAnn M.

(Sun City, CA) - May 14, 2010 (
See all reviews by this customer
)
My sister just purchashed her first home. This personnal mat at her entry door will be a extemely colorful, beautiful "welcoming" to all. I'm quite sure when she sees this there will be "happy tears. My mom and my other sister loved it,strong, durable for front door entry. We bought one for my son 2 xmas's ago and it's still beautiful. Superior quality,workmanship,colorful,long lasting. Thanks again Personalization Mall.

Christmas gift for MIL
By
Pamela E.

(Harrisburg, PA) - December 28, 2009 (
See all reviews by this customer
)
My MIL said the door mat is beautiful, too beautiful to put outside. She was very pleased with the quality of the rug. She would recommend this rug to her friends.

summer sunflwers doormat
By
anne A.

(mahopac , NY) - December 26, 2009 (
See all reviews by this customer
)
I did not know of your company-found it on the internet. The service was wonderful-quick and accurate and my kids love the mat. Thanks Anne

nice gift
By
saily V.

(union city, NJ) - October 9, 2009 (
See all reviews by this customer
)
this present was perfect for my friend at work who was getting a new house, she love it.

Great Product!
By
Debbie H.

(Pink Hill, NC) - October 1, 2009 (
See all reviews by this customer
)
I'm very satisfied with my personalized doormat. It's a Christmas gift I ordered and I'm very pleased with my purchase. It was delivered very quickly and I'm happy with my purchase.


Personalized Doormat
By
Judy T.

(Arlington, WA) - October 1, 2009 (
See all reviews by this customer
)
I received the mat in a timely manner and it looks great!