Classy Pasta Bowl
By
Melody V.

(cumming, GA) - April 7, 2014 (
See all reviews by this customer
)
I gave this to my sister as a wedding gift and she LOVED it. High quality at a reasonable price. She proudly displays it in her chefs kitchen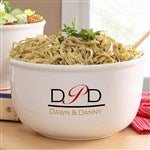 Pasta Bowl
By
Dawn R.

(Louisville, KY) - January 14, 2014 (
See all reviews by this customer
)
Once again, I was so happy with my purchase from Personalization Mall. The product was everything I had hoped for and more! The bowl was large and heavy weight and the monogramming was perfect. I have been spreading the word around about your online company because the few times I have ordered from you, I am always pleased!

Serving Bowl
By
lisa B.

(leawood, KS) - December 26, 2012 (
See all reviews by this customer
)
I was very happy with the quality of the bowl. It is a good size. It feels like a heavy, good quality bowl. The monogram was good quality as well. The only suggestion I would have is that I could have chosen the color of the monogram on the bowl.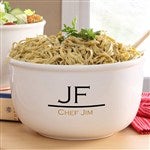 Top Quality
By
Alan K.

(Villanova, PA) - December 25, 2012 (
See all reviews by this customer
)
really nice bowl, will definitely buy more as gifts

Love it!
By
Shopper

(Louisville, KY) - July 14, 2012
I purchased one of these as a wedding gift and then ordered one for myself. It is a very large, heavy bowl and the quality far exceeded my expectations. I plan to purchase these for gifts in the future.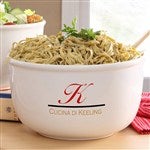 Great bowl!
By
Gina J.

(Apollo Beach, FL) - February 1, 2012 (
See all reviews by this customer
)
I recently purchased this for my mom for her birthday and I loved it so much, I asked for one for Christmas. She also said she is going to be buying them for people for birthdays/christmas. What a great way to give a gift someone will really use (with a personal touch!)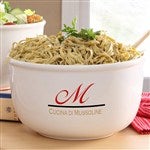 Great Housewarming Present
By
Amanda A.

(Sault Ste. Marie, MI) - October 14, 2011 (
See all reviews by this customer
)
My sister bought her own house, so I personalized this bowl to add to her housewarming present. It was much bigger than I anticipated, but it was heavy and I loved it. I filled it with food items (canned veggies, soups, pasta, jarred pasta sauce, etc.) and a few household items, and made it a huge basket. The bowl IS that big - I used 3-4 cans laying down at the bottom of the bowl as the "filler" so that I could pile the fun stuff on top. When I read other reviews, I didn't expect the personalization to be of great quality, but it was! It's not a "sticker" like some have mentioned. I will remind her to only hand wash it though - don't want to take any chances!

All in all, great purchase again from personalizationmall.com.

Beautiful
By
Shopper

(Parker, CO) - September 5, 2011
Beautiful bowl!!! Love the size!!! We bought this for a wedding gift and loved it when it arrived (and so fast too!). We know our friends receiving it will just LOVE it too! Thank you so much for doing a great job.

Great quality
By
Ashley J.

(HAMPTON, VA) - July 24, 2011 (
See all reviews by this customer
)
I gave this to my Mother as a popcorn bowl, and she absolutely loved it. Great quality. Great purchase!

Great gift item
By
Shopper

(East Longmeadow, MA) - June 6, 2011
This bowl is very heavy and nice. My friend loved it! Perfect gift. I really hope that the design holds up with washing.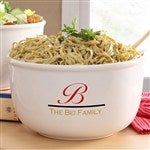 Love it!
By
Chelsea A.

(Oxnard, CA) - June 8, 2010 (
See all reviews by this customer
)
I purchased this for my husband and we are both thrilled at the quality! It turned out so great and got here so quickly! I am so glad I found this site and hope to use it for future occasions.

I learned to read the small print....
By
Lynne Z.

(Carrollton, IL) - February 12, 2010 (
See all reviews by this customer
)
Love the size of the bowl! Daughter bought for Dad as a birthday gift for use as an "ice cream" bowl. Yes, he eats an enormous amount of ice cream! lol But, ole Mom failed to see the small print on the bottom of the bowl stating NOT to put it in the dishwasher... hand wash only. The entire monogram "melted" off and was now a plain bowl. Re-ordered and no more dishwasher! The bowl itself is deep, heavy and perfect. I gained another perfect mixing bowl and Dad got his ice cream bowl replaced! ; )

GREAT BOWL
By
Elaine A.

(Warwick, RI) - December 7, 2009 (
See all reviews by this customer
)
This is a terrific bowl. It is deep and will hold lots of goodies such as spahetti, salad or any other large quantity food item. It is sturdy and looks quite elegant on the table.

A winner!

Great Customer Service/Love the bowls also
By
Stacy M.

(Katy, TX) - October 5, 2009 (
See all reviews by this customer
)
I ordered two of these bowls for gifts inwhich each was personalized differently. One of the bowls arrived broken in several pieces. When I called your site they asked a few questions and said they will send me another right away. I asked if I had to send the broken one back and they said no, throw it away. It was wonderful customer service and I will surely order from your site again. The bowls are the perfect size and beautiful. I want one for myself now. Thank you.