Great Gift Idea
By
Shopper

(Hazelwood, MO) - August 4, 2014
My friends loved the wraps with their names on them. Gave them as birthday gifts.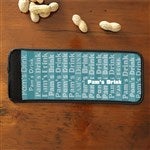 Personalized Can & Bottle Wrap
By
Shopper

(Woodridge, IL) - April 1, 2014
Very pleased with entire purchase, from ease of ordering to quick delivery. Ordered 4 different names & colors with destination as a keepsake of upcoming trip. All gift recipients were pleased. Product true to picture and description on website. I'd highly recommend.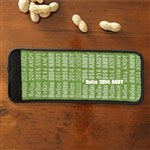 Bottle wrap
By
Katherine S.

(Airmont, NY) - February 11, 2014 (
See all reviews by this customer
)
These were purchased for a friend as a gift. They are great quality and the personalization was wonderful. She loved them. Can't speak to how long they keep beverages cold since just gave them to my friend. Happy with my purchase.

Very cute idea!
By
Shopper

(Roswell, GA) - February 2, 2014
I was surpised at how nice these were. Great quality.

Geve this as a gift at the office....LOVED!
By
Judy D.

(New Iberia, LA) - December 18, 2013 (
See all reviews by this customer
)
Thank You! This was a gift to a co-worker....he loved it, especially the fact it was just for him!

Love my personal koozie
By
Brian K.

(St Louis, MO) - June 22, 2013 (
See all reviews by this customer
)
I received mine as a gift and I love it. It fits around any bottle or can I use.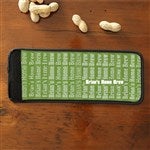 Great gift!
By
Maheanani P.

(Lakeport, CA) - December 29, 2012 (
See all reviews by this customer
)
This turned out very well. It was a big hit! I will order more in the future.

Oh So Cute!
By
Shopper

(Eunice, LA) - December 10, 2012
Got this Bottle Wrap in blue, with my sister's name and CHEERS! added. It turned out so darned cute; well worth the stocking stuffer price! Great gift idea for a personal touch under the tree. The color is a very nice shade of blue. Picture does not do it justice!

Fun Gifts
By
Shopper

(Land O Lakes, FL) - December 4, 2012
I purchased these for my Brother and Sister In Law...and they are great! The quality is very nice....the colors are vibrant....such a fun gift idea.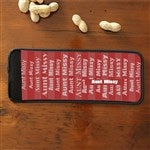 love them!
By
Shopper

(Brick , NJ) - August 19, 2012
i got these as a gift for my book club!!!

Cool
By
Shopper

(Gulfport, MS) - July 18, 2012
Not big on the wrap around coozie but I call my hubby the coozie king so I thought it'd be cool to get us matching ones with our name on it! he loved it and was very impressed!! :)

good christmas gift
By
Shopper

(Tell City, IN) - July 11, 2012
bought it for a friend of mine for christmas. he drinks a lot of soda so thought that he would like this and he is a nascar fan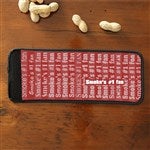 Beautiful
By
Kim G.

(Clarence, NY) - June 5, 2012 (
See all reviews by this customer
)
I ordered a blue and a pink drink holder for my husband for fathers
day. I had the name of his boat printed on the drink holder and they
both came out beautiful. The blue is more like a teal and that is
perfect for his boat. The service was really fast and the product is really nice,
I would say this is a good price for what you get. I would definitely recommend these drink holders and this company to a friend.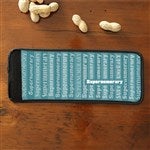 koozie
By
Shopper

(Pasadena, TX) - April 28, 2012
thank you I was pleased with my entire order, prompt, good quality and reasonably priced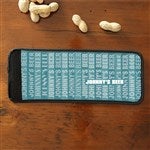 just like the pic
By
kelly C.

(flower mound, TX) - February 9, 2012 (
See all reviews by this customer
)
I bought two as gifts for friends in different colors. They look exactly like the picture. My friends were pleased with the gifts and I received requests from others who wanted one. I will be placing another order in the future to include one for myself!

The shipment was received on time and the website provided emails communicating order & shipment details.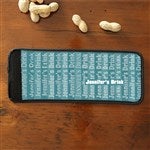 Excellent for Teachers, and Coaches
By
Shopper

(Chandler, OK) - January 8, 2012
We bought this for a football coach and put it on his favorite sports drink. The personalization was really sharp!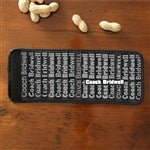 Great Idea for parties, or just for fun
By
Shopper

(Lock Haven, PA) - December 26, 2011
i got this for my husband for a christmas gift and he loves it, He used it all day and everyone around us Loved it as well. Love it.

Perfect Gift for my Husband!!
By
Shopper

(Clinton, IA) - December 19, 2011
Turned out great! I got the one in black and it looks exactly as the preview showed me it would.

great co-worker gift
By
Shopper

(Canby, MN) - December 16, 2011
This is a great gift for those that you just need a little something for, but it's practical. I love that it can be used with a can or a bottle, depending on your choice of beverage! It's great for the office when you need the 3pm pick me or at an after work party.

Great Product
By
Dawn W.

(Madisonville, KY) - December 13, 2011 (
See all reviews by this customer
)
They look great!! Fast shipping and great price!!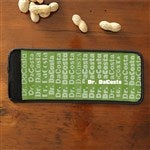 Great Gift Worth Every Penny!
By
Shopper

(Franklin Park, IL) - October 24, 2011
Got this for a friend who was turning 21 and it was a GREAT idea! It even fit over one of those small bottles of liquor and that made it a great presentation. Durable, felt like great material and is definitely something that went over very well! I plan to get this again in the future for more friend-gifts!

AWESOME!!!
By
Shopper

(Holly Springs, NC) - August 16, 2011
Im so excited about my "wraps". They are beautiful and my poker girls will love them. I can't believe the price either as I have looked all over the web and you guys have the best prices EVER!

Thanks so much

Great product!!!
By
Jill R.

(Saugus, MA) - August 1, 2011 (
See all reviews by this customer
)
I love this product! Can't beat the price and the bottle wrap looks better when you see it. I was a little nervous by the picture, now I am so happy I bought these!!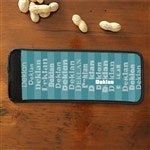 great gift
By
Shopper

(Monticello, IL) - July 25, 2011
I purchased these for friends to use at their lake house. They loved them! A great housewarming or hostess gift.

Great Gift!
By
Melissa W.

(Valparaiso, IN) - July 18, 2011 (
See all reviews by this customer
)
I purchased two of these drink huggies to put in a basket as a wedding gift for my best friend. Her and her new husband love them! They are always enjoying different beverages so its nice that these huggies fit any size drink! I would definitely buy these again!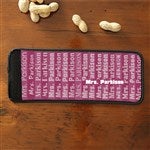 Great Koozie
By
Shopper

(rochelle, IL) - July 16, 2011
These koozies are great. They fit any size can or bottle, excellent quality too!


Great Item, Excellent Service
By
Shopper

(Oak Park, CA) - June 3, 2011
I found Personalization Mall by accident on the internet. I ordered these for party gifts and the item exceeded my expectations. The turn around time was amazing! Thank you personalization mall providing such outstanding products, and delivering the product exactly as stated on your website

Personalized Cooler
By
Nicola S.

(Annapolis, MD) - March 29, 2011 (
See all reviews by this customer
)
Easy to use website, reasonably priced and arrived on time. Product looks great!

21st Birthday Gift
By
Shopper

(Flat Rock, IN) - March 25, 2011
My boys loved these huggies for their birthdays. Good quality and comfortable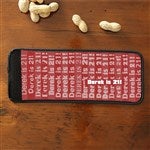 Perfect Groomsman Gift!
By
Katie W.

(Dallas, TX) - March 22, 2011 (
See all reviews by this customer
)
These turned out just as we expected. The colors are vibrant and they are going to make great gifts!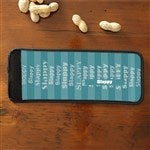 I love this website!
By
Shopper

(conroe, TX) - March 8, 2011
This website is great it has so many things to choose from and is very inexpensive. I love these huggies they came out just like the picture and are so fun when I'm hanging out with my friends!

Perfect Huggie!
By
Vickie M.

(New Castle, PA) - March 7, 2011 (
See all reviews by this customer
)
I bought this as a gift for my sister in law. She is a bartender and has had her share of different Huggies over the years. She LOVED it!..And it fit the bottles just as well as it fit the cans! And she will never get her drink mixed with anyone else's again! :)

Great Gift!
By
Shopper

(Marietta, GA) - January 10, 2011
I ordered 7 of these as gifts for family members. Each had it's own customized label. Everyone LOVED them! It was so easy to order, quick to deliver and such a cool personalized gift. Also, its tough to find a site that will allow you to order a small quantity while personalizing each item. This was incredibly affordable and such a great deal!!

drink huggie
By
Loretta F.

(Staten Island, NY) - January 3, 2011 (
See all reviews by this customer
)
My husband got a big kick out of this stocking stuffer. He showed it to everyone who came over.

Family Huggies
By
Linda H.

(Monongahela, PA) - January 3, 2011 (
See all reviews by this customer
)
I purchased my first few huggies a few years ago for my Christmas Eve party so that my family would know whos drink was whos. I have added to my collection over the years since our party is growing in people. My rule is you have to attend our party 3 years in a row to get your own personalized huggie and the huggies stay at my house for all our parties!! It has become great fun and everyone is so excited to get their own huggie. Best thing you always know you have the right drink!!!

love this item
By
bridget W.

(denham springs, LA) - December 30, 2010 (
See all reviews by this customer
)
This is such a cute item. I bought some of them and had them personalized as gag gifts. The people who received them loved it!

Sue
By
Susanne W.

(Westfield, MA) - December 23, 2010 (
See all reviews by this customer
)
It was shipped promptly and looks great.

UNIQUE & Fun For Everyone
By
Adina T.

(Naperville, IL) - December 13, 2010 (
See all reviews by this customer
)
I have purchased these SEVERAL times... I host Christmas Eve and personalized one for each of my guests... Some with their real name and some with fun nicknames... I bought these for teacher gifts and they were a hit... I've purchased them for retirement parties and vacations and special events... These are so FUN and EVERYONE always LOVES them...I will continue to have fun personalizing and gifting these Huggies.

Huggies
By
Priscilla L.

(Baskerville, VA) - November 30, 2010 (
See all reviews by this customer
)
I love the huggies that I bought. I am giving them as Christmas gifts and they looked better than expected when I received them.

Great Christmas gift
By
Shelly H.

(Oakton, VA) - November 28, 2010 (
See all reviews by this customer
)
I bought 4 of these with different humorous wording for my stepdad, who is impossible to shop for. They turned out great, and I'm sure that he is going to love them.