What To Get Your Man: The Beach Bum
Do you constantly find sand in strange places – like the crevices of your car or in the grout of your bathroom floor? Is your floor slippery from sun tan lotion? How about the radio – is it always set to Jimmy Buffet's classics? If you answered yes to any of these questions, you may have a Beach Bum on your hands. If your special someone likes to relax ocean-side, then you already know that no beach trip is complete without the proper accessories.
Show your sandy-haired loved one just how much you care with some custom-made products for fun in the sun. Check out these five personalized gifts, handpicked just for your beloved Beach Bum.
1. Deluxe Weekender Name Embroidered Tote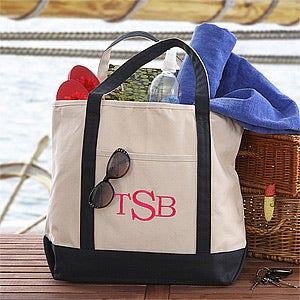 The Deluxe Weekender Raised Monogram Embroidered Tote
A day at the right beach, with the right weather makes for a dream island getaway – or at least a great weekend trip. Why not pack accordingly? Give your Beach Bum a patented bag for all the beach day necessities. Our Deluxe Weekender Name Embroidered Tote is the perfect "I love you" for the Beach Bum in your life. Our roomy tote is big enough to carry towels, snacks, a good beach read, and more. Plus, the embroidered name, single initial, raised initial, or monogram makes this special gift something to treasure for many beach days to come.
2. Personalized Can & Bottle Wrap

You Name It Personalized Can & Bottle Wrap
Beach drinks are sure to boil in the summer sun without a trusty wrap to keep your drink cool - and our You Name It Personalized Can & Bottle Wrap is just the cure. Just pick your poison and we'll have it covered. Is your Beach Bum a party animal? Pick the Party Time Personalized Can & Bottle Wrap with a two-line message that's the perfect teaser for his next beach bash. Enjoy summer fun with brightly colored wraps that feature your Beach Bum's name or nickname in white writing. No matter which wrap you choose, your man will appreciate the extra thought of a personalized gift perfect for those lazy days in the sun.
3. Personalized Beach Towel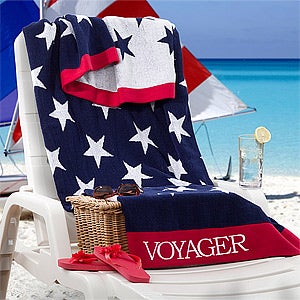 Red, White & Blue Embroidered Beach Towel
There's nothing more American than a classic barbecue on the beach. Our Red, White & Blue Embroidered Beach Towel is a great kickoff gift for a casual summer soirée. Let your Beach Bum stake his claim to the best sandy spot on the beach with a personalized towel handpicked just for him. No one except for your Beach Bum will be setting up camp on top of this distinct towel - and he'll think of you every time he uses it!
4. Personalized Collapsible Cooler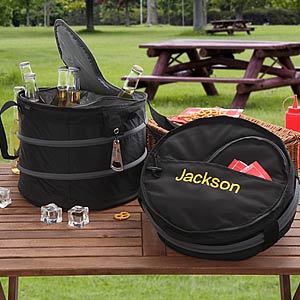 You Name It Personalized Collapsible Party Cooler
How else will your Beach Bum pack up the must-have drinks and snacks without a cooler? Complete his seashore to-do list with this great personalized gift he'll use regularly. Our You Name It Personalized Collapsible Party Cooler is the best way to pack up and break down with ease - and it expands to fit all your man's favorite drinks! When the party's over, the cooler collapses into a simple, zip-able tote. The embroidered name on the front lets guests give thanks to the one-and-only host: your favorite Beach Bum.
5. Summer Fun Personalized Doormat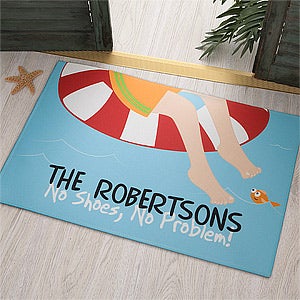 Any true beach-lover never stays far from the sea - and after a long day at the beach, it's time to come home and relax. Your Beach Bum can drop off the last of the sand and sun on this colorful Summer Fun Personalized Doormat. Add any one-line message to remind your Beach Bum that home is where the sea is!
Personalization Mall offers free personalization and fast shipping - so what are you waiting for? These five personalized beach gifts are the perfect gifts for the Beach Bum in your life. Not seeing the right gift for your man? Check out these other handpicked options below to find the gift that he'll cherish forever:
For more personalized gifts for the Beach Bum in your life, click these related links:
Personalized Outdoor Living Gifts for Men
BBQ, Sports & Leisure Gifts For Men
Personalized Keepsakes for Men

Is your man not a Beach Bum? You're in luck! We have gift guides for men based on several personalities - check out the gift guide that best describes your man!
What To Get Your Man: The Playboy
What To Get Your Man: The Master Chef
What To Get Your Man: The CEO
What To Get Your Man: The Avid Traveler
What To Get Your Man: The Rock Star
What To Get Your Man: The Pro Golfer
What To Get Your Man: The Sports Enthusiast


Not seeing your man's personality type? Check back soon – we're adding more, and the perfect gift guide for your man is next! For now, check out all of Personalization Mall's personalized gifts for men here: Personalized Gifts For Men