What To Get Your Man: The CEO
The businessman in your life works hard to get the job done. Whether he's the boss, an intern, or somewhere in between - show him he's the CEO of your life with a personalized gift he'll love. Finding the perfect gift for your businessman is a difficult task - he's not the type to want a toy or game, and you don't want to get him another tie or dress shirt to hang in his closet. Your businessman works hard, so show him that you notice his hard work and put some thought into his gift this year. Check out these personalized gifts handpicked just for the CEO in your life, and find something he'll use and appreciate time and time again.
1. Keep His Desk Clean: Personalized Leather Organizer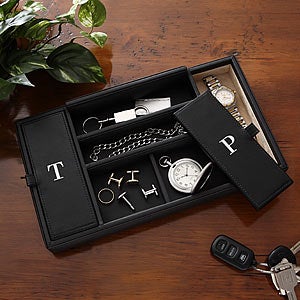 The Executive Office Personalized Leather Valet Organizer
Does your CEO have a habit of keeping a messy desk? Help him keep it clean with our Executive Office Personalized Leather Valet Organizer - perfect for the businessman in your life. This organizer has several compartments to keep keys, coins, keepsakes, and whatever else is cluttering his desk. You can even get him a second organizer for home, to empty his pockets at the end of the long workday, and you'll never spend your morning helping him look for his keys again! This desk organizer is simple and timeless, perfect for any businessman - from the intern's desk all the way up to the CEO's corner office. Made from leather and personalized with your loved one's initials in gold or silver foil, it's a gift made to use daily and cherish forever. Whether you're celebrating a promotion, anniversary, or you just want to give your man the executive treatment he deserves, this personalized desk organizer is the perfect gift for any occasion.
2. Send a Love Note with Him: Personalized Collar Stays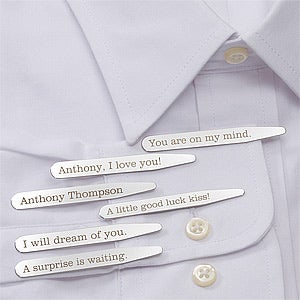 Secret Message Personalized Collar Stays
Nothing will make your businessman smile in the middle of a hectic workday like a reminder that you're thinking about him. Send a secret note along with him in the morning that will stay with him all day long, with our Secret Message Personalized Collar Stays. A set of three collar stays allows you to personalize up to six single line messages. Whether you add something simple and romantic to the stays, like "You are on my mind" - or simply personalize them with your loved one's name, this gift works well for the man who has everything. Your businessman can use these stays over and over, so you can send the right note each day. Is today the big presentation that he's been prepping for? Sounds like the perfect day to send him in to the office with "A little good luck kiss!" hidden under his collar! Forget the love note in his briefcase - with these collar stays, you'll stay on his mind all day!
3. Stay Productive: Personalized Leather Portfolio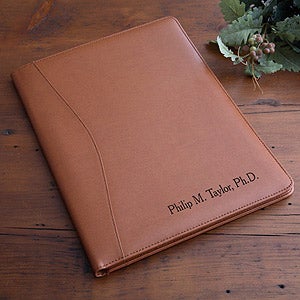 Executive Tan Leather Personalized Portfolio
If you're looking for a gift that will be helpful in your businessman's day-to-day job, we have several options that are sure to please even the toughest executive. Our Executive Leather Personalized Portfolio is perfect for your CEO to hold business cards, keep track of documents, schedule meetings, and more. Not only can you personalize your gift with his full name and title, but you can go the extra mile and customize the font style, the color of the leather, and more - so you can be sure everything is just right for the man in charge.
A personalized mouse pad is another great option for the businessman spends most of his day on the computer - and we have just the one. Our 35 Quotes Personalized Mouse Pad allows you to be your man's inspiration, even when you're not with him! Personalize it with his name, initials, and your favorite inspirational quote to keep him motivated during the toughest days.
4. Carry Cash and Cards: Personalized Money Clip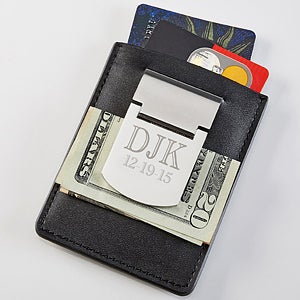 Zippo Engraved Money Clip & Credit Card Case
A true businessman is always on the go, so it's important that he has a credit card and cash carrier that is sleek and attractive to take with him. Our Zippo Engraved Money Clip & Credit Card Case is perfect for the CEO on the go. The case includes a spring-loaded clip personalized with his name or initials and the date - perfect for anniversaries and birthdays too. The leather card holder is perfectly sized for any cards they need to carry with them regularly - from IDs and credit cards to business cards and more. Stylish and simple, this money clip and card holder is the perfect accessory for the CEO in your life.
Getting your CEO or businessman a personalized gift that is functional and sentimental is the perfect option for special occasions, holidays, birthdays and more. And with free personalization and fast shipping, we also make your "just because" presents stand out!
Not seeing the perfect gift for your CEO? Check out these other personalized gifts that will show the businessman in your life how much you appreciate his hard work!

For more personalized gifts for the CEO or Businessman in your life, click these related links:
Personalized Office Gifts for Men
Personalized Men's Accessories
Personalized Keepsakes for Men

Is your man not a CEO or Businessman? You're in luck! We have gift guides for men based on several personalities - check out the gift guide that best describes your man! What To Get Your Man: The Playboy
What To Get Your Man: The Master Chef
What To Get Your Man: The Beach Bum
What To Get Your Man: The Avid Traveler
What To Get Your Man: The Rock Star
What To Get Your Man: The Pro Golfer
What To Get Your Man: The Sports Enthusiast

Not seeing your man's personality type? Check back soon – we're adding more, and the perfect gift guide for your man is next! For now, check out all of Personalization Mall's personalized gifts for men here: Personalized Gifts For Men