What To Get Your Man: The Pro Golfer
No matter what time of year you're shopping for your golf enthusiast, there are several personalized golf gifts right here at Personalization Mall that will make him smile. Make sure you get him a gift he'll appreciate every time he steps on the course - consider these useful and thoughtful gifts for the Pro Golfer in your life!
1. Personalized Golf Tees Keep Them Going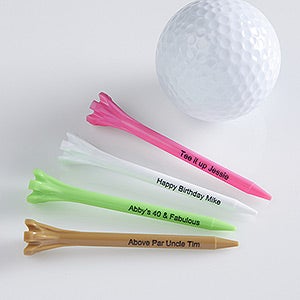 Tee It Up! Personalized Golf Tees
One of the best gifts you can give your Pro Golfer is a set of personalized golf tees. Our golf tees come in a variety of colors, so you can get your loved one's favorite. You can even add a single line message! Our Tee It Up! Personalized Golf Tees are a great way to make sure that your Pro Golfer knows you're thinking about him while he's on the course.
favorite saying. One of the benefits of these tees is that they are more durable than traditional wood tees - so they're less likely to break, allowing your Pro Golfer to keep going.
2. Personalized Golf Balls That Make an Impression

Photo Perfect Personalized Golf Ball Set
Is your Pro Golfer always losing his golf balls? Get him some golf balls that he won't misplace any time soon. Our Photo Perfect Personalized Golf Ball Set keeps you close, even when you're not together. You can personalize the golf balls with images of almost anything - whether it's a picture of the family dog, the kids, or just a great picture of the two of you! With free personalization, the options are limitless. These personalized golf balls are great to use on the golf course, but can also be used as a decoration in the home.
3. Personalized Golf Shirts for Any Day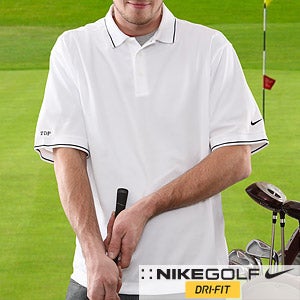 Personalized Nike Dri-FIT® Golf Polo Shirt
Whether your Pro Golfer needs a new shirt to play the course or you simply want to get him something he can wear any time, a Personalized Nike Dri-FIT® Golf Polo Shirt is sure to please your golf aficionado. The shirt will keep them cool, no matter how hot the game gets. On top of this, you can personalize it with your loved one's initials - select up to three initials so your man knows this golf shirt was made just for him. Any Pro Golfer would be proud to wear this comfortable shirt for a day on the course or a day out with the family.
4. Personalized Crystal Golf Ball

Personalized Crystal Golf Ball
If you're looking for something that your Pro Golfer can display around the house, consider a Personalized Crystal Golf Ball. This beautiful crystal golf ball makes a great gift for any occasion. You can personalize it with up to four lines of text, which allows you to commemorate the occasion - and, of course, your Pro Golfer's name. Your man can use this gift as a display in the living room or as a fun paper weight in the office. No matter where he decides to place it, it is sure to make him smile every time he looks at it.
Getting the perfect gift is an art. When you get a personalized gift for your man, he knows that you are thinking about him. Personalized gifts make a fun present for all occasions - and with free personalization and fast shipping, Personalization Mall is the best place to go for your man's golf gifts. From golf clothing to accessories he needs on the course, make sure that you get a gift your Pro Golfer will love, with a little bit of a personal touch!
Not seeing the right gift for your Pro Golfer? Choose from several other personalized golf gifts here!

For more personalized gifts for the Pro Golfer in your life, click these related links:
Personalized Golf Gifts
Personalized Outdoor Living Gifts for Men
BBQ, Sports & Leisure Gifts For Men
Personalized Keepsakes for Men
Is your man not a Pro Golfer? You're in luck! We have gift guides for men based on several personalities - check out the gift guide that best describes your man!
What To Get Your Man: The Playboy
What To Get Your Man: The Master Chef
What To Get Your Man: The CEO or Business Man
What To Get Your Man: The Avid Traveler
What To Get Your Man: The Rock Star
What To Get Your Man: The Beach Bum
What To Get Your Man: The Sports Enthusiast

Not seeing your man's personality type? Check back soon – we're adding more, and the perfect gift guide for your man is next! For now, check out all of Personalization Mall's personalized gifts for men here: Personalized Gifts For Men