What To Get Your Man: The Sports Enthusiast
Is your man the type to make it to the game rain or shine, paint his face to match the team, or start tailgating hours before game time? Sounds like you're dating a Sports Enthusiast! Our super sports fans can be tough to shop for when the holidays roll around, so what do you get for the fan that has everything?
1. Personalized Stainless Steel Coach Whistle

Personalized Stainless Steel Coach Whistle
Coaches are the backbone of the team. They put in long hours, take care of their players, and always strive to be the best. Show the coach in your life that you care with a personalized stainless steel whistle. The stainless steel won't tarnish during those rainy or snowy games, so it'll always look shiny and new.
Present this to your coach after a big win or retirement with their team name and winning title on the side. The stainless steel will look great both on and off the field.
2. Go Team Personalized Athletic Sweatshirt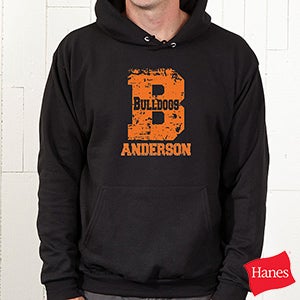 Go Team Personalized Athletic Sweatshirt
Your Sports Enthusiast deserves to stand out from the crowd - so why get him the same sweatshirt as everyone else? Go above and beyond the generic team logo and customize our Go Team Personalized Athletic Sweatshirt with your sports fan's name and most beloved team! You can choose from a variety of colors to make this a unique gift that your man will love.
Personalized sweatshirts are also great for little league and high school teams - whether your little one is the star athlete, or your man is coaching (or thinks he is!). You can show your support for your little league coach by getting his name and team name specially made - or let him relive his glory days by personalizing a sweatshirt with his old high school team on it! You can also have matching sweatshirts made for the team to wear as warm-up gear, or hand them out for other proud parents to wear in the stands. Chances are, your man is probably not the only Sports Enthusiast in the bleachers!
3. Personalized Stadium Seat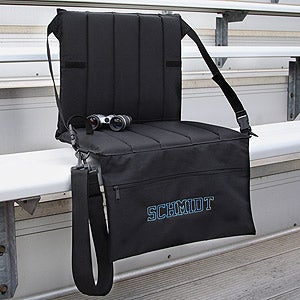 Embroidered Padded Stadium Seat
If your Sports Enthusiast happens to be a season ticket holder, then our personalized Embroidered Padded Stadium Seat is the perfect gift for him. Those cold and uncomfortable metal benches or oddly shaped plastic chairs are such a pain - even if he doesn't want to admit it! This padded stadium seat can be folded over as one thick cushion, or opened up to have a seat and back rest. The shoulder strap and zippered pocket make sure transportation is a breeze and his essentials are safe. Whether it's a sold-out professional sporting event or your son's little league match, make sure your Sports Enthusiast is watching the game in comfort. Go for a home run and have their named stitched on it for free, so everyone knows that seat (and man) is taken!
4. Sporting Events Personalized Ticket Album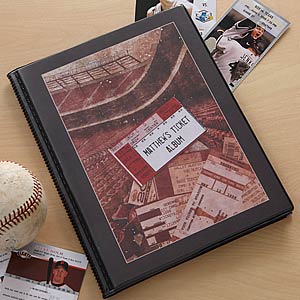 Sporting Events Personalized Ticket Album
Lifelong sports fans have a lot of great memories to cherish. From his first game with dad, to that championship win that had him beating his chest and cheering through the streets, there are so many special sports moments in your man's life that should be honored. With our Sporting Events Personalized Ticket Album, your Sports Enthusiast will be able to keep those beloved ticket stubs as a token to remember each of those incredible games - and the incredible person who bought it for him!
You can save the tickets from games you attended together, and hand them down to your next generation of sports fans. Not dating an athlete or sports-lover? Show dad how much you care by saving your memories together and presenting him with this album as a special treat on Father's Day!
Surprise your Sports Enthusiast with a gift that's thoughtful and unexpected - whether it's his birthday, Valentine's Day, or you simply want to remind him that you're his biggest fan. Show him that even though you're not ready to paint your face, you still support him and his team just the same.
Not seeing the perfect gift for your Sports Enthusiast? Don't worry - we've covered all our bases with this selection of sports gifts, handpicked just for your man. Don't forget to personalize it with his name and team name for a gift that's guaranteed to knock it out of the park this year!
For more personalized gifts for the Sports Enthusiast in your life, click these related links:
Personalized Sports Gifts
BBQ, Sports & Leisure Gifts For Men
Personalized Golf Gifts
Personalized Keepsakes for Men
Personalized Outdoor Living Gifts for Men
Is your man not a Sports Enthusiast? You're in luck! We have gift guides for men based on several personalities - check out the gift guide that best describes your man!
What To Get Your Man: The Playboy
What To Get Your Man: The Master Chef
What To Get Your Man: The CEO or Business Man
What To Get Your Man: The Avid Traveler
What To Get Your Man: The Rock Star
What To Get Your Man: The Beach Bum
What To Get Your Man: The Pro Golfer
Not seeing your man's personality type? Check back soon – we're adding more, and the perfect gift guide for your man is next! For now, check out all of Personalization Mall's personalized gifts for men here: Personalized Gifts For Men