used as a sympathy token
By
JANIE K.

(WEST BEND, WI) - June 29, 2014 (
See all reviews by this customer
)
After the death of a much-loved family member, I purchased 5 of these tokens and sent each out with an (individualized message from the deceased along with this note:
I'M A TOKEN FROM HEAVEN
I'VE BEEN SENT TO DO MY PART.
TO TAKE AWAY YOUR SADNESS
AND HEAL YOUR BROKEN HEART.

SO PUT ME IN YOUR WALLET
(A COIN PURSE WILL ALSO DO.)
OR SLIP ME IN YOUR POCKET
I WANT TO TAG ALONG WITH YOU.

Every recepient loved them and plans to carry them forever in her memory.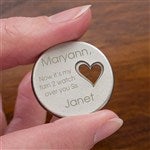 Graduation Memento
By
Shopper

(Baker City, OR) - June 1, 2014
I was looking for just a little something to give as a graduation gift/memento to the daughter/grand-daughter of some dear friends. This pocket "token" is of real "keepsake" quality and turned out to fit the bill perfectly! Thank you again Personalization Mall for your unique selections, refreshing attention to detail, quick shipping, and genuine customer care!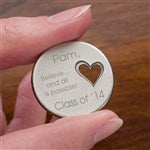 Pocket Token
By
Shopper

(Cherry Hill, NJ) - February 14, 2014
Nice size token for pocket or wallet. Personalization very well done. Pleased with the look of the token.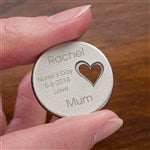 Great piece.
By
Elizabeth J. E.

(Syracuse, NY) - January 26, 2014 (
See all reviews by this customer
)
This item has great quality and very good in size and durability, It can be used for other things. I created a charm for my Grandkids coats. I put a small chain on it and attached it to their zipper pulls. We also made a small bracelet charm with it.

Great
By
Shopper

(East Stroudsburg, PA) - June 7, 2013
I bought this as a graduation gift for my brother, He appreciated it and now has a token to look at and hold whenever he is discouraged. Wonderful gift!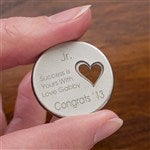 Very sentimental gift
By
Shopper

(Northglenn, CO) - June 4, 2013
I ordered 3 of these as graduation gifts and they brought big smiles to the recipients! I love that I am able to personalize each of them.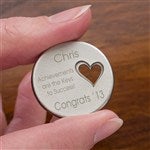 Nice gift
By
nancy P.

(round lake beach, IL) - June 3, 2013 (
See all reviews by this customer
)
This is a nice gift for a grad. My niece will be very pleased with it. After reading other reviews I was hoping that all my words would be readable and they were, no worries. It is also a good size for keeping in your pocket. I thought it was worth the money and a more personal gift. Something different.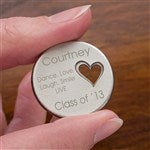 Graduation Token
By
Shopper

(Pevely, MO) - May 26, 2013
I wanted my niece to have a little something extra, along with the money we gave her for her High School graduation. This was the perfect item! It was personalized the way I wanted and I know she'll always keep it with her!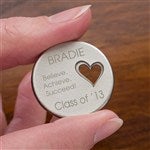 daughters college graduation
By
Shopper

(Corbin, KY) - May 17, 2013
My daughter did not want me to buy her anything for graduation.. she said I have given her so much. I wanted her to have something so she could take a little of me everywhere she goes in life.. what better way than on her keyring. She cross stitched this quote when she was in the 7th grade, it seemed like she really loved the token..she said it was "perfect" as she put in on her keyring. So, I recommend this pocket token for the person that has everything and wants for nothing.. but you want something from you to with them everywhere they go...fast shipping too.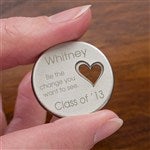 As cute as it is.......
By
Patricia L.

(Lehigh Acres, FL) - May 9, 2013 (
See all reviews by this customer
)
I suggest you do not use this saying, you cannot see the I in is, other then that, it's a cute item.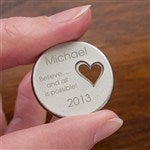 pocket token
By
Shopper

(Ocheyedan, IA) - February 2, 2014
The size was good....the name and bottom line were good as well. The 3 lines in the middle were way too small. The number of characters should be 5 and the font made larger...then it would have been perfect!

Disappointing
By
Shopper

(Altamont, NY) - May 1, 2014
The quality and size of this product was very disappointing. It is barely as big as a quarter and the engraving is so small that you can hardly read it. I'm almost embarrassed to give it to my niece for graduation.

Cute but kind of cheap
By
Shopper

(naperville, IL) - June 22, 2013
I thought that this was the cutest idea. When I received it in the mail the inscription was not centered correctly causing the first letters of each line to be missing or right on the edge of the token. It also felt like a cheep piece of metal. I called customer service and was asked to email them a picture of the token. They were prompt in their response and agreed to replace the token. I received the token a day and a half later and it looked much better, but still didn't look exactly like the preview photo that the company supplies before you order the product.

Disappointing
By
Shopper

(Darien, IL) - July 5, 2013
First it arrived with the engraving off center to the left. As a result two letters were missing. Customer service wanted a picture before agreeing to replace it. I wasn't offered a refund which I would have rathered had. The quality of the coin is poor. It looks cheap like a scrap from the garage. They did replace it quickly.

5 oaks
By
Shopper

(knox, IN) - April 13, 2014
Not what I thought it would be, the print was smaller than I would like.

Better than Expected
By
Shopper

(Evanston, IL) - June 3, 2013
I ordered this as a graduation gift for a family friend.
It was a much better quality than expected..especially for the price
Great gift, looks high quality, fast delivery too.

Adorable
By
Shopper

(Bowling Green, KY) - February 9, 2014
Got for my sons grandmother. . Adorable token for Valentines day.. something she can keep in her purse to remind her how much little man loves her.. too cute!

Such a nice gift
By
Shopper

(CALABASAS, CA) - July 9, 2014
So sweet. Someone can take your heart everywhere they go. They loved it.

Simple and lovely
By
JoAnn T.

(turnersville, NJ) - February 9, 2014 (
See all reviews by this customer
)
This is a very simple and lovely way go get a personal message to someone,. It is clear and beautiful.

Small Scratch = Minus a star
By
Shopper

(RIVER OAKS, TX) - February 10, 2014
While I would not go to the trouble of a re-do for a small scratch, which is visible, I was a bit disappointed as the is the second time I have had an order with a problem. Otherwise, it's a cute little token.