Great Quality
By
Leigh D.

(Howell, MI) - June 3, 2014 (
See all reviews by this customer
)
This flag was more then expected. Although it is a little small and I wish it could have been bigger, I believe that I have sold several more for you. It is good quality and made to last. The material is sturdy and very strong. Everyone loves it, and the cost is reasonable. The biggest plus was that I had it within 3 days of ordering it.I will continue ordering from your sight. I am so happy that I came upon it by accident. the best accident ever!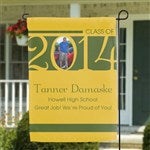 Excellent purchase!
By
LISA M.

(RICHMOND, VA) - May 20, 2014 (
See all reviews by this customer
)
I have a friend at work that was having a graduation party for her Niece. I purchased this flag for her to put up at the walkway where everyone entered the gathering. It was a huge success at such a good price. The graduate is having it framed to keep forever. Even though the photo that we had to use was already blurry because of the camera operator, it meant the world to the graduate. It was the first time she had tried her cap and gown on and it was a huge surprise. I loved it and so did the graduate. It was her school colors too!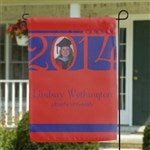 Awesome flag
By
TAMARA M.

(NORFOLK, VA) - May 12, 2014 (
See all reviews by this customer
)
This is a very good quality flag. The picture came out very clear and I am soo excited to have ordered this product for my daughters graduation. :)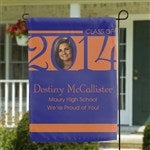 excellent
By
Karen L.

(Belle Plaine, KS) - August 30, 2012 (
See all reviews by this customer
)
This was such a great item for the party!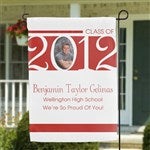 Be Careful With The YEAR
By
Shopper

(Buffalo, MN) - June 9, 2012
Love our flag! Don't love the order entry process, where the Class Of date CAME OUT 2020, because the order entry system only wants the LAST 2 DIGITS of your graduate's year. Okay. I failed, really. When I entered the data for our replacement flag, I realized MY ERROR was in not proofreading CAREFULLY. Reordering with priority shipping now. Duh.

Garden Flag
By
Shopper

(Rockwall, TX) - May 9, 2012
Omg! I just love this so much . I was a bit worried about the picture quailty but it the scanned picture i used came out great. It is really nice!!!

quality of item
By
Shopper

(New Egypt, NJ) - May 5, 2012
The quality of this flag is amazing for the price. The picture that we chose to print onto this item came out very clear.

College Graduation Customized Garden Flag
By
Shopper

(Drew, MS) - May 4, 2013
I purchased this garden flag to decorate my college graduation party. My party was held at a clubhouse for a huge complex of condominiums so I thought the flag would be great as a marker for my guests to use to locate my party. The flag is small and thin, but it is really cute and I loved the way it turned out. I love how I got to use one of my graduation pictures because it added another special touch. After my party, the flag will definitely be used as a keepsake to remind me of my wonderful college years.

Great keepsake too!
By
Shopper

(Springfield, MO) - May 1, 2014
This was the BEST purchase! It was exactly how I pictured it, and the photo turned out beautiful and clear. The colors were exactly as I wanted, and my daughter was very pleased with it. She loves that it can be a keepsake too (as it's not too big). I would definitely recommend this to those that are wanting something a little different than a banner.

Graduation Flag
By
Rhonda L.

(Concord, NC) - May 30, 2014 (
See all reviews by this customer
)
I love the flag. Very high quality product. Excellent detail. I am extremely happy with this product.

Garden Flag
By
Marie F.

(Fonda, NY) - May 11, 2013 (
See all reviews by this customer
)
I love the flag! The picture quality was great. It was to celebrate my daughter's graduation.





Garden Flag
By
Lisa L.

(Georgetown, KY) - May 14, 2013 (
See all reviews by this customer
)
I ordered a Garden Flag for my daughters graduation and was pleased with the quality and clarity of it.