The Ultimate Bride Style Guide: Bridal Accessories Just For You! [Infographic]
Wedding Dresses, Invitations & Rings - Oh My! How To Plan a Stress-Free Wedding
Congratulations – he finally popped the big question! Once the butterflies in your stomach start to calm down, you may experience some natural anxiety about planning the perfect wedding. But once you sit down to browse the internet, you've opened Pandora's Box of wedding columns, venue recommendations, wedding gift ideas, do's and don'ts… and if you're like most brides, you're probably feeling a little bit overwhelmed.
That's where we come in. Planning your wedding should be fun, romantic, and exciting – not stressful and intimidating! With so much emphasis on having the 'perfect' wedding, one wrong move can turn a Blushing Bride into Bridezilla. Sure, you have invitations to send and flower arrangements to pick, but we've got the most important part covered: making sure you look absolutely stunning!
The Ultimate Bride Style Guide: Find The Right Bridal Accessories for You!
Our Bride Style Guide helps you find the right bridal accessories for you - based on your unique features - so you can rest assured you look picture-perfect on your big day!

Add The Ultimate Bride Style Guide on Your Site:
Copy and Paste the Code Below

Shop PersonalizationMall.com For All Your Wedding Needs!
Now that you know which bridal accessories to choose for your big day, it's time to move on to the rest of your to-do list. Luckily, PersonalizationMall.com is here to help again, with personalized gift ideas for every member of your wedding party! With free personalization and fast turnaround (just 1-2 days!), all the stress of wedding planning simply melts away.
Here are some of our favorite quick links, so you can shop online now and browse through hundreds of personalized wedding gift ideas for everyone – and maybe even buy something for yourself. After all this planning, you deserve it!
With the bride looking her best and the gifts purchased (and personalized!), you'll be the ultimate wedding planner in no time. Who knows – you might even have time to fit in a massage before the big day!
On behalf of the PersonalizationMall.com family, congratulations on your upcoming wedding! Cheers to a long, prosperous marriage – with personalized keepsakes (like this beautiful crystal flute set!) to forever remind you of the day you said "I do".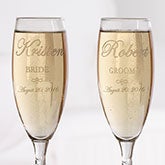 The Bride & Groom Personalized Flute Set – cheers from PersonalizationMall.com!