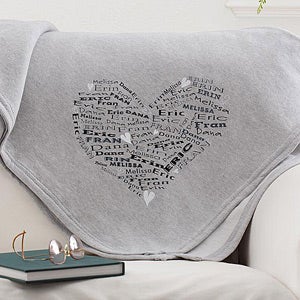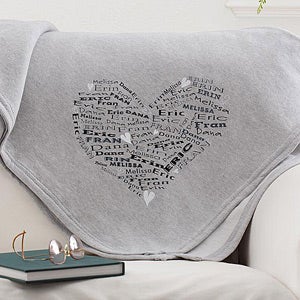 Her Heart of Love Personalized Sweatshirt Blanket
$39.95 SALE $29.95
She will be sure to cuddle up next to her loved ones with our Her Heart of Love Personalized Sweatshirt Blanket!

Our exclusive black, white and grey design is a free form heart, personalized with your choice of up to any 8 names; to make it her very own!
· Our super soft and comfortable, heathered grey jersey fleece will keep them warm and comfortable in every season.
· Made of premium quality 50% cotton, 50% polyester for years of use; features folded hem.
· Generously sized at 50" x 60". Ideal for outdoor sporting and leisure events year round, for door room, or for snuggling indoors with a good book, her sweetheart, or best friend!

A perfect anytime gift for Mom, Grandma, or any special lady in your life!


Tell them how "GRAND" they really are!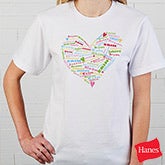 Create a personalized T-Shirt so Grandma can show off all of her grandchildren's names!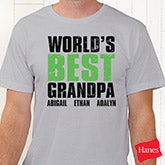 Personalize a Necktie or T-Shirt especially for Grandpa! Pick a design that fits his personality and add all of his grandchildren's names for a gift he's sure to love!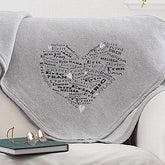 Cuddle up with Grandma or Grandpa with a new personalized blanket or throw pillow that you can personalize with their grandkids' names or photos!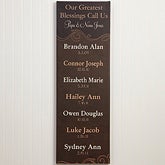 Personalize a picture frame or unique canvas print with a special message for Grandma and Grandpa to proudly display in their home!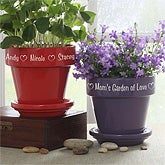 Browse through a wide selection of treasures that are perfect for Grandmas with all sorts of different personalities!
Help Grandma and Grandpa make their famous recipes in style with personalized kitchen gifts, coffee mugs and more!
No matter what their hobbies may be, you're sure to find the perfect gift for Grandma and Grandpa in our Sports & Leisure Department!

New products in Grandparent Gifts
Personalized Gifts for Grandparents
PersonalizationMall.com's Personalized Gifts for Grandparents help Grandma and Grandpa do what they love most - brag about their grandchildren! Our wide selection of personalized gifts for grandparents is full of wonderful designs that can feature all of their grandchildren's names or even photos on all sorts of great gifts! Choose from T-Shirts, blankets, cookie jars, photo frames and more and customize a one-of-a-kind gift they're sure to treasure forever!