Perfect
By
Shopper

(Myrtle Beach, SC) - March 15, 2014
Shipment was very well packaged in protective covering. It arrived right on time and was exactly as described. The quality was even better than than what shows in the pictures online!

Academy Monogram return labels
By
Shopper

(Longwood, FL) - November 11, 2013
Very satisfied. Professional look. Exactly as displayed on website.
But wish there was something in same form ,but more ( or bolder,contrasting color- as opposed to all white background.

A cut above the rest
By
Shopper

(Richmond , TX) - October 4, 2013
Beautifully printed for a classy touch of elegence. You will not be disappointed.

wonderful address labels...very classey!
By
Carol W.

(Palm Coast, FL) - July 22, 2013 (
See all reviews by this customer
)
This is the 2nd time that I have ordered these particular return address labels and I will continue to get them from Personalization. I like great style and grace and that is what this label embodies. Thank you for making them easy to order. I also ordered Christmas "goodies" for several of my grandchildren and was very pleased with those items as well.

Elegant return address lables
By
Laura M O.

(Dunbar, WV) - December 19, 2012 (
See all reviews by this customer
)
I highly recommend these return address lables. They are high quality and very elegant looking. I needed new Mr and Mrs. labels for the Christmas cards we were sending out this year. I chose the style with our last initial, I'm so very pleased.

Sharp elegant labels
By
Shopper

(San Francisco, CA) - November 26, 2012
These labels are easy to read & easy to apply. They look elegant and simple - not fussy at all.

Daughters Wedding
By
Shopper

(Edina, MN) - October 5, 2012
My daughter is getting married and we were planning to address her "Save the Date" cards over the weekend. I saw the block style Monogram Personalized Lables along with the #7232 Academy Monogram Return Address Lables. The block style wasn't perfectly matched but very close
They came in 3 days and looked terrific together. For pennies per envelope they really dressed up the correspondece. Plus the glue is so strong on the personalzed lables we didn't even have to lick and seal the envelopes. I'll order these again.

Classic
By
Shopper

(Chapel Hill, NC) - July 30, 2012
I bought these for my husband to use when he sends out business related items and he loves them. They are masculine, personal, and just perfect. They are also easy to remove from their backing and the perfect size for our envelopes.

great product
By
Shopper

(Danbury, CT) - July 13, 2012
loved the labels, they are terrific and look good on personal items and bills.

Excellent Purchase
By
Shopper

(Fulton, MS) - May 9, 2012
I recently purchased Return Address Labels for my wedding invitations. When they arrived, I was so excited to see how great they looked! They were perfect for my invitations! Great Quality, Great Prices, Great Service!

Wedding Invitation Return Labels
By
Shopper

(Aubrey, TX) - January 29, 2012
Very pretty, budget-friendly. Simple and elegant, just like the wedding!

return labels
By
rachel L.

(bangor, ME) - January 24, 2012 (
See all reviews by this customer
)
my mother was very pleased with the labels

Elegant for married but kept maiden name
By
Shopper

(Mechanicsville, MD) - January 16, 2012
So reasonably price and very fast service. I kept my maiden name when got married. Used the guidance given for initials when married and came up with "&" for last name initial (middle) and last name of each spouse as first initial (right & left). The top line allows enough letters for both our names. This will show our friends and family how to address letters to us.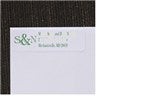 The perfect gift!
By
Kimberly B.

(Wapakoneta, OH) - December 25, 2011 (
See all reviews by this customer
)
We recently attended the wedding of some friends who requested 'no gifts' since it is their second marriages and they have all that they need. I ordered these great return address labels as a small token to present to them as a gift anyway. They will be perfect for thank you notes! The bride was thrilled to see her brand new last name and monogram all ready to go! Quality is great!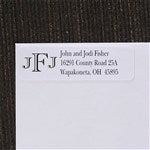 Address labels
By
Brooke F.

(Fulshear, TX) - November 10, 2011 (
See all reviews by this customer
)
The labels look exactly like the preview online and they were delivered very quickly. I highly recommend this site

Exactly as promised
By
Amanda J.

(Eastampton, NJ) - November 7, 2011 (
See all reviews by this customer
)
Labels look exactly as they are shown on the screen - no surprises with the look of product. Delivery was very fast!

Great Return Labels!
By
Deborah A C.

(N Huntingdon , PA) - April 30, 2011 (
See all reviews by this customer
)
These labels are great! Just peel and stick them. Plus, they are attractive. You get to choose the colors combination. So, it's all up to you.

Great Address Labels
By
Shopper

(Chattanooga, TN) - January 21, 2011
I ordered these address labels and when I received them, they turned out great! They were exactly what I wanted and very happy with the product!

Academy Momogram Return Address Labels
By
Lisa R.

(Piedmont , SC) - November 16, 2010 (
See all reviews by this customer
)
I am very please with the look and style of the address labels and the delivery from the time I placed the order until I received it was very quick. I have ordered from Personaliztion Mall before and have always been very, very pleased.



Personalized monogram labels.
By
Dennis J M.

(Maple Heights, OH) - October 6, 2010 (
See all reviews by this customer
)
Received our labels much quicker than I expected and was very satisfied with the job you did on the labels. We used the freebies that we received in the mail for several years but wanted something more personal. Thank you for a superb job and service. Dennis & Rosemary M.

Great Product
By
Sarah Y.

(Fort Wright, KY) - July 2, 2010 (
See all reviews by this customer
)
I have ordered several items from this company and they are always shipped to me within one week. I just got married and ordered these labels to use for our thank you notes. They came to us so fast and they are perfect!

Excellent Product!
By
Karoline G.

(Watertown, MA) - June 9, 2010 (
See all reviews by this customer
)
The labels are high quality and looked just like the pictures online. The paper and print quality was outstanding. This was the second set of labels I have ordered from Personalization Mall and once again am thrilled with what I received!

perfect time saver!!
By
candye H.

(manchester, TN) - April 29, 2010 (
See all reviews by this customer
)
These come in so handy! we use them to label everything from cake pans for pot luck to the camera. I also have found them great to send RSVP notes. We have used them for the kids backpack on the inside incase they leave the backpack we can be contacted.

Great Value
By
Patricia G.

(Forney, TX) - January 12, 2010 (
See all reviews by this customer
)
These are very nice labels and you can't beat the price.

Lovely 3-letter Monogram, Good size, Easy to read
By
Kathy B.

(Midland Park, NJ) - January 9, 2010 (
See all reviews by this customer
)
We were running low on freebie return address labels from charities, wanted something a bit more formal and so these are perfect. Ordered the Brown color, very happy with them. Nice packaging, in plastic inside cardboard so a good assurance of protection as they are shipped .. and they shipped very quickly. Enjoyed being able to compose labels on line .. and they look exactly like the online version. Highly recommend! Thanks!

Pleased with purchase.
By
Therese L.

(Chalmette, LA) - December 30, 2009 (
See all reviews by this customer
)
This was the second time ordered the
Academy Monogram Return Address Labels.
I love them. I love having monogram items.

Loved the Labels
By
Therese L.

(Chalmette, LA) - November 20, 2009 (
See all reviews by this customer
)
The return address labels were
a great match to the note cards.
I loved them.

great for a wedding gift
By
Wendy S.

(Phoenix, AZ) - October 9, 2009 (
See all reviews by this customer
)
I gave these to my new daughter-in-law as a wedding shower gift. They could be placed on the back of engagement photos and distributed to wedding guests also. Then all the guests would have the couple's new home address and the bride would have return address labels for thank you notes.

Return address label
By
Judith F.

(Houston, TX) - April 16, 2014 (
See all reviews by this customer
)
They are attractive, the style is unique. Since my husband and I share the same first initial, I was able to use the same large letter to go with the address. They are larger than I expected. A smaller size label would be nice. And I wish they came in a form other than an 8x11 sheet--perhaps a roll, or a sheet that can be folded. As it is, I can't store them where I usually do.

return address labels
By
Shopper

(richland hills, TX) - February 7, 2011
I am very satisfied with the labels. They look nice.

Nice Labels
By
Shopper

(Lynchburg, VA) - January 21, 2011
I like how Personalization Mall allows you to preview your engraved or personalized purchases. It makes it so much easier to make an informed decision. The labels arrived very quickly and look very nice. I would have liked them better if they were on a dispensible roll. It is a bit of a hassle to have them on the sheets. Otherwise they are serving their purpose very nicely.

Nice
By
Lauren K.

(Manhasset, NY) - May 4, 2010 (
See all reviews by this customer
)
Labels arrived quickly and look nice. I probably could've made these on my own computer with software. I got the black lettering so it looks like an inkjet printer did the job since it isn't raised. Good product for a few bucks though!

color and font
By
helen S.

(pebble beach, CA) - July 22, 2012 (
See all reviews by this customer
)
I am pleased with the overall product, but really do not like the font or the color. The color was listed on line as navy and it is a pale washed out medium blue. There should be a choice of fonts since this reflects your personal style.

No need to purchase - make at home
By
Shopper

(Lawrence, KS) - May 15, 2011
The labels are just as they appear in the photo; they're of fine quality, even if they're a bit bigger than I'd wanted (that's my bad for not paying closer attention to the dimensions). But they came on something that I could easily have printed out myself. They came on little more than something like an Avery sheet of labels, and I have a color printer, so I could pretty easily have made labels like this at home. Still, the price was acceptable and the labels look good, so it wasn't a big loss.

Nice quality, but a little horsey
By
Nani M P.

(Seattle, WA) - October 7, 2009 (
See all reviews by this customer
)
The size of the initial and typeface on these labels is bigger than I expected them to be, a little kindergarten teacher-ish and definitely not appropriate for mailings to graphic designers, my intended use for them. (Graphic designers are very touchy about subtleties of type, and these labels are unfortunately anything but subtle!)

i like the bright white, uncoated paper stock, and service was prompt and efficient. That's what the 3 stars are for.



Labels were OK.
By
Shopper

(Wilson, NC) - September 4, 2012
The labels were delivered in a timely manner and they looked nice. However, if you have a printer, these can definately be made at home! The actual labels were nothing special.

These labels are really large!
By
Ken A.

(Saint Louis, MO) - July 26, 2011 (
See all reviews by this customer
)
Buyers beware! Take a look at the dimensions on these labels! Why? They are really large. They look silly on a regular #10-sized (business) envelope or greeting card envelope!