Great Gift
By
Kim C.

(Massapequa, NY) - October 11, 2013 (
See all reviews by this customer
)
Bought this as a gift for my bf to keep in his gym bag, it's perfect and he loves it!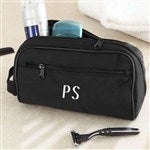 Nice with the Deluxe Weekender Monogram Duffel Bag
By
Mary O.

(Troy, MI) - August 17, 2013 (
See all reviews by this customer
)
I ordered two of these with the manicure set for each of my twin nephews' graduation gift from Vanderbilt. It was a nice accompaniment to the two weekender bags I ordered that PM sells.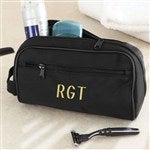 Awesome for College Students
By
Terri W.

(Rutherfordton, NC) - August 16, 2013 (
See all reviews by this customer
)
My son received this travel case as a high school graduation gift. He had other travel cases but immediately starting using this one even before he left for college. He says it is just the right size. The zipper compartment on the front and one inside are great for smaller items. The handle on the side makes easy carrying and also does not get in the way when trying to put items into larger compartment. He liked that it was personalized for using in the college dorm. We loved it so much that we bought several to give as graduation gifts ourselves.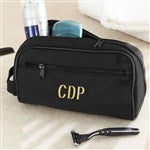 NOT HAPPY
By
Gary P.

(Macedonia, OH) - August 12, 2013 (
See all reviews by this customer
)
The monogram looks great but the travel case is very small and flimsy. Not well suited for any traveler!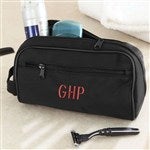 travel case
By
Shopper

(Elmont, NY) - August 10, 2013
not as creative and classy as other personalization mall gifts but still as versatile and affordable. the quality if good. waterproof inside. the design for the bag itself and initials are just a little boring in terms of color and lack of pattern. i'd definitely still buy it again like most things on personalization mall. but it could be made a little more interesting with different patterns and colors and personalization initials/name / font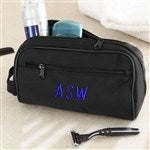 100% Pleased
By
Cherie D.

(Aurora, CO) - July 28, 2013 (
See all reviews by this customer
)
My son loves this for all his young man essentials while traveling. Sturdy and attractive. No complaints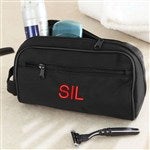 Travel Case Review
By
Shopper

(Nicholson, PA) - July 23, 2013
This was a gift for a young man going to boot camp. I liked the personalization and the size of the product. He seemed very happy to receive the gift. It is a great gift for someone that you aren't sure what they can use. Everyone needs a bathroom travel bag at some point in life.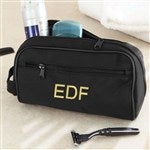 a little disappointed
By
Shopper

(Middletown, VA) - July 13, 2013
it's flimsier than I thought it would be, doesn't stand up like the one in the picture. Hopefully it will once it is full of items.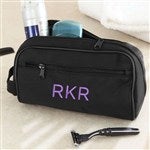 Travel Case
By
Shopper

(Friendswood, TX) - July 7, 2013
Overall, I was pleased with the travel case for my significant other. It was smaller than it appeared on the picture.. Other than that, the case was nice...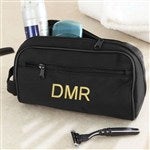 Cheap
By
Shopper

(Lakeland, FL) - June 18, 2013
Unfortunately my husband was not impressed with this item. Said it was kind of cheap but the initials were nice.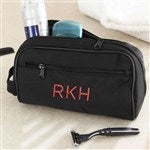 Great Buy/Great quality
By
Shopper

(Wauconda, IL) - June 17, 2013
Exactly what I wanted. Good quality for its price. Big travel case pouch.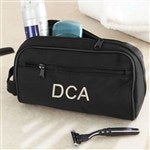 Great daddy gift!
By
Kimberly H.

(Loveland, CO) - June 11, 2013 (
See all reviews by this customer
)
I bought this for my infant son to give his father for Father's Day. I can't wait until he opens it - I know he'll love it!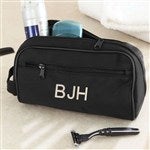 Great Product!
By
Jodi S.

(Lodi, CA) - June 4, 2013 (
See all reviews by this customer
)
Always satisfied with my purchases from Personalization Mall amd this one is no exception. Always fast shipping and satisfied with the workmanship. Will always purchase personalized items from Personalization Mall!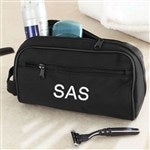 Nice but not elegant
By
Shopper

(Goodyear, AZ) - June 2, 2013
Not as elegant as I had hoped but will serve the purpose as a high school graduation gift. Embroider seems high quality. Bag is not as long as the typical but is much deeper.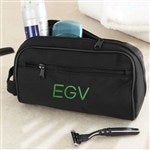 Great gift'
By
Shopper

(Jenks, OK) - May 26, 2013
Great gift for grads!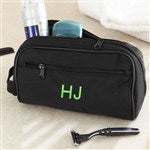 Men's Travel Case
By
Shopper

(Ambler, PA) - May 24, 2013
I purchased the Embroidered Monogram Travel Case for my son. The embroidered monogram is expertly done. There are two pockets and plenty of room for razor, toothbrush, toothpaste, comb, brush, etc. The material seems to be high quality, so the case should last. Bravo to Personalization Mall for a product well made!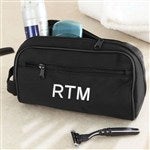 Good for high school graduation
By
Shopper

(Edmond, OK) - April 30, 2013
I bought 10 of these for high school graduation gifts and had the initials monogrammed in the college color of where each guy was going. I am pleased with the quality and love having them personalized. When they are on sale, they are an awesome buy!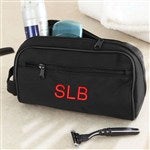 Attractively well made travel case
By
Gwen P.

(Detroit, MI) - April 16, 2013 (
See all reviews by this customer
)
This travel case was a pleasant surprise. I was very please with the embroidery and the construction. My brother loved it and said he really needed it.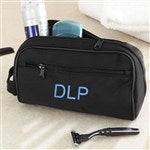 Wonderful gift!
By
Shopper

(Brooklyn, NY) - March 19, 2013
I couldn't wait to gift this to my boyfriend and he absolutely loved it! I want to order one for my brother and myself as well. The quality and workmanship is better than what I expected. You won't be disappointed.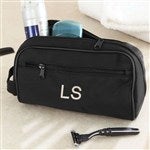 Pretty good
By
Shopper

(Wagoner, OK) - February 16, 2013
It was nice and fairly well made. I bought it for my husband and he really liked. It seems a little small though.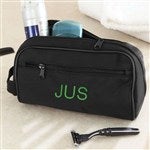 xmas
By
DONNA G.

(ROCHESTER, NH) - January 14, 2013 (
See all reviews by this customer
)
my husband was stunned by his "personalized" overnight travel kit & man cave sign.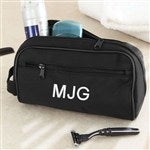 Perfect
By
Shopper

(Marietta, GA) - November 26, 2012
Great gift for the traveler! Unique and useful.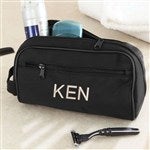 Great Gift
By
Shopper

(Reno, NV) - November 11, 2012
I purchased two of these for my grandsons -- brothers. It's a perfect gift for the pre-teen or teenager. Great price, good quality and personalized, so there is no chance they will get mixed up and cause "disagreements." No more baggies with toothbrushes when they come to visit grandma and papa. Highly recommend.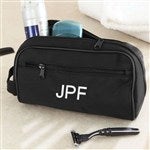 Great gifts!
By
Cynthia R.

(Spring, TX) - October 29, 2012 (
See all reviews by this customer
)
I actually bought these while they were on special in the "Daily deals". They are perfect for my sons that go to the deer lease to take toothbrushes, deodorant, etc...good quality!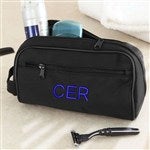 Nice bag, great stitching
By
Amethyst C.

(Massapequa, NY) - September 29, 2012 (
See all reviews by this customer
)
I got this bag for my boyfriend for this birthday because he travels a lot and is always carrying his toiletries in plastic bags. It is a great size, holds a lot, including his full size deodorant and body spray. The stitching is nice and the bag is of good quality. I choose the green thread and it is really nice. I recommend it as a good gift for any guy.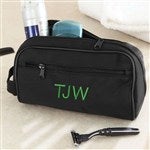 Great Gift!
By
Angela W.

(Dallas, TX) - September 24, 2012 (
See all reviews by this customer
)
Bought this for Father's Day. Dad travels for work and his other bag was looking quite worn. He liked that this had a little more room than his previous bag and then mentioned he had had it for over 30 years! Wow, it was definately time to trade-up! And after buying Mom such cute personalized gifts from this website, I think he was excited to finally get something personalized, too!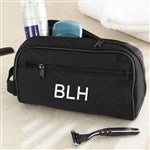 Travel Case
By
YOLANDA B.

(TRENTON, NJ) - August 28, 2012 (
See all reviews by this customer
)
My friend loved the travel especially because of the personalization.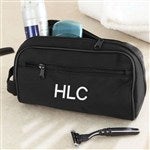 Groomsmen gifts on a budget
By
Tiffany D.

(St. Martinville , LA) - August 19, 2012 (
See all reviews by this customer
)
Very pleased with the size and quality. I spent hours searching for great gifts on my budget. I am glad I purchased these, you can not beat the free monogramming!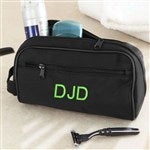 Nice bag
By
Shopper

(Odenton, MD) - August 18, 2012
I got the gold embroidered initials. Very nice looking on the black. Bag isn't real big but it's adequate.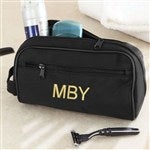 Practical Gift Idea
By
Shopper

(UPPER MARLBORO, MD) - August 17, 2012
I bought 6 of these bags as Christmas gifts for the guys in the family. Great gift idea -- the quality is nice and each is beautifully monogrammed with the thread color of their favorite football team. I know they all will be delighted to receive a gift made especially for them. Sorry I didn't think about these earlier for college-bound graduates. A real value for the price!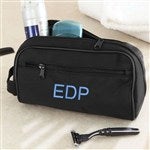 Exceeds expectations!
By
Shopper

(Metairie, LA) - July 6, 2012
I got this dopp kit for my boyfriend after he lost his other one at an away weekend bachelor party. I was surprised at the quality considering the price! Great gift. He loved it and I was very pleased!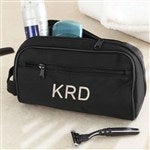 NICE
By
Ashley D.

(Atlanta, GA) - June 19, 2012 (
See all reviews by this customer
)
CUTE!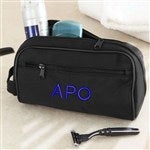 Nice gift for dads day
By
Shopper

(Melbourne, FL) - June 7, 2012
My husband travel for tdy sometimes and is terrible at packing himself all the necessary toiletries, so we got him this and filled it with what he likes for him to grab and go. It has a lot of room and a zipper pocket inside. The gold embroidery looks fancy too!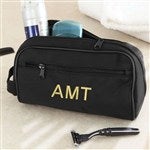 Great Travel Bag!
By
Leah P.

(Aiken, SC) - May 4, 2012 (
See all reviews by this customer
)
Bag turned out great! It's the perfect size and great quality! He will love it. I got a great deal on it and it was on it's way quick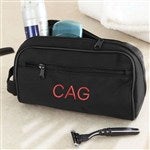 Loved it
By
Shopper

(New York, NY) - April 23, 2012
Gave a few as gifts and everyone was so happy. It is durable, has separate pockets and the personalization makes it extra special.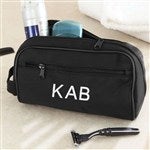 Perfect gift for college student
By
Laura L.

(Memphis, TN) - April 11, 2012 (
See all reviews by this customer
)
My brother goes to college pretty far from home, so this is a great travel case for him to use when he comes home to visit!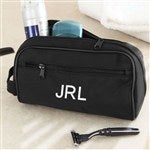 Looks Great
By
Shopper

(Canadian, TX) - April 10, 2012
I bought this as a gift for one of the guys in my wedding. I am very pleased with the final product and can't wait to give it to him! It looks just like the photos on the website, which is always a relief! I would recommend this product to a friend, for sure!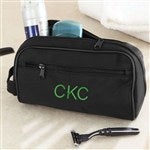 Cheap but not Chintzy
By
Alicia B.

(Parkville, MD) - March 27, 2012 (
See all reviews by this customer
)
This item was brought as a birthday gift to my father-in-law. It was engraved very well and the material was of good quality. He loved the gift. Thank you again, Personalization Mall for another great gift!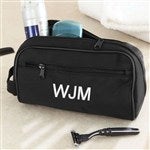 Just what we were looking for!
By
Shopper

(Decatur, GA) - February 27, 2012
We wanted something personal for the groomsmen and this was it!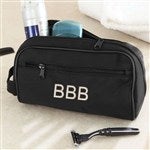 Great monograming!
By
Sarah F.

(Greensboro, NC) - February 26, 2012 (
See all reviews by this customer
)
We ordered this for our groomsmen. I was very pleased with the clean lines of the monograming on the bags.