The BEST
By
Shopper

(Hanford, CA) - December 22, 2011
These cards were everything that I expected and more. They were printed out very nice and the shipping was very fast too. Your work is GREAT....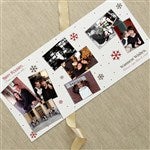 Very nice cards
By
Carla W.

(Cambridge, IL) - December 4, 2011 (
See all reviews by this customer
)
My husband and I own/operate a campground. We purchased these cards to send to each of our seasonal campers. It was so nice to be able to place eight pictures on the card, the pictures were of events we put on throughout the camping season. The pictures were so clear and crisp. Will order again next year.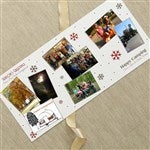 Perfect Card
By
Coutney H.

(Auburn, GA) - November 25, 2009 (
See all reviews by this customer
)
I ordered these cards this year and they just turned out perfect. I love them so much.

beautiful cards!
By
eugie B.

(lakewood, WA) - December 5, 2009 (
See all reviews by this customer
)
i cannot believe how beautiful these cards are! the pictures are clear, true to color, and very professionally well done. can't wait to send them off this christmas and "show off" these cards. couldn't decide on one wedding picture to use so i saw this particular card and behold, i got to use different pics, pretty much like a mini album. thank you for offering a wonderful item and doing a wonderful job in printing these cards. i will sure buy from your company again!!

Christmas Cards
By
Carolyn H.

(San Diego, CA) - December 2, 2009 (
See all reviews by this customer
)
These are great Christmas cards. Our families will be able to see multiple pictures from this year without me having to take the trouble of printing them all off individually, cutting them and inserting into the card envelope. This card is really nice, I love it.

The Gamblins 2009
PERFECT!!!!!!!!!!!!!!!!!!!!!!!!!!!!!!!!!

xmas 2009
By
michelle H.

(largo, FL) - December 28, 2009 (
See all reviews by this customer
)
Loved the card Only had two issues #1 Need to have spell check on program IE spelled HOLIDAY Holidy and Never Caught it. Neither did you all------- #2 When reviewing card if you want to change a Picture Allow the ONE change not have the card start All Over again---- Thanks Michelle===

Unusual Cards...
By
Shopper

(Austin, TX) - December 24, 2011
I like the layout of the cards and variety of sizes of photos for the 3 panel card. I received numerous compliments and if unique designs offered next year I will most likely order from them again. The envelopes were of a poor quality though. Heavier weight is needed.

AWESOME 3 Panel Christmas Cards
By
Patricia M.

(Land O Lakes, FL) - October 2, 2009 (
See all reviews by this customer
)
I LOVE these cards. It was so hard for me to pick which photo to use, and got to use 8 of them instead. The quality is excellent, I can't wait to send them out!

I order and recived my order within four days! Amazingly fast! I will be back again to purchase more photo cards from Personalizationmall.com! I've already referred my friends to the site!



Beautiful card!
By
Victoria H.

(Houston, TX) - December 30, 2009 (
See all reviews by this customer
)
Ordered these cards for my daughter's 1st Christmas and they came out Great!!!

Professionally Done
By
Shopper

(Austin , TX) - September 13, 2011
The cards look like we spent way more than we did. The pictures and graphics came out so well.

Excellent!
By
Shopper

(Lexington, SC) - December 18, 2011
This is an excellent product. Every time someone receives our card, they phone us up to let us know how pleased they are - that they love our family pictures on the card, how great it was because we made them feel special because we went the extra step of personalizing them. Thank you!

Perfect and useful
By
Shopper

(Madison, AL) - January 13, 2013
I LOVE this design: simple, but elegant. I was very pleased with the quality of paper & print of the photos. Even the phone pic turned out well. I chose the less expensive shipping rate, but it still arrived so fast! I hope they will carry more of these 8-pic collage Christmas Cards panels, just perfect to describe your year in a "photo essay," so that we don't need to write anymore newsletters.
I would like to see more of these 3 panel Christmas Cards offered so we can have more choices of vertical and horizontal photo placement in templates. That would be nice.


Very Pleased
By
Helen B.

(San Antonio, TX) - December 14, 2010 (
See all reviews by this customer
)
I was so pleased with the end product of the Christmas Cards. It was a new experience for me on the computer and I found it (with a bit of help) quite easy. I have had numerous calls telling me how much they enjoyed our Christmas Card. Since it is my family I used, I think they are the best pictures ever. But I truly liked the format.
I am glad I found your website/


Beautiful card
By
Jodi Z.

(Pittsburgh, PA) - September 29, 2010 (
See all reviews by this customer
)
The card turned out gorgeous! I can't wait to send it out to my family and friends. The color is fantastic, and it is great quality. I ordered glossy and am completely satisfied. This is my third purchase and I will always use them for my personalization gifts. Great products.

Turned out soooo much CUTER than expected*****
By
shannon F.

(orlando, FL) - November 8, 2010 (
See all reviews by this customer
)
I bought these this year because they were less pricier than my usual Christmas cards with photos. But they are super cute and the quality is as good if not better than my expensive company. The only drawback if any... there is no room for any commentary. a little would have been nice. we have 5 childrenn -and had a baby born and a wedding and no room to share even a few lines about it. just pictures to show. so in the 2nd line of the Christmas card (they do give a couple of lines on the front and a couple on the end to say goodbye) we said New weddings*New Babies 2010. seem to say most of it I guess. but other than that- these are super cute and we will get many compliments I'm sure!!! after all... when it comes to Christmas letters -less is more, right?

Love these cards!
By
derek E.

(Stansbury Park, UT) - December 5, 2010 (
See all reviews by this customer
)
Very nice quality paper, turned out exactly how I was hoping. Would definitely recommend them!