Personalized Love Letter In a Bottle
By
Helen F.

(Somerset, NJ) - October 26, 2009 (
See all reviews by this customer
)
Purchased 3 - one for my husband and then decided to get one for each of my grandsons. They loved it! It is a unique gift and can be a keepsake. I think my husband will like his gift as well. I am yet to give it to him.

to small
By
Shopper

(alcoa, TN) - June 9, 2014
I was not happy with the size it would have been better if you could see it. i would have rather paid more and got twice the size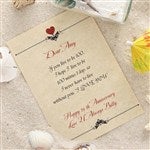 Unique
By
Shopper

(Nashville, TN) - February 21, 2013
Bigger than what I expected. The only thing that I didn't like was the quality of the ink. Ink was light.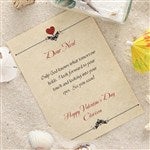 Love the message, not the bottle
By
Shopper

(Ventura , CA) - February 12, 2013
I loved the letter, but the bottle was so cloudy, dusty from the sand so you couldn't see thru to see the cute items inside. It made it loose the magic. I took a Q-tip and tried cleaning the inside so it would be clear but I could only reach the first part. That was disappointing. But the note was nice.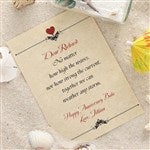 Disappointed
By
Shopper

(Bellingham, MA) - February 8, 2013
I was so excited to get this for my boyfriend on Valentine it looked so cute and different online, when I received the package I was so disappointed.. The bottle is so much smaller than what I thought, hardly any sand in it and had to go to a craft store to get my own to fill the rest.. The greenery was plastic and looked fake, the only thing I liked about it was the message which I chose myself.. I should have chosen something else besides this product.. Now I feel that I have to buy something else so I won;t look cheap.. I would not recommend this product.. Sorry.

Disappointed
By
Shopper

(Bellingham, MA) - February 4, 2013
Like many others who gave this a great review for myself I ordered it for my boyfriend and when it arrived I couldn't believe how small the bottle was.. Hardly any sand in it so I had to go purchase my own at a craft store. The greenery was plastic and cheap looking.. I was so disappointed in this product that now I feel I have to buy him something else to make up for this bottle. The only thing I liked was the message inside which I myself chose.. Would NOT recommend this product..

Great idea but not enough room for text
By
Shopper

(Eau Claire, WI) - December 9, 2012
I love the idea of this ... however, I really wanted to use my wedding vows on the note, but there was hardly any room for text.

Review of Personalized Love Letter in a Bottle
By
Shopper

(Coral Gables, FL) - September 24, 2012
It was a pretty gift but I didn't know it would be so small!

nice gift idea
By
joan C.

(selden, NY) - July 24, 2012 (
See all reviews by this customer
)
This was a nice gift idea. I thought it was a lot smaller in person than it looked in the book, however, it was cute. I would certainly order another. Price wise, I think it could be slightly cheaper than what it is going for because of the size of it.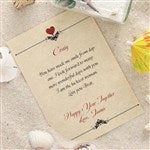 Cute, but too small
By
Shopper

(Sacramento, CA) - March 9, 2012
I thought the bottle was going to be bigger.
It's something that you can do yourself for
a cheaper price. Plus you can make it better
then how it was made here. The shipping took
a day longer then it said.

Product OK
By
Shopper

(Alamogordo, NM) - February 20, 2012
The product was pretty much as described. However, the size of the bottle was smaller than anticipated. The size should be included in the description. Also, the picture showed a partially opened umbrella inside, when in fact it is totally closed (making it hard to see) and no way to open it at all. The scroll is very nice.

This product is OK, but not great.

Note in a bottle
By
Elizabeth A.

(San Mateo, CA) - July 26, 2011 (
See all reviews by this customer
)
The scroll is lovely. The sand and shells are a nice touch but I think the umbrella and palm tree could be left out. That is a little over done.

Not Worth Money
By
Shopper

(Canada) - March 23, 2011
Don't like the products used to compile it!

Valentine Gift
By
Shopper

(Columbia, SC) - February 16, 2011
THe idea of this gift was really nice, but I was a little disappointed with the quality of the product. I thought it would be more seashells in it and the sand looked like salt crystals. As a matter of fact, the sand stuck to one side of the bottle, so that took away from the gift as well.

yet to be seen
By
Shopper

(Norristown, PA) - February 6, 2011
Yet to be seen. It is a Valentine, for that someone special, a sort of novelty that should be a welcome site after the winter we've been having.

tiny
By
Shopper

(savannah, GA) - February 6, 2011
From the picture you would assume this is a standard size wine type bottle, but it is actually about six inches tall. The shells are tiny too. buyer beware indeed!

Very Meaninful Idea and gift but a bit pricey
By
Von Marie S.

(Philadelphia, PA) - January 31, 2011 (
See all reviews by this customer
)
I really like the "message in a bottle" idea, very sweet but a bit pricey.

Cute Idea
By
Darlene K.

(Chicago, IL) - October 12, 2010 (
See all reviews by this customer
)
It's a really cute concept and I love it for what I wanted to use it for. However,the bottle was a little small. I was expecting a larger glass bottle. The message was written beautiful inside. It's a cute idea.

It was cute....
By
Tammy O.

(Sugar Land, TX) - September 8, 2010 (
See all reviews by this customer
)
I've ordered several items from this site. This one wasn't one of my favorites but, it was still cute. Just didn't have the "bang" that some of the other stuff has had. Never dissatisfied though.

Very Beautiful..!
By
Megha N.

(Aliso Viejo, CA) - June 3, 2010 (
See all reviews by this customer
)
My husband just loved it when I gave this to him on our paper(1st) anniversary!
The bottle is cute (about 7" height)..The message was printed just like in the preview, and the paper was nice...Everything was just what I expected...
There was only one thing that made me give it a review 3/5...The umbrella was green in color, unlike the yellow one in the photo...That made both the tree and umbrella look same, and it did not look colorful or vibrant at all...I wish that hadn't happened...
Over all, if goof ups like this don't happen, it's a good buy...


Cute but not what it appears to be.
By
Genevieve W.

(Grapevine, TX) - May 13, 2010 (
See all reviews by this customer
)
I was pleased with the appearance of the item, but I wasn't impressed. It is a cute item to just say "I Care or I love you", but not going to make a huge statement.

Nice gift
By
Linda M.

(Canada) - April 28, 2010 (
See all reviews by this customer
)
This item I found to be nice more on the basis of novelty and as unique gift. The actual product is not the greatest quality. I was disppointed that there were barely any seashells and the couple that were there, were tiny. It is still a cute gift.

Love letter in a bottle
By
John B.

(Hudson, NH) - February 14, 2010 (
See all reviews by this customer
)
It was PERFECT in every way except for the size. It would have been really really nice if it was bigger.

Great customer service
By
Robert A.

(Henderson, NV) - February 12, 2010 (
See all reviews by this customer
)
Your continuing contact with the product, order, shipping and follow up is GREAT! Product for the price was good. Thank you for running a company that cares I will use your products again.

Disappointed a Little!
By
Robert W T.

(Crucible, PA) - February 12, 2010 (
See all reviews by this customer
)
The item was smaller then I thought it would be. The cost was a little high for being so small.

The up side my Wife said she really like it.

love letter
By
William W.

(Belchertown, MA) - February 3, 2010 (
See all reviews by this customer
)
Sealing the bubble wrap around the bottle with a label that includes the message that is in the bottle kind of defeats the purpose of putting a message inside. Other than that the product was very nice and the message was exactly how I had designed it.

Don't like it
By
Shopper

(Wildomar, CA) - February 21, 2012
This product did not meet my expectations. I thought it was a great idea....not as great as I thought it was going to be.

Good Idea but VERY CHEAP LOOKING
By
Ryan S.

(West Covina, CA) - February 14, 2012 (
See all reviews by this customer
)
I really like the idea but was very disappointed when the product arrived. The umbrella and palm tree was so cheap looking that it took the romantic feel out of the gift in my opinion. I actually went to the store to buy another bottle and made my own. The only thing I kept was the paper.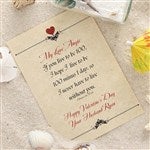 Awesome idea, Poor execution
By
Shopper

(King George, VA) - January 27, 2012
Awesome idea, beautiful paper, but the tree and umbrella looked cheap. Refine those two items and you will,have a great product!!!

Gift wrapping advise
By
Shopper

(Orlando, FL) - December 2, 2011
I requested to have this gift wrapped, and I did not like that there is a little much marketing all over the gift box, wrapping, and in the bottle. I know the company needs marketing to sell the product and to be fair I would accept some reasonable marketing in the actual bottle.
If you do decide to buy, DEFINITELY DO NOT PAY FOR gift wrapping.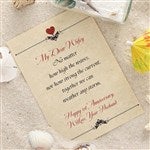 Quality great but the shipping speed and customer service sucks
By
Darrell W.

(Loveland, OH) - November 26, 2011 (
See all reviews by this customer
)
This was my second purchase and the gift items themselves were very good quality and well received from my wife. This last order was placed on Monday morning while I was out of town on business in hopes that it would be delivered before I got back home on Saturday, which worked out perfectly on my last order. Unfortunately this time the package was not even picked up by FedEx until Thursday morning despite the email I received stating that the item had been shipped on Tuesday. Needless to say it was not delivered until I returned which was a huge disappointment. My email complaint and plea to do anything to salvage the experience was greeted with an email stating that the item had been shipped within the specified timeline and the info on the shipping email was correct despite the fact that FedEx did not record picking up the order until two days later. Very disappointed with this order and will probably not do business with Personalization Mall again.

OK types
By
Shopper

(Edison, NJ) - February 15, 2011
It surely is a good one, especially the quality of the print and the paper used in the bottle, however i was put off by the quality of the bottle itself and by the time it reached me by post, the salt was all over (inside of) the bottle and I couldn't get something to clean it deep enough and therefore it looked like there was some fog in it..

It maybe worth the money but I definitely won't display.. :)

Personalized Love letter in a bottle
By
Janice L.

(Ravenna, OH) - June 1, 2010 (
See all reviews by this customer
)
I was not very happy with the product, it seemed to be bigger in the picture and it was a small little bottle, maybe as tall as a pop can. The sand looked like salt, and i just was expecting something a little more fancy for the price I paid. I said it was a gift and it came with all kinds of papers with a lot of details. For the cost I expected more.

Could be better
By
Debra P.

(Sacramento, CA) - May 25, 2010 (
See all reviews by this customer
)
The bottle was plain and cheap looking. There was no style to the bottle in general. A design on the outside of the bottle and maybe some small shells inside would improve the overall look. I did like the layout and coloring of the inscribed words.

Love letter in a bottle
By
Becky P.

(Bowling Green, OH) - February 15, 2010 (
See all reviews by this customer
)
I was very disappointed with this item. The bottle is very small, not a regular size bottle and the message was very small. It definetly was not worth the money.

cheezy
By
Linda C.

(Balch Springs, TX) - February 11, 2010 (
See all reviews by this customer
)
Certainly not as nice as the picture looks. Very cheezy looking and very small.
I guess I just thougth it would be packaged with sand, shells etc., but not.
Not worth the money

:/
By
Shopper

(Los Angeles, CA) - October 28, 2013
This product looks very cheap.

VERY BAD FROM WHAT IT LOOKS
By
Shopper

(Santa Clara, CA) - February 25, 2013
It seems like a really nice one in pictures but the actual one is so small and not great looking.I bought this for my husband for Valentine's day and i thought it was a cool idea to have a love letter in a bottle but it looks very cheap.
I got this on 2/13/2013.
I would not suggest buying this for anyone.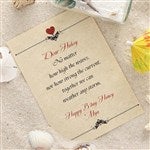 Bottle
By
Shopper

(Spring Valley, CA) - February 24, 2013
Absolutely cheap items in the bottle, crappy plastic tree and the umbrella u find on your japanese dish at a restaurant. The best and only professional part of the gift is the note. ...but not worth $11 + shipping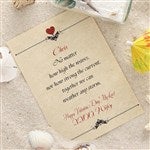 It's not as glamorous as everyone says
By
Shopper

(BOULDER, CO) - September 20, 2012
It was exactly what I ordered. But in all, it was still a let down. You are better off MAKING something like this yourself. Use your own creativity for the same price or less. My girlfriend said it was a cute idea, but it was lacking the "excitement" one would expect. When you open the box and see a little bottle with a rolled up paper and a margarita umbrella, it doesn't achieve the effect one would hope for. Basically I felt bad for sending her the gift. She was nice about the fact that the thought is what counts/matters but, it does not have that effect to where she would want to keep it forever, say a shelf or dresser or wherever. The whole presentation was totally lacking. I saw it myself.

If you're really thinking about this, you may want to re-think going through this site. Make your own, like I did. It was cheaper, and it's something she really loves since it was home-made and creative. That is far more thoughtful.

Just my opinion. I felt duped by all the positive reviews.