Simple but Great
By
Shopper

(Houston, TX) - July 5, 2013
This is a great gift for any occasion and everyone loves them. I recently purchased 3 for friends birthday gifts (and one for myself) and they all loved them! So simple and can be placed any where - bookshelf, end table, wall, bedroom dresser....just the perfect shape to fill that empty "spot"

Unbelievably cool!
By
Megan S.

(Grand Rapids, MI) - March 26, 2012 (
See all reviews by this customer
)
Coolest thing I've ever bought!

Love from Scroolwork Personalized Canvas Art
By
Shopper

(Pinckney, MI) - December 16, 2011
Beautiful and it arrived quickly, also!

Professional Looking
By
Anne T.

(Gretna, NE) - October 23, 2011 (
See all reviews by this customer
)
Very impressed with the professional looking canvas I purchased. It was smaller than I imagined, but that was simply because I didn't read the description clearly. The recipient was very impressed and excited about the personalized gift!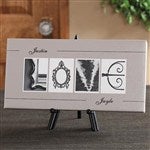 Beautiful!
By
Shopper

(POMPTON LAKES, NJ) - July 5, 2011
This canvas is absolutely beautiful! Its smaller than I expected but thats my own fault for not checking the measurements. We are giving it as an engagement party gift - I think they'll love it! I love it so much I may get one for myself too!

Beautiful
By
Katie W.

(Layton, UT) - December 18, 2010 (
See all reviews by this customer
)
I love the personalized canvas, it arrived quickly and in perfect condition. They make great gifts!

Great wedding gift
By
Leanne J.

(Fresno, CA) - December 13, 2010 (
See all reviews by this customer
)
gave as a wedding gift

love
By
kim D.

(canyon country, CA) - December 9, 2010 (
See all reviews by this customer
)
this item came so quickly and was beautifully done! i had some reservations about ordering on line but after i received the product i would not hesitate to buy from them again!

LOVE this one!
By
Sue O.

(Cloquet, MN) - August 17, 2010 (
See all reviews by this customer
)
This is going to be a hit, I just know it. The Personalization Mall is awesome! Would and WILL buy from this store again without a doubt. Everything we ordered was shipped within 2 days and all arrived in perfect condition.

Loved the personalized art!
By
Jessica M.

(Johnston, IA) - April 7, 2010 (
See all reviews by this customer
)
I am very happy with my recent purchase....well done! It was great service, quick shipping, and a perfect personalized gift for an upcoming wedding. Thanks!

Excellent!
By
Marcela F.

(Fairfax, VA) - October 15, 2009 (
See all reviews by this customer
)
My friend absolutely loved it. She fell in love with it and her fiance as well. They said the quality was amazing! Thanks!
Marcela

Wedding Gift
By
TAMMY L.

(LEXINGTON, NC) - October 20, 2012 (
See all reviews by this customer
)
Love this item. Purchased the Canvas art as a wedding gift and I know the couple will love it, also.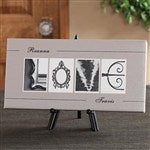 iron scrollwork
By
Amanda A.

(Augusta, ME) - July 25, 2011 (
See all reviews by this customer
)
The product was a wedding gift and it was just as I expected. I was a very nice product. I am satisfied 100%. I also had a coupon that I got the day after my order was placed and it was honored. Very good customer service and great gift. I am sure the newly weds will love it.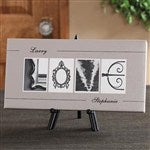 Unique Wedding Gift
By
Ngeuanema K.

(Harrisburg, PA) - October 8, 2009 (
See all reviews by this customer
)
Because the Bride and Groom-to-be didn't create a wedding registry, I had to be a little creative with their gift. This was the perfect unique gift to give them. The product is made out of quality materials. It was a little heavier than I had anticipated, but that didn't pose an issue. The only thing that I'm a little disappointed in is the way the canvas was stapled onto the piece of wood. It wasn't pulled as taut as it should have been. That's the only reason why I'm giving it a 4 instead of a 5. Overall I really am pleased with my purchase.

The Love Iron Scrollwork Personalized Canvas Art
By
Shopper

(Paradise Valley, AZ) - February 8, 2011
Unfortunately, this did not match up to what I thought I was getting. While the idea of using ironwork to spell out LOVE on the front is cool and looks good, the back of the canvas left me VERY disappointed! The canvas is folded gift style and then stapled with large staples. It would have been so much better to have covered them in some way. It really takes away from the overall appearance and makes it look cheap. I ordered it to give for a very special occasion and hoped it would be a keepsake for the couple. Haven't decided if I will give it or not. May take it to see if it can be framed in some way to cover up the shoddy back. I also bought the small stand for it and though it is as advertised and is to be used for display, it does nothing to hide the back side so it's useless for this purpose. It can be hung and the hardware is also on the back, but because it's not very big don't think it would make enough of a statement on a wall.
On a positive note, ordering was easy and it was delivered on time.