Personalized puzzle
By
Joseph W.

(vineland, NJ) - September 1, 2013 (
See all reviews by this customer
)
This is so cute and when she gets to old for the puzzle we will glue it and hang it on her wall, love it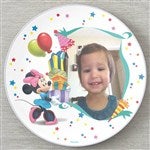 outstanding quality
By
Kelly M.

(West Nyack, NY) - January 3, 2011 (
See all reviews by this customer
)
I purchased this puzzle for my 2 year old son who loves puzzles, I knew it was going to be cute, but was pleasantly surprised by the high end quality of the puzzle board and letters. its extremely thick wood that will last. The knobs are also very nice, easy for picking up and nicely rounded but very sturdy. I liked that the puzzle board has a dot of the matching colored letter below each piece to make it easier for matching the piece to its spot. My son has been playing with it constantly, we go over his letters and also his colors and we play sorting games... I show him a letter and ask him to find others the same color. Highly pleased and would def recommend. If the puzzle wasn't so pricey this would be something I'd buy for all my nieces and nephews and kids friends. But definitely a special item I'd spend to get this keepsake for my son.

Personalized Puzzle
By
Shopper

(Ware, MA) - January 15, 2011
The puzzle is expensive but it is truly elegant. It can be hung on a wall or put on a coffee table, it is that nice. The wood is a fine quality and cut very deep. Definitely a keeper. We had a message put on the back which makes it such a nice memory.

personalized puzzle
By
Karon S.

(Grand Blanc, MI) - January 3, 2011 (
See all reviews by this customer
)
Great craftmanship. Done very well. I would order again as another baby gift.

perfection!!
By
Tracey A.

(Taberg, NY) - December 20, 2010 (
See all reviews by this customer
)
This puzzle is amazing. The product was better then I ever thought it could be. I cannot wait to give it to my daughter for Christmas!

I can't wait for Christmas
By
Susan F.

(Newark, NJ) - November 18, 2010 (
See all reviews by this customer
)
I purchased this item for my daughter's 2nd Christmas - it looks amazing and seems to be very good quality, I think it was well worth the price. I can't wait until she opens it, since she loves puzzles i thought how cool this would be for her to learn how to spell her name. I totally recommend this item, very unique and special gift.

pleased
By
Patricia S.

(Overland Park, KS) - July 30, 2010 (
See all reviews by this customer
)
I have ordered name puzzles in the past for grand kids and at first was disappointed to not be able to get the same ones. These were also more expensive.
I was very pleased with the new ones. The letters were clearer and easier to work with the knobs on them.

Beautiful and High Quaility
By
Stephanie P.

(Stone Mountain, GA) - December 13, 2010 (
See all reviews by this customer
)
I bought this puzzle for my 20 month old daughter. It is beautiful. The puzzle is well made and the wood is thick. The puzzle may be hard at first for younger children because the letters are a bit thick from back to front, but im sure my daughter will get the hang of it soon enough. The puzzle has a handle at the top for easy hanging to display this work of art well after the child out grows doing the puzzle. Well worth the price!!!

Fantastic, I am thrilled
By
Virginia M.

(Stuart, FL) - November 23, 2010 (
See all reviews by this customer
)
This name puzzle, made in the United States, is quality and very sturdy. The knobs are perfect for little fingers and a wonderful tool for early small motor skills needed later for holding a pencil. The letters are just the right size, too.

The puzzle not only spells out my child's name, but also, as she grows, this will make a fun game of discovering what other words she can spell using the letters in her name.

I will be looking to see what other products are available from this company.

Excellent quality
By
Shopper

(Tipp City, OH) - November 4, 2011
The puzzle is beautiful and of excellent quality. I look forward to giving it to my granddaughter on her 1st birthday!

Love them!
By
Shopper

(Boston, MA) - November 2, 2011
We have a very long last name and I was looking for a puzzle that would help my daughter learn how to spell her name. These puzzles are great. Very solid (heavy!) wood, beautiful. Bigger than I expected (but as I said, we have a really long last name). I don't know if I would hang it, because it is so heavy and I'd worry about it falling, but the puzzle is great. My daughter loves it. The colors are great. Small complaint- sometimes the letter "O" is difficult to take out. I'm hoping with time it will loosen up a little. But overall, looks like the picture and a great purchase!

Puzzle review
By
Shopper

(Phoenix, AZ) - December 17, 2011
We love it, very good craftsmanship

2 Name Puzzle
By
kelli N.

(massapequa, NY) - November 6, 2011 (
See all reviews by this customer
)
Beautiful puzzle with knobs for each letter.

Great craftsmanship!
By
Shopper

(Springfield, OH) - August 5, 2011
Loved it. Can't wait to give as a birthday gift for my niece. Shipped sooner than expected.

Impressive gift!
By
Shopper

(Cary, IL) - March 21, 2011
I purchased one puzzle for my son who is 2 and another for my niece as a birth gift. I was impressed by the quality. The wood thickness makes for nice chunky puzzle pieces that are great for little hands to handle. The letter spaces are smooth and pieces can be taken in and out without any catching. The puzzle has a leather handle/strap on top so it's ready to hang. The engraving option on the back is clear and definitely worth it!
I will be ordering more of these for upcoming birth and first birthday gifts!

Awesome!
By
Amy A.

(Tomball, TX) - January 24, 2011 (
See all reviews by this customer
)
It is worth the investment considering your child will have this for their whole life. They will even be able to pass down as an heirloom for their kids:) Personalization mall is my favorite site of all time! I love all their products!

High quality
By
Shopper

(San Diego, CA) - July 10, 2011
We have a long last name and this product could accommodate that.

Beautiful gift for my niece
By
Laura H.

(Brooklyn, NY) - March 26, 2011 (
See all reviews by this customer
)
I ordered this puzzle for my niece, for her first birthday. I wanted her to have something special. It was absolutely beautiful and the workmanship was very impressive. I would definitely order this puzzle, again.

There was some stress involved when it came to receiving the puzzle. After I ordered the puzzle, I was told it would take 3 weeks to be delivered. Technically, it should not have arrived in time for my niece's birthday and we had to travel out of town for the party. To my surprise, the puzzle arrived as I was packing up the car for our trip. Just keep in mind, there is a long turn around period for this gift, but it's worth it!

Disappointef
By
Deborah P.

(Wever, IA) - April 27, 2014 (
See all reviews by this customer
)
This is my 4th name puzzle. 1 for each grandchild. Previous 3 - a personal message engraved on the back was offered. They no longer offer this service. I was told by a rep that many customers are getting them engraved locally. Unfortunately...the manufacturer stamps the back with their name address and phone number in big black letters!! In order to engrave anything, that stamp will have to be removed. Very disappointed!!

Great craftmanship but.....
By
Kristi J.

(Missoula, MT) - December 17, 2010 (
See all reviews by this customer
)
The puzzle boards arrived in plenty of time and look great except for the eyelets and rawhide (it doesn't deserve to be called leather)lace attached to the top for hanging. It really cheapens them. I removed immediately but now have 2 holes in the top of each. Maybe will replace with a nice ribbon or other appropriate material but after spending that much money I would have expected something nicer for hanging.

Well made
By
Tammy R.

(Grapevine, TX) - September 20, 2011 (
See all reviews by this customer
)
Bought this for my granddaughter, to help her learn to spell her name. Love it. Well made, and interesting colors. Can also hang as a plaque. It was the hit at her birthday party. The only reason I didnt give it 5 stars, was the cost. I think its pretty pricy.

It's a beautiful gift
By
Shopper

(Detroit, MI) - April 18, 2011
I love the quality and appearance of the name puzzle. The pegs on each letter makes them easy to remove. I am saving it for my son's birthday so therefore I'm not sure how the pegs will hold up. However, the puzzle itself is very durable and adorable. I would recommend anyone to purchase the same item. It was worth the price.

Puzzled by New Style of Puzzle?
By
Dorothy C. B.

(Aldan, PA) - July 4, 2011 (
See all reviews by this customer
)
Sorry but I'm not real happy with this new Vendor that your Company chose to give your business to : ( This new Name Puzzle is much smaller in size than your old ones from just a few years back. So, of course your getting less product for more money. I do not like the hanging rope attachment for infants & toddlers. It's not necessary. And, I do not like these newly added tiny balls and tacks on each letter. I guess they're meant to help baby grasp pieces but they're dangerous and way too tiny! The old style was much safer and easier for tiny hands to get the pieces in and out of puzzle. The wood was much smoother. The older puzzle design had nicely rounded pieces AND rounded openings for the comfort of babies to not get scratched while playing and learning. We don't need orwant all these new bells and whistles on this new model. Keep it simple and safe and FUN like the old model. Not frustrating like this new model. It's too hard for young ones to get these tight pieces in & out of proper spots therefore causing tears & frustration and ultimately, disinterest : (

name puzzle
By
Carolyn B.

(Rockville Centre, NY) - October 4, 2011 (
See all reviews by this customer
)
For the price of the puzzle I was expecting a more substantial board: the letters are too small for little hands to grasp and quite honestly it doesn't look like something that cost as much as it did. I feel embarrassed to give this as a gift.


Difficult
By
Shopper

(Palatine, IL) - December 13, 2013
I'll preface this by saying that I have not yet actually had my young niece try it out, but since I'm very familiar with young children and their motor skills, I can safely say the knobs are not very user-friendly (it's not easy for me as an adult!) . It's very cute, and I was impressed by the nice leather hanging strap, but I'm pretty disappointed with how difficult it is to pick up the pieces via the knobs, especially for the price.

disappointed
By
dianne F.

(gaithersburg, MD) - August 6, 2011 (
See all reviews by this customer
)
I expected the name board to look like one my granddaughter has, it did not. The letters were smaller and they are somewhat obscured by the pins that are in each letter. Even with the pins the letters are hard to pull out. I think a todler would not be able to remove them. The letters are not smooth enough on the sides. I've since learned that the board I admired came from a different website. However the additional cost, optional inscription on the reverse was very nice.

Expect perfection
By
Shopper

(Guttenberg, IA) - December 9, 2011
For the price, I would expect perfection, and it isn't. Unfortunately my granddaughter has the name brand board puzzles which exceed this puzzle in quality. For this price I would not recommend.

Treasure
By
Karen M.

(Mobile, AL) - March 12, 2010 (
See all reviews by this customer
)
I ordered 3 Name Puzzle Boards for my grandchildren. I am very pleased with the quality of material and workmanship.
They are well constructed and will be treasured keepsakes.

puzzel board
By
dell ann E.

(palos hills, IL) - January 20, 2010 (
See all reviews by this customer
)
I am very happy with the puzzel board. the individual knobs are well built and the construction is excellent. A leather strap was a surprise I didn't notice when purchased, to hang puzzel on the wall.

Great Product
By
Robin P.

(Belfast, ME) - June 18, 2010 (
See all reviews by this customer
)
I was very pleased with the quality and the ability for the company to get my order delivered in immediate timing! The gifts were for a little girl's first birthday and her mother was ecstatic with the picture frame, as well as the personalized puzzle board. Mission accomplished and successfully at that!

Thanks for a great company! People LOVE to see their names on things.

Robin Peterson Lewis

Wonderful quality!!!!!
By
Sara H.

(La habra, CA) - April 12, 2010 (
See all reviews by this customer
)
We're sooo happy with the quality of this name puzzle. It is very well made and all the colors are nice. Our 2 year old son LOVES this puzzle, which for us made it worth every penny!!!

Not what I expected
By
Sandra S.

(LEBANON, MO) - August 24, 2012 (
See all reviews by this customer
)
Don't get me wrong, the quality and appearance of this puzzle was great, but I was wanting a puzzle my Granddaughter could play with. This is for hanging on the wall. No way will her Mother let her "play" with this as it has metal hardware for hanging and a leather strap on it. Will be great on the wall, put not for playing with. I'll keep looking for one to play with.

Unique
By
J S.

(Plymouth, MI) - December 19, 2011 (
See all reviews by this customer
)
I like this unique gift . I like the little colored dots under each letter to help a child know where the letters go. I like the leather hanging strap it comes with. I haven't given this to my child yet, so I cannot put there reaction. I was surprised at how thick the piece is and I think because of that the pieces will be difficult to place with tiny fingers. It would have looked better with a glossy finish. However the unique aspect of this makes up for anything and thats exactly why I bought it.

Excited for my little one to learn his name :)
By
Ellen M.

(Glendale, AZ) - December 10, 2012 (
See all reviews by this customer
)
Purchased this as a Christmas gift. Love the colors and knobs on each letter. My only complaint is that I thought it would be a little bigger.

Good Purchase
By
Shopper

(Alexandria, VA) - December 9, 2012
The puzzle looks great. I gave it 4 stars instead of 5 because I felt it was a little over priced. However, I thought it was great quality and I received my puzzle on time. Hopefully, my niece will like it :0)

Corey Puzzle
By
Christopher W.

(Battle Creek, MI) - December 24, 2011 (
See all reviews by this customer
)
Very pleased with the quality.

Grandma in Ohio
By
Elaine K.

(Bay Village, OH) - September 4, 2013 (
See all reviews by this customer
)
Purchased this puzzle for my granddaughter. It's well made and came in a timely manner. I would recommend this product.

Excellent Quality
By
Shopper

(Tipp City, OH) - July 19, 2013
This is the second personalized puzzle I have ordered. The quality of the wood and workmanship is the highest (I ought to know, my late father was a wood-worker). The first puzzle I ordered for my granddaughter's 1st birthday. She has played with that puzzle for over a year and a half now. Now I have a grandson ... that little boy will receive the most recent puzzle I ordered for his first birthday. And now, I learn that another daughter-in-law is expecting a baby. Once that child is born and I know the name, another puzzle will be ordered. The puzzles are colorful, beautifully handcrafted, and a keepsake. P.S. Order the inscription for the back of the puzzle to acknowledge the occasion - that is beautiful as well!

name puzzle
By
Heather M.

(Bel Air , MD) - November 23, 2013 (
See all reviews by this customer
)
i thought this product is a great gift and came with a little leather strap to hang up on the wall if need be. its a great product and a wonderful gift! thank you so much!!

Name puzzle
By
Victoria P.

(Joliet, IL) - September 7, 2013 (
See all reviews by this customer
)
As always, I am pleased with your final product and it arrived in a timely manner. I do understand that time and effort go into making these personalized name puzzles, but I think the price is a bit high. The name I personalized had only 4 letters and it might be best to charge per letter when offering this product. However, the puzzle is good quality and that is what I wanted.