Loved it, but....
By
Amy B.

(Elkridge, MD) - December 24, 2009 (
See all reviews by this customer
)
I could have done without the www.personalizationmall.com inscribed below the pictures! Other than that, it's beautiful!!!

looks great, but pictures don't stand out very well
By
Tara C.

(Novato, CA) - December 23, 2009 (
See all reviews by this customer
)
i should have made the pictures lighter and sharper

Beautiful
By
Nikki C.

(Menasha, WI) - December 23, 2009 (
See all reviews by this customer
)
I thought the mug was beautiful! The pictures turned out great, but I was hoping the mug was going to be just a little bigger. I would definately recommend this product to a friend. Everything we've ordered from this site has lived up to it's expectations!!!
Thank you.

good gift
By
David N.

(Sarasota, FL) - December 18, 2009 (
See all reviews by this customer
)
I got this as a gift with a bunch of family pictures from our "christmas card photo shoot", and they turned out great...it's a minor thing, but I don't like the website emblazoned across the side. Nothing on the website mentioned it would be there.

Loved it
By
Heather W.

(Wellington, MO) - December 13, 2009 (
See all reviews by this customer
)
I loved this product. The mug was great quality. The only reason I gave it a 4 was because of the picture size. They are very tiny compared to what I was expecting.

Great Christmas Gift
By
Rachel S.

(Dayton, VA) - December 10, 2009 (
See all reviews by this customer
)
I purchased this gift for my husband for Christmas. The mug is pretty much what I expected and I am generally satisifed with it. The only drawback would is that the mug seems to be a lot "shorter" than traditional mugs. I measured it and it is just 6 inches tall even with the lid on. But for the price and personalization you can't beat it!

Nice
By
Angie D.

(Reynoldsburg, OH) - December 9, 2009 (
See all reviews by this customer
)
Grandma is going to love this for Christmas. She asked for a new travel mug and will probably never expect the grandkids pictures on it. The pictures turned out great. The only additional item that would be nice is if you could customize it with a sentence or name. Other then that, great item.

Travel Mug
By
Kara J.

(APO, AE) - December 5, 2009 (
See all reviews by this customer
)
Great mug, pictures were smaller than I expected. Very quick shipping!!

photo collage travel mug
By
Lauren M.

(Lindenhurst, IL) - November 19, 2009 (
See all reviews by this customer
)
this is such a unique gift that you could get for anyone who enjoys hot beverages on the go. the price is much higher than i expected (especially shipping...i know it doesn't cost 9 dollars to ship one travel mug) so that would be one thing that would deter me from buying this item again. the pictures are pretty clear, but are somewhat smaller than what the samples online seem. hopefully it is durable after washing it...we'll see. overall, i'm pleased.

I loved them!
By
April K.

(Mililani, HI) - November 19, 2009 (
See all reviews by this customer
)
I bought two to give as Christmas gifts. The quality was great and the time that I recieved them was excellent. My only suggestion would be to allow engraving on this item as well.

Thanks,
Satisfied Customer

Disappointed
By
Robbie Koon D.

(Little Mountain, SC) - June 10, 2013 (
See all reviews by this customer
)
The photos are hardly visible on the mug.... Not sure if it was my photos or the black & white photos on the stainless steel. Maybe if the photos were in color, it may look better. Have purchased a number of products & luv them.... Just not this one????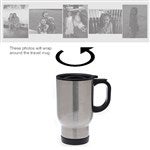 Good Gift
By
Andrea I.

(Aliquippa, PA) - December 28, 2012 (
See all reviews by this customer
)
This was a nice gift to give, but the pictures were not bold enough. I did my pictures in black and white, and the ones that had more white in them were hard to see on the mug. I wish I would have darkened the pictures a bit, or chose pictures with less white in them. I thought the pictures would be bigger than they were, but they were small on the mug.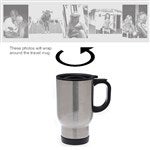 Pics hard to see
By
Donna C.

(Georgetown, DE) - December 8, 2012 (
See all reviews by this customer
)
While I like the mug, with the pics. Being black and white, they are very hard to see against the silver background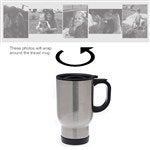 Pros & Cons
By
Shopper

(San Pablo, CA) - July 17, 2012
Product came out great! The perfect gift that was given to my father with pictures of his grandson. The pictures where very clear. The only down side was that after used and washed twice the handle broke off. Thankfully my product was replaced with a new one. :)

Nice gift/keepsake
By
Shopper

(North Potomac, MD) - March 7, 2012
I was overall pleased with this item. Be careful what pictures you choose bc it may not come out too clear :)

Thankful for good customer service
By
Melissa D.

(Sandwich, MA) - December 31, 2011 (
See all reviews by this customer
)
Thought the product you of been alittle bigger or heavier for the price but it's still a nice gift. Showed up to my house with the last 2 pictures missing, call PM upset bc it was a Christmas present and I was unhappy with the lack of quality control, customer service rep was a huge help, no questions asked, sent another one right out and it was here before Christmas. She also told me to just keep the pervious one and not to waste my time sending it back!

could've been better!
By
Shopper

(Gilbert, AZ) - December 31, 2011
I was excited to find a personalized travel mug for a family member who is on the road alot.The pictures were difficult to size, but with some patience and help from a computer savy son, I finally got it done. It came out exactly as expected and my family member really liked it. HOWEVER, while passing it around to be admired, it was dropped on a linoleum floor and the handle broke off! For the price, I expected something more durable especially since it's described as a mug for travel. Total bummer.

Travel Mug Great BUT wish no personalizationmall.com web site on it!
By
Amy T.

(Land O Lakes, FL) - December 27, 2011 (
See all reviews by this customer
)
My husband carries one to work every day, so I thought this would be perfect. And it was, except that centered nice and decent size under our beautiful collage of photos is the web site of personalization mall! Looks very tacky. :(


"www.personalizationmall.com" is Printed on the Side of the Mug!!
By
Shopper

(Roanoke, VA) - December 22, 2011
We ordered this for my father in-law for Christmas. The pictures on it came out great, but "www.personalizationmall.com is printed right on the side of the mug underneath the pictures! It really cheapens the look and feel of the mug. I understand the want/need to advertise, etc., but they totally could have printed it on the bottom. It is also misleading that it does not show this advertisement in the picture of the product. If I had known about this, I likely would not have ordered it.

Photo Collage Mug
By
KellyAnn B.

(Mastic Beach, NY) - December 13, 2011 (
See all reviews by this customer
)
I ordered this for a "tough to buy for" person. It came out nice BUT on one side under the pictures it has the Personalization Mall WEB SITE ADDRESS on the mug! I was NOT happy to see that!! Its tacky! BUT other than that I like it. It would be SO MUCH NICER without the advertisement from this company. I would rather have had something of MY OWN printed in place of this WEB SITE info!!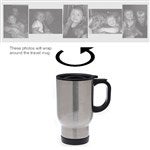 Pictures are not as large and go for lighter backgroud pictures
By
Amanda I.

(Carlsbad, CA) - December 12, 2011 (
See all reviews by this customer
)
Such a cute idea but a little upset that the phots are not larger. i understand you have so much room, however, on- line proof has them a lot larger than on my mug. Go for lighter backgroud photos, otherwise you'll have a hard time making out the picture. Still an adorable idea and the mug seems to be of good quality.

Doesn't keep coffee warm
By
Jessica H.

(Grovetown, GA) - September 20, 2011 (
See all reviews by this customer
)
This mug is really cute. My husband loved it and so did his co-workers. However, the coffee was cold before he even got to work (a 15 minute drive). Next time, I'll buy him a regular coffee cup that he can use at home.

A LITTLE DISAPPOINTED :(
By
Shopper

(Oklahoma City, OK) - July 1, 2011
The travel mug was a great gift idea for my dad for fathers day. He loved it! And Personalization did do a good job, my only disappointment is that they printed their website on the mug as well ("www.personlizationmall.com"). I have ordered many gifts from this website and they have never printed their website on anything, so I was quite surprised to see it on the travel mug. It did kind of take away from the mug in my opinion. Like I said, they did do a nice job, but priniting the website on the gift was a bit tacky. Again, just my opinion.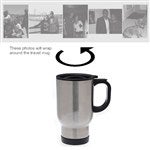 Great, but not perfect
By
Shopper

(Kearsarge, NH) - June 18, 2011
I ordered two of these mugs for my husband and my father for father's day. My newborn's photos looked okay on the mug, but what made it look kind of cheesy was that the company put "PERSONALIZATION MALL.COM" across the mug. The advertising took away from the sweetness of my daughter's pictures. I won't be giving the mugs as gifts. I'll just use them at home...it's a shame because I spent good money on them.

Nice gift idea
By
Shopper

(Opelousas, LA) - June 3, 2011
I ordered this mug for my husband for Father's Day from me & our daughter. It was great to be able to put pictures of us on it. It is really cute, the only negative thing I can say, is that the mug is rather small for the price. I wish it could have been bigger.

somewhat disappointed
By
Shopper

(Lido Beach, NY) - March 27, 2011
The mug itself was fine and the photos came out exactly as it shows on the website. The only thing I was disappointed with is that right in the center of the mug, just below the photos it says "personalizationmall.com". Now I understand that the company name needs to be visible, but does it really need to be there? Seems kinda intrusive and I was disappointed with that. If that had been on the preview, I would not have purchased the mug.

Great Idea
By
Rebecca D.

(Chanhassen, MN) - January 4, 2011 (
See all reviews by this customer
)
I really was excited to find these mugs as it is different than most "personalized" gifts. The reason for the 3 starts is the pictures are very, very light. I didn't use light photos so I feel that the pictures could have been printed on the mug darker....or maybe that is just how they are. Also the mug is pretty small. My husband was looking for a travel mug with our kids on it but this is way too small for him.
So, great idea, needs some improvement!

A little disappointed
By
Dawn D.

(South Elgin, IL) - December 30, 2010 (
See all reviews by this customer
)
I purchased this gift with some great pictures on it. However, the quality of the pictures were not as crisp as I would have liked. Don't think I would order it again.

Travel Mug
By
Tonja L.

(Petal, MS) - December 29, 2010 (
See all reviews by this customer
)
Makes a cute gift, but the pictures are very light so it's not as easy to see as the advertised pictures show.

A little misleading
By
Kimberly H.

(Oshkosh, WI) - December 17, 2010 (
See all reviews by this customer
)
I recently ordered this mug for a Christmas gift. The pictures were a bit smaller then expected but they turned out nice. The problem I had was the picture of the mug on the website does not show the company's advertisement. Right under the my pictures is the www.personalizationmall.com advertisement and I do think it makes it look a bit tacky.

Beautiful pictures but not completely pleased
By
Michelle W.

(Owego, NY) - December 16, 2010 (
See all reviews by this customer
)
I ordered two of these mugs with beautiful pictures of my children on them. I was pleased at how the pictures came out and also with the mug. However I was shocked to see the website personalizationmall.com imprinted below my pictures. This was not shown anywhere on the previews of the mug nor does the website explain that this will be added. Upon contacting the company I was told that all items have this insignia on them and that while it is not listed on the website or shown in the preview it should be obvious since these are the original items of personalizationmall that their insignia would appear on them. In my view if your not going to let people know that it is going to appear on their item then it should be in a inconspicuous spot (the bottom of the mug) not front and center. Also rather disgusted that it did not appear in the 5 previews that I went through while making the mug.

Almost perfect
By
Jennifer M.

(Temecula, CA) - December 15, 2010 (
See all reviews by this customer
)
I have ordered this mug before and been thrilled with the quality and look. However, I just ordered a few more for Christmas gifts and was very disappointed to see that PM has started printing their website just below the photos on the mug! The first mug I purchased didn't have that! I find it a teeny bit tacky! It would be a much better idea for Personalization Mall to add their name or website to a more inconspicuous place or just leave it off altogether. So, had the mug looked exactly like the one I originally purchased (without the tackyness), this product would have received 5 stars.

Not as nice as I expected
By
Susan M.

(Windsor, CT) - December 10, 2010 (
See all reviews by this customer
)
This is a nice gift but I find it hard to see the pictures...even though the quality was said to be ok. Grandma will like it still though!!!

good printing, cap so so...
By
Lingling J.

(Madison, WI) - July 26, 2010 (
See all reviews by this customer
)
I bought 3 mugs in total...the printing is pretty good but the mug itself (especially the cap) is not the best.

I like it but ...
By
Mariame Y.

(Pittsburgh, PA) - June 25, 2010 (
See all reviews by this customer
)
The pictures on the mug came out great. However, the mug is a bit cheaply made, and I don't like how Personalization Mall advertises its website right on the mug (bellow the pictures).

Review
By
Lisa L.

(Vacaville, CA) - June 22, 2010 (
See all reviews by this customer
)
While I thought the mug looks great, and the pictures turned out beautifully, I was extremely disappointed that your website was printed on the mug at all, but especially so close to the pictures. It makes it look very tacky, and no where in the product description does it say the mug will boldly display your website. My advice is to not put the website on the mug, or at least state in the product description it will be there so when I pay $30 for a product, I know the tackiness I'm paying for.

Photo mug
By
Victoria A.

(Los Angeles, CA) - December 30, 2009 (
See all reviews by this customer
)
The concept is great, but the photos are smaller than anticipated and not as clear as depicted.

Hoped for more
By
Bethany C.

(Lexington, KY) - December 29, 2009 (
See all reviews by this customer
)
I thought the mug would be a little bit bigger and for some reason I was thinking the pictures were going to be "engraved". These were my own expectations and when the mug was small & the pictures weren't engraved I was a little disappointed. However, we got this as a gift & my mother seemed to love it & was using it the very next day. So I am pleased!

Great picture printing but I got a defective mug
By
Juliet R.

(Central Islip, NY) - December 16, 2009 (
See all reviews by this customer
)
I was so excited to receive this mug as I intend to give it as a Christmas gift. Sadly, though the pictures look great, the handle was slightly melted. I called and customer service has shipped me a new one. I hope this one is good.
I must say the customer service is exceptional. I guess I just got a bad mug.

It's ok
By
Wade H.

(White Hall, AR) - December 12, 2009 (
See all reviews by this customer
)
The mug was alot smaller than I expected for 19.99 and the pictures came out ok. Next time i will get a bigger mug and have it done at walmart for 10.00 and not have to pay for shipping on top of the high price.