Nice garden addition
By
Barry D.

(Rockfield, KY) - July 30, 2011 (
See all reviews by this customer
)
I ordered three of the personalized stones for the flower garden. They look nice and honor our grandchildren.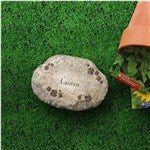 Looks Very Nice
By
Shopper

(Rice Lake, WI) - May 9, 2011
Just as it looks and was very pleased with it. Made a really nice gift. Didn't know it was hollow, like it is half a rock, but that made no difference.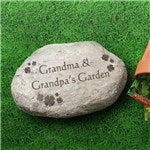 Perfect for our last baby
By
Shopper

(Rocklin, CA) - April 12, 2014
I bought a different stone for my mom's garden, each with her 5 grandchildren's names. Well, we have one more grandchild, but the original stone is no longer available, so I tried this one! I love it! It's perfect for our last little Irish grandchild. I might just order the other kids in addition to the ones we already have. Adds a personal love to my mom's beautiful garden, and the kids own them!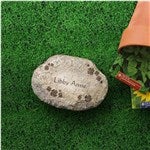 pleased
By
Shopper

(Beaumont, CA) - September 2, 2013
Very nice lettering!! Also good weight.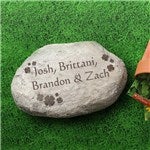 Stones look better than image!
By
Diane J.

(Highlands Ranch, CO) - March 3, 2013 (
See all reviews by this customer
)
These "stones" look better than the site image - much darker and sharper!
The reason I gave 4 stars was because the undersides are hollow. I expected them to be hollow on the stones inside but not the complete underside. They just aren't as nice to "pick up OR play with" in your hand because of this feature - which of course people will do with any novelty.
I ordered three - #1 son's "Name" & #2 "Don't Forget" & #3 "Your Green!" to make an inside St. Pat's Day morning breakfast path.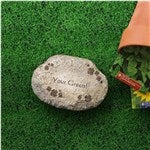 Mrs.
By
Shopper

(Longview, TX) - April 2, 2012
My original stone arrived cracked down the middle. I contacted personalization mall and the rep was very kind, considerate and helpful. She asked me to take a picture and email it to her and a replacement would be coming soon. Within 3-4 days a new one arrived -perfect.

Things I didn't like
By
Shopper

(Eldred, NY) - November 8, 2013
I was a little disappointed with the stone. Since I am using it with real stones the color of this stone was very light, white even. Not really stone colored. I also thought the stone would be solid. The back is curved in. I worry that it is going to smash if anything falls on it. I thought the shamrocks would be a little bigger. I just hope my dad is smiling at his stone.

Large Shamrocked garden rock
By
Shopper

(Naperville, IL) - May 30, 2011
hollowed out, but still cool

Great St. Patrick's Day gift !!
By
Mary B.

(Downers Grove, IL) - March 17, 2013 (
See all reviews by this customer
)
My daughters loved this gift for St. Patrick's Day !! It was so unique ! I am hoping to add little stones with names on it as their family increases !

Beautiful stone
By
Patricia R.

(Boca Raton, FL) - September 29, 2014 (
See all reviews by this customer
)
Originally purchased this stone in the hopes of placing it at my Dad's gravesite. I live far away and cannot visit the cemetery often, so I thought this would be something nice to leave that wouldn't deteriorate over time like silk flowers would. It is definitely nice, but just a bit too big and distracting from his actual grave marker. For this reason, I am leaving this stone at his home, in the garden outside his workshop. The workshop was probably his favorite place to be, other than by my mother's side, so it will look beautiful there. Miss you, Dad.

Perfect for a Memorial Garden
By
Shopper

(Boca Raton, FL) - January 13, 2013
This was purchased as a memorial garden stone, and it looks perfect for what we wanted it for. It's a nice stone, hallow on the opposite side, so it will sit down into the soil nicely and not shift around. Very nice item.

Garden Stone
By
Jack H.

(Collegeville, PA) - April 30, 2010 (
See all reviews by this customer
)
I was very pleased with our Shamrock Garden Stone, it was the perfect size and we used as a memorial stone for our Labrador Retriever, Halle who passed away on St Patrick's Day. We placed it under a new Dogwood tree planted for Halle.

Pleased
By
Lesia T.

(Peoria, IL) - December 12, 2010 (
See all reviews by this customer
)
I thought the lettering could of been a little bigger, but otherwise I was happy with the stone.