A special gift...
By
Lynn S.

(Elgin, IL) - August 25, 2014 (
See all reviews by this customer
)
I bought this frame/memorial box for a friend who's son was killed in a tragic motorcycle accident. She had many pictures of her son displayed at the funeral so thought this would be a gift her family would appreciate. She called me immediately to thank me for the beautiful box and was quite choked up by my gesture. I liked this box because it was very simple and had just enough space for a thoughtful saying. I am sure they will treasure it as a memory of their son for many years.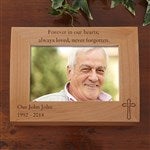 very beautiful!
By
Lisa C.

(Pompano Beach , FL) - August 19, 2014 (
See all reviews by this customer
)
I loved the box, it was very nicely made and lovely carving. My only negative was I have searched and could not find a bigger one when ordering. I dont think this box is big enough for all memory items to be put in it. I was looking for a box at least 12 x 12 and about 4 inches deep and was unable to find one anywhere. I would gladly have paid double for a bigger one.

EXCEPTIONAL
By
Mary Ann M.

(Salem, SC) - August 2, 2014 (
See all reviews by this customer
)
Great website, service, prices and products. I LOVED this box. Wood and engraving are beautiful. I will be back and tell my friends.

Memorial box
By
Shopper

(Cranston, RI) - May 30, 2014
Very good quality and my friend loves her gift.

A Treasured Gift
By
Jeanette H.

(Las Vegas, NV) - April 18, 2014 (
See all reviews by this customer
)
I bought this for my boss who lost his dear Mom. He loved it and put a great picture in it of a treasured memory. Thank you for a beautiful product. I was impressed with the size for the price and personalization! I know where to go the next time I need a beautiful, personal gift. THANK YOU!

Treasure memorial box
By
Shopper

(Wyandotte , MI) - February 11, 2014
I gae this to a friend who just lost her mom...put some pics in the box..she was lost for words...a beautiful keepsake to look at.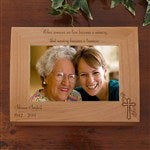 Perfect for memorial
By
Peter D.

(Sellersburg, IN) - October 23, 2013 (
See all reviews by this customer
)
I am terminally ill and I needed something to give my kids when we told them. I got them each a personalized wooden box. It was so perfect. They can put a picture in the top and put things they want to keep inside that are important to them. The boxes are excellent quality and sturdy. I feel very confident they will be able to keep these boxes for many years to come. This was such a perfect idea. They also were reasonably priced and shipped fast. I am so over the top happy with Personalization Mall.

Beautiful
By
Shopper

(Wauwatosa, WI) - July 23, 2013
This was a gift for my best friend who's father passed away. When she received it she called immediately and told me how beautiful it was. Very pleased with the purchase And the quality of the product.

pet memory box
By
Shopper

(WARREN, OH) - June 14, 2013
good quality, fast service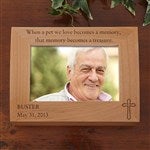 In memory of the passing of a loved one....
By
Eva L.

(Mansfield, TX) - June 3, 2013 (
See all reviews by this customer
)
Sent this to a dear friend who had just lost their Mother. When they received this "Memory Box", they immediately sent us a picture of it saying what an extremely beautiful and thoughtful gift. Great for precious little keepsakes!
Pretty flowers fade and you throw them out; this box will always bring the family warm heartfelt memories.

Beautiful, Well-Made Memorial Box
By
Shopper

(Des Moines, IA) - May 31, 2013
This is the third item I've bought for a memorial present, and all have been of excellent quality and price. I've shopped around and haven't found anything better. I love being able to put my own verses on the gift, as well as the person's name and dates. I gave the box to a friend whose husband just died after having cancer for 5 1/2 years. Her first words upon seeing the box is that she was going to cry. I gave a personalized wood frame to my neighbor recently after her sister's death, and she kept commenting on how nice the frame was. The first gift I gave was one of the glass frames, which went to relatives. They've put the glass frame into a shadow box with his police badge, and it looks very striking. I can't believe the quality for the price! I love the idea of giving something that someone can keep, instead of flowers, so I'm sure I'll be buying more gifts here from now on! Thanks for making such wonderful gifts!

Treasured memorial box
By
deborah K.

(Pen Argyl, PA) - March 18, 2013 (
See all reviews by this customer
)
My cousins Father died & i couldn't make it to the funeral. I wanted to send her something memorable..not just for a week like flowers..but every single time she saw this little box with her dads name on it. and its a great little box to hold his little keepsakes, she can treasure this always. she cried when she received it & thought it was the best gift ever. another great gift i've bought from Personalization.com. Great quality item!! Thank You!!!


Lovely Keepsake
By
Shopper

(Ocala, FL) - January 27, 2013
I purchased this for a close friend who lost her husband a year ago. She loves it. It's a nice size - big enough to keep several treasured keepsakes in. Being able to put a special photo on the cover touched her heart. And how good to be able to choose your own quotation - really makes it personalized. The order was placed on January 15th and it was delivered on the 22nd. I was very happy with this entire transaction.

touching
By
Shopper

(valparaiso, IN) - December 18, 2012
This memorial box was so touching I loved it I bought it as a gift I know my niece will love it.

Great Memorial Box !!
By
Janine E.

(Sacramento, CA) - May 12, 2012 (
See all reviews by this customer
)
I have purchased six of these boxes for my friends who have recently lost loved ones. All of them have told me how special and beautiful these boxes are. One of my best online finds/purchases. This is a very special Memorial Box !!!

What a Treasure!!
By
Shopper

(New Port Richey, FL) - April 6, 2012
I was so pleased with my purchase! The box is very well made. It's sturdy and solid! It holds quite a bit. VERY HAPPY WITH THIS CHOICE!!

Beautiful memorial
By
Sarijane M.

(Owensboro, KY) - February 28, 2012 (
See all reviews by this customer
)
I purchased this as a memorial for our beloved dachshund. The box is beautiful quality and very well made. It's large enough to hold her collar and favorite toy as well as her ashes. The engraving is perfect and the frame in the top made it exactly what I was looking for. I couldn't believe it was so reasonably priced. I've seen similar boxes for 5 times the price! Also, I received it just two days after ordering. I will definitely shop here again!

A beautiful way to remember....
By
Shopper

(Albuquerque, NM) - January 21, 2012
The personalized memorial box is beautiful. It is good quality and beautifully crafted.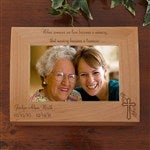 Great memory Box
By
Shopper

(Sacramento, CA) - January 17, 2012
Bought 2 of these for my friend and her sister. They are perfect and very nice looking. I am very happy with my purchase.

memorial keepsake box
By
Shopper

(Hemet, CA) - December 23, 2011
The wooden box was very well made. We especially liked the engraving feature. Just wished it could of been about 2" bigger all around to fit cards from the well wishers. But it fits a watch, ring and a few other trinkets for safe keeping. Love the place for picture too.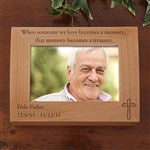 Love this!
By
Shopper

(Annapolis , MD) - December 21, 2011
This is such a wonderful gift for so many different occasions. My Fiance's grandfather recently passed, so I personalized this for him, and he keeps his grandfathers jewelery in it. The quality was great, it came in 2 days! I am so happy to have found this website. I DEFEINTLY reccommend!!!!!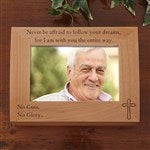 Beautiful memory box
By
Antoinette G.

(Glen Oaks, NY) - December 4, 2011 (
See all reviews by this customer
)
A lovely way to remember someone you have lost

memory box
By
Shopper

(mooers, NY) - October 14, 2011
this box was a steal at this price. Love, love love it.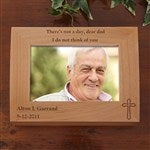 My Father's Keepsake Box
By
Jessica M.

(Angleton, TX) - September 18, 2011 (
See all reviews by this customer
)
I love this product. Excellent quality. Beautiful and sturdy. It looks exactly like the picture in the ad. Thank you for the wonderful craftmanship and service.

treasure box
is avery special gift, love the merchandise.

Beautiful
By
Shopper

(Petal, MS) - August 15, 2011
Love it.

Rocky's Resting Place
By
Shopper

(Manistee, MI) - July 26, 2011
This oak Memorial Box was a perfect place for our family pet and friend. Everyone was happy with this item and the inscription.

Perfect
By
Laurie W.

(West Allis, WI) - June 25, 2011 (
See all reviews by this customer
)
I ordered this box for my Mother who just lost her husband. She was looking for something to put his ashes in. He fit perfect in the box and with the engraving & picture on the outside it was just what she was looking for. She was very pleased and many family members asked where I purchased it. I even had a guy at work ask for the website so he could order something for his son. I will definitely revisit your site in the future. Thank you for your service to me and my mother.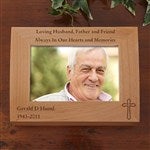 Highly Pleased
By
Shopper

(Chicago, , IL) - June 20, 2011
It's just what I expected. I've become a fan of PersonalizationMall. I'm pleased with this item as well as the other 4 picture frames that I purchased previously. The quality of work is superb. Everyone that I give these to love them. I also referred customers to you because they liked what they saw. So keep doing what you do and I'll keep coming back.

Treasured Memories
By
Kathy T.

(Pleasant Valley, NY) - June 6, 2011 (
See all reviews by this customer
)
The box is beautiful and a great place to put those treasured memories. Nice size and the engraving makes it extra special and personal. Love it!

young sons
By
Shopper

(huntington beach, CA) - March 18, 2011
I bought 2 memorial boxes for my nephew's young boys, it was perfect for them to put treasures of their father's short life. The boxes arrived just in time, and good quality.

such a personal treasure
By
Shopper

(Glenville, NY) - February 26, 2011
I ordered this memorial box to have a small but remarkable place in which to house my most treasured mementos of my father. This was truly EXACTLY what I had been searching for. Such a lovely piece with the ability to add a personal phrase and keep my treasures. Thanks a million!!

Great puchase choice
By
Shopper

(La Plata, MD) - January 23, 2011
Was very pleased not only with the promptness of receiving the order but the quality of the order. Definitely a 5 star purchase.

Men's memorial box
By
Gayle G.

(Scappoose, OR) - December 30, 2010 (
See all reviews by this customer
)
I bought five of these memory boxes following the death of my husband. One for his sister, the three grown children and for myself. I enjoyed putting special pictures inside and giving the lovely boxes. They are a wonderful value, worth every penny.

Great Quality for a reasonable price
By
Wendy S.

(Gilroy, CA) - November 18, 2010 (
See all reviews by this customer
)
I bought this box for my boyfriend, who just lost his Dad. It was great that I got to personalize it any way I wanted to. There were no scratches...you can tell the engraving was done with care. Very nice quality box.

The Perfect Keepsake
By
Samantha S.

(Pittsburg, KS) - September 29, 2010 (
See all reviews by this customer
)
I got this to remember my 10 month old Yorkie that was hit by a car. I decided to order this memorial box to put all of her things in to remember her. I am so glad I did! When I am missing her I simply go to the box and get out her things. Just thinking about her makes me feel better. I definitely recommend this to anyone who has lost a loved one (person or animal) that they wish to remember forever.

It was actually larger than I expected it to be. I was able to fit a newborn diaper, her mouse toy, her pony toy, a couple hair clips, and her i.d. tags in there. It is also a very nice piece to display in the family room. I even put mine on the shelf for everyone to see.

They Are a Treasure
By
Mary T.

(Phoenix, AZ) - August 12, 2010 (
See all reviews by this customer
)
I ordered two of these, because a friend's father and father-in-law both died within several weeks of each other. She was very touched by the gifts. The boxes were beautiful.

Just one thing lacking!!
By
Shirley T.

(Ringgold, GA) - September 28, 2013 (
See all reviews by this customer
)
I use your site for many things during the year. However, this was the first time I have ordered a personalized memorial box. It was for a very close friend still morning the death of his Mother 50 years ago. I thought the quality of the wood used was very good, but the one thing that was obviously missing was a lining inside the box. I had to go to my local craft store and purchase self sticking red felt and cut it to size. This made an outstanding difference in the look and quality of the box!! I would recommend you adding this lining to all your boxes for a more finished high quality look!

Memorial treasure
By
Shopper

(Eureka, UT) - April 8, 2013
This was a gift for a couple that lost their baby, and it is truely a cherished gift. It is of such great quality. I am very glad I ordered this for them. They can keep treasured memories in it.

Nice for storing keepsakes
By
Brenda K.

(Lima, OH) - March 11, 2013 (
See all reviews by this customer
)
The box is nice. It has a space in the lid for a photo of the loved one. It offers a personalized message and name/dates to be included. There is enough space inside for personal items, such as a CD of the funeral service, copy of the obituary, copy of the funeral program, etc. I purchased a keepsake box when my brother died on 11/6/11 and liked the box so much that I ordered one when my mother died on 2/21/13.