Wonderful
By
Jennifer A.

(Lockport, IL) - January 2, 2014 (
See all reviews by this customer
)
Beautiful, well constructed. It was a great gift.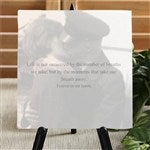 Disappointed
By
Shopper

(Bellflower, CA) - January 12, 2013
I was so excited when I saw this product. I purchased it for a memorial service of my husband's late Grandmother. I uploaded a Sepia picture and reviewed the proof, everything seemed to be in order. When we received the canvas the picture was so light that you really had to examine it in order to find her face. I was so disappointed! It seemed like such a lovely idea. Even the picture on the box it came in was far superior to the quality on the canvas.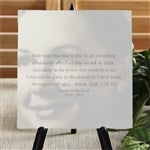 Excellent Quality
By
Angela K.

(Murray, KY) - December 11, 2012 (
See all reviews by this customer
)
I ordered this item for my 9 year old nephew. His father (my brother) was recently killed in a car accident and died on my nephew's 9th birthday. It's obviously been quite difficult for my entire family but especially hard for a 9 year old little boy. I am going to give this to him for Christmas in hopes that it will remind him of his daddy and give him comfort. Excellent quality and customer service!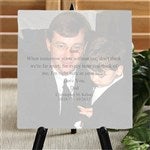 Great memory
By
Barbara T.

(Manchester, NH) - December 4, 2012 (
See all reviews by this customer
)
I am happy with my photo canvas very much. I only wish it was back, not so much of a close up. In my original picture my moms neck was showing a little bit more. I also wish there was an option to have the words on the bottom part, and not so much across the face. I still love it, and I purchased 8 of them, for every one of my brothers and sisters. It will be a constant reminder of the beautiful memories we have of our mom and dad. It will look great any where in a home, because of the nice black easel I bought to compliment it.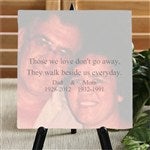 Really nice momento
By
Shopper

(Chicago, IL) - November 9, 2012
it is a great gift to remember a 13 almost 14 year old family member we had to say goodbye to. saying goodbye to our furry friends is awful, this will still allow him to be seen and remembered daily.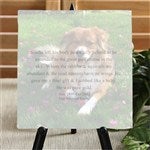 Better than Expected
By
Shopper

(Lock Haven, PA) - March 13, 2012
Blew my mind when I opened my product. It came out so much better than I could have ever imagined it would. It instantly brought tears to my eyes to see my grandfather's image brought to life with such touching words (purchased with verse 3). I can't wait to give it to my grandmother on pap's birthday. I would without a doubt recommend this product to anyone!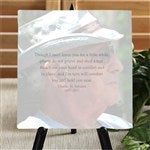 Beautiful gift
By
Shopper

(Inman, SC) - January 16, 2012
I bought this item for a friend who just lost her husband and I liked it so much that I ordered one for me to honor my mother who passed away last year. The canvas looks very professional. The photo quality on the canvas is good--it's light so it serves as a background to the poem. The size is okay--wish it were a little bigger but it is true to the size in the item description. Shipping was quick. Very pleased with my gifts and with the company.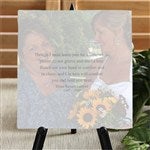 Not a piece I was proud of...
By
Shopper

(Corona, CA) - January 9, 2012
This was a gift for a friend who had just lost her son. I decided to give it to her but was not proud of it. The picture was very faded looking with the writing in gray on top of it. It just looked sad and faded. Her sons head was almost cut off at the top and the quote, while centered on the canvas, left the bottom part of the picture blank and it looked lopsided, or top heavy. It seemed like no one took the time to actually look at it and make it look balanced...Overall not very happy with the piece I would not recommend it.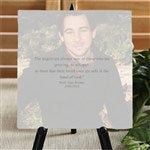 Features I love!
By
Shopper

(Elgin, MN) - December 18, 2011
The picture turned out beautiful and made an excellent gift for my daughter to give her Godfather. I will definatly be a return customer!!!

Photo Canvas
By
Shopper

(Fulton, MS) - May 3, 2012
I should have paid more attention to the dimensions. The canvas was much smaller than anticipated.

Does not live up to expectations
By
Leigh-Ann H.

(New Brunswick, NJ) - November 16, 2010 (
See all reviews by this customer
)
The photo material itself is lacking,and does not meet the expectations I was given from the photos on the website.

Dad 7/11/1937 -7/24/2010
By
Barbara D.

(Breaux Bridge, LA) - August 18, 2010 (
See all reviews by this customer
)
I got this for my Mom foe her Birthday because my Dad just passed it next to her bed.I got the one that said if tears could build a stairway. I just thought it was bigger but it works. Thanks

Awesome gift
By
Katelynn C.

(Glendale, AZ) - December 28, 2011 (
See all reviews by this customer
)
Turned out better than expected! Great gift!

Beautiful
By
Tracy C.

(Canada) - January 28, 2012 (
See all reviews by this customer
)
I searched for a perfect gift to memorialize my nephew who passed away and this caught my eye. My family just loves it and it is so beautiful. Thank you for such a perfect item. And super fast shipping to Canada as well.

The best present
By
Brent M.

(Conyers, GA) - December 17, 2011 (
See all reviews by this customer
)
I gave this to my wife and she loved it. She told me it was the best present she ever got. i told her where i got it and ordered one from her Father. Great size works great detail is excelent. Thanks

in peace
im pleased the produce

LOVE IT!!!
By
Shopper

(Clinton, UT) - September 19, 2011
I absolutely LOVE my photo canvas!!! It turned out wonderful & I've had tons of people tell me how much they love it as well!!! I am VERY satisfied with the quality & especially the price!! Thank you SO much!!!