Perfect
By
Shopper

(Tucson, AZ) - February 2, 2014
They are too cute. Even better than what I expected!!

Baby Shower
By
Jodie G.

(Union City, CA) - November 25, 2013 (
See all reviews by this customer
)
This was an awesome favor..I will definetely do this again.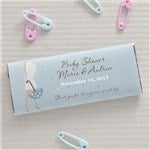 how to use this product
By
Shopper

(philadelphia, PA) - June 3, 2013
We are using this as 1 of our favors. I picked the color green, love how soft
the coloring is.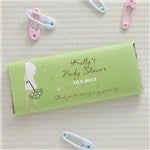 Pretty and Easy to Asssemble
By
Shopper

(Lowell, MA) - February 25, 2013
Very nice product, candy bars easily slip into the foil bags without having to remove the candy bar packaging and the covers go around with the ease of just a few pieces of tape.

Candy bar wrappers
By
Karen G.

(Groton, CT) - February 5, 2013 (
See all reviews by this customer
)
They came out just as pictured and I received them in the mail a few days later .. I am very happy with my purchase .. They are going to be a fun favor to give the guests.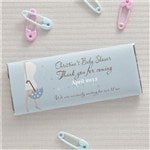 great product
By
Shopper

(Dundalk, MD) - January 25, 2013
just finished the favors and very happy with the results, good product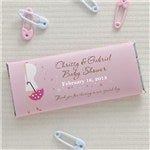 Baby shower favors
By
elaine M.

(winter springs, FL) - January 13, 2013 (
See all reviews by this customer
)
Great job! Really cute.i was very happy with them!! You won't be disappointed!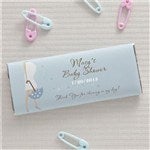 Amazing product
By
KAROLINA S.

(CHICAGO, IL) - November 3, 2012 (
See all reviews by this customer
)
The candy wrappers were of great quality and so easy to assemble. Best of all they looked really nice when put together. Highly recommend it!

coed baby shower candy wrappers
By
Shopper

(DAVENPORT, IA) - July 21, 2012
My coed baby shower isn't until next Sunday but I can't wait for my quests to receive their candy bars wrapped in the Baby Bump Personalized Candy Bar Wrappers. Since there will be guys and gals taking part in shower games the candy bars are a very generic prize instead of buying gender gifts...who doesn't like chocolate!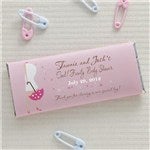 Awesome
By
Justine D.

(Randolph, MA) - April 30, 2012 (
See all reviews by this customer
)
I purchased these candy bars wrappers for my baby shower and am so impressed with how they turned out. This is the best way to add a personal touch and they look really professional. Would definitely recommend this to others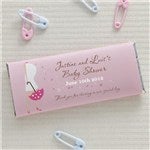 Love the foil holders for the candy bar
By
Veronica J.

(Philadelphia, PA) - March 3, 2012 (
See all reviews by this customer
)
Wrappers were beautiful, personalization was great and with the foil holders for the candy bar, you didn't see the ugly brown candy bar ends like with other wrappers.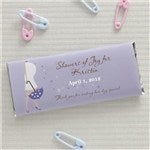 LOVE LOVE LOVE THIS ITEM!!!
By
Angela H.

(Charlottesville, VA) - December 12, 2011 (
See all reviews by this customer
)
Got these for my sister's baby shower and they were a hit!! Look even better in person!

Baby Shower Candy Bar Wrappers
By
Terese G.

(New Port Richey, FL) - June 5, 2011 (
See all reviews by this customer
)
Very happy with this purchase. Hershey candy bars slid really easily, still in the original Hershey wrapper, into the silver foil pouch. Silver candy wrapper was very high quality, & not flimsy. Outside wrapper was really good too. Easy to put together, although I opted for a tiny piece clear tape to close the wrapper instead of glueing them. I initially tried the glue route but after doing 2, it didn't seem like that was the fastest way to do them. These were a big hit!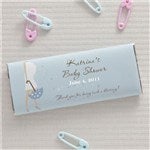 Perfect!
By
Shopper

(San Diego, CA) - March 27, 2011
I picked these after much research on personalized chocolate bars & wrappers. They arrived quickly and looked exactly as they did in the preview. I've already wrapped the bars and can't wait to pass them out at our shower.

Adorable
By
Shopper

(Salinas, CA) - March 25, 2011
I ordered these candy bar wrappers for my sister's shower. They turned out so cute, easy to assemble. I just love the personal touch this party favor brought to the party. Delivery was right on schedule. If you are looking for inexpensive and memorable for your guest this is the way to go!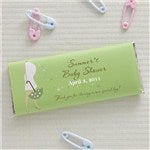 Perfect and Sweet
By
Shopper

(Altus, OK) - February 5, 2011
These candy bar wrappers added such a sweet touch to the shower. The quality was amazing and they arrived quickly!

PERFECTION
By
Missy D.

(Greensburg, PA) - October 29, 2010 (
See all reviews by this customer
)
I became aquainted with this website a few years ago and I can tell you I have NEVER been disappointed in any of my purchases. The quality of their products are superior. These candy wrappers actually came with foil papers to wrap your candy in prior to the personalized wrappers. Was not expecting them, but was pleasantly surprised. I had already ordered the invitations, and these wrappers were just the "icing" on the cake. THANKS personalizationmall.com for another outstanding item.

Great & Easy
By
Sally F.

(Philadelphia, PA) - August 2, 2010 (
See all reviews by this customer
)
Purchased these for my daughter's shower and I wasn't sure if is was a great idea. I was wrong. These wrappers are exactly what they look like and really easy to use with a 1.55oz Hershey Bar. I would recommend these to anyone wanting to use a candy wrapper for a baby shower favor. I checked out many wrappers and these really are the best..

hmm
By
Naira M.

(Kirkland, WA) - August 12, 2011 (
See all reviews by this customer
)
the product itself was good. The wrappers were pretty and it was easly to place the chocolate into the silver envelopes. However, I did not like that I had to actually use a glue stick for the wrappers, it took too long, and the sticky part on the envelopes didn't work either, so again i had to use the glue stick. I also think it costs too much. I saw similar ones at a store, where you can print your info but the paper is already decorated, and they were only about $2 for 18 in a pack.