Quality item, smooth transaction
By
Shopper

(Prospect Heights, IL) - December 27, 2011
Love these aprons, purchased one for my son and daughter and they love them. Very cute and high quality material.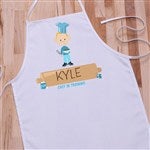 cute and functional
By
audrey L.

(columbia, SC) - December 24, 2011 (
See all reviews by this customer
)
The aprons are for my grand children ages six, four, two, and twenty two months.
They are the cutest things ever, and I can't wait to see the expressions on my grands faces. They love helping in the kitchen so this is going to be great fun for all of us. Very pleased Grandma!!!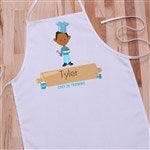 So adorable My niece and Nephew loved them!
By
Shopper

(Panama City Beach, FL) - August 16, 2011
I definitely reccomend this product. The aprons were so cute and such a special gift to give to two aspriring cooks!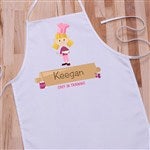 Super cute!
By
Shopper

(Goodlettsville, TN) - July 26, 2011
Nice thick apron. Super cute cartoon images. Very happy with this product!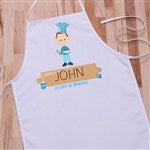 Chef in the Making
By
Karyn F.

(Windsor Mill, MD) - June 20, 2011 (
See all reviews by this customer
)
I purchased this for a little sweetheart (the daughter of a friend). She loves to help her mom cook and bake. Her mom signed her up for children's cooking classes this summer. I ordered this apron with her name on it . . . thanks PM for offering faces of color. I made a gift basket that included the apron, cake mix and icing, utensils and a grocery gift card to purchase food for the entree. I'm looking forward to being a taste tester!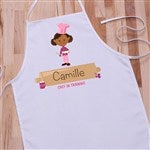 Worth every penny!
By
Natasha A.

(Seaside, CA) - April 16, 2011 (
See all reviews by this customer
)
My youngest is only 2 1/2 but loves to cook! The apron is a little big on her, but she wears it with pride! Great product that will last for a long time!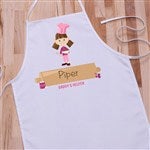 So precious!
By
Shopper

(austin, TX) - June 26, 2014
I was really shocked when this piece came in. It was for my nephew and it was a great product with a great price!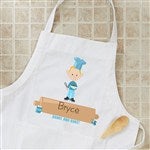 fun gift
By
Shopper

(Pittsford, NY) - March 19, 2014
This apron will fit most children ages 7-12. It is high quality fabric, a fun design and if you add a few kitchen utensils to the large front pockets, it's even more useful right out of the box. And their shipping is amazing. It arrives shortly after the order is processed.

Apron
By
Christine J.

(MIAMI, FL) - February 24, 2014 (
See all reviews by this customer
)
Very cute and perfect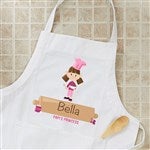 Quality
By
Margaret G.

(Spring Valley, CA) - February 17, 2014 (
See all reviews by this customer
)
The material is good quality. The apron itself is exactly what I was hoping for.
I only wish they made grandma sizes so we could match as we bake.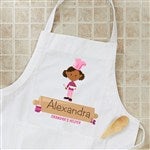 These are adorable!
By
Renee J.

(Virginia Beach, VA) - February 13, 2014 (
See all reviews by this customer
)
A high quality apron at a very good price! Very happy with this purchase. I paired it with a beginner's youth cookbook for a valentines day gift for a very special little guy <3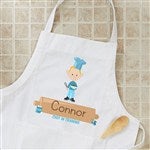 JR Apron
By
Judie T.

(Oceanside, CA) - January 25, 2014 (
See all reviews by this customer
)
My granddaughter loved her apron with her name on it- she turned into our helper over the holidays with all the baking & now she can protect her outfits with style:)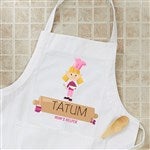 little baker
By
Shopper

(bloomer, WI) - January 20, 2014
This a valentine gift for our Granddaughter, it as very high quality material and well put together, should last for years!! can hardle wait to give it to Her!!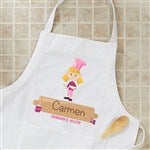 Grandchildren Aprons
By
JACQUELINE S.

(MORNINGVIEW, KY) - December 26, 2013 (
See all reviews by this customer
)
The aprons were precious. They just loved them. My daughter in law was impressed. She asked for the website right away.I will for sure order again from you. I was a little unsure of what they would look like. I was impressed.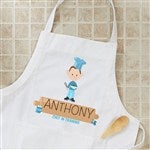 Excellent quality
By
Susan J.

(Dracut, MA) - December 11, 2013 (
See all reviews by this customer
)
Absolutely love it and I know my granddaughter will be thrilled! I have never been disappointed with anything I have ordered from Personalization Mall.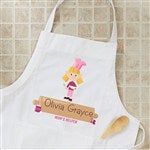 Adorable kids apron
By
Shopper

(OAKLAND PARK, FL) - December 1, 2013
I bought these for my cousins for Christmas and included a cute kids cookbook.
The aprons are adorable and are of great quality! Sure to make any little chef happy!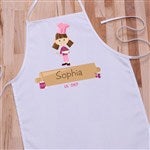 Apron Kid
By
Shopper

(Sunnyside, NY) - April 16, 2012
Thank you so much for the excelent job,the children love it!! Th details of thr face size lenght everything was very good!!!!,thank you,thank you...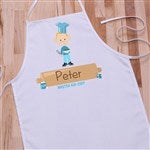 The kids love it!
By
Shopper

(Springfield, VA) - March 26, 2012
My kids (3 and 5) love to help out in the kitchen and have been asking for aprons so they can feel like real chefs. When I saw the cute characters on the aprons I knew these would be perfect. A little pricey for Aprons, but the characters really look like my kids, and they are perfect size for the kids to be able to wear these for many years! I am very happy with the purchase, and will think of getting this as a birthday gift for the kids' friends in the future!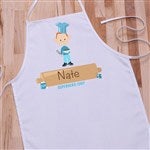 gift for a little darling
By
Shopper

(Stamford, CT) - January 29, 2012
Emily loved the apron with her name right up front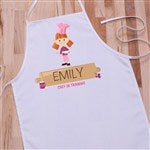 helping mom in the kitchen
im looking forward to give it to my boys! they love cooking and baking with momy

Darling Apron
By
Shopper

(Pine City, MN) - February 18, 2011
Got this apron for a granddaughter for Valentine's Day. She loved it and the fact that it has her name on it was a big hit.

Adorable Apron
By
Tamara H.

(Rosemount, MN) - January 22, 2011 (
See all reviews by this customer
)
Love it!! I searched for an adorable personalized apron everywhere!! And this was the cutest one around! I love it!!!! Great birthday present for a child who has every toy imagined! I bought some cooking utensils (child size) and a brownie mix to complete an awesome present!!

THANK YOU!!

Great gift
By
Shopper

(Pawling, NY) - December 17, 2011
Wondrful gift for kids who love to cook!

Great gift for budding boy or girl kitchen helper
By
Shopper

(Park City, UT) - March 5, 2012
Just as pictured - great gift for a reasonable price!

Junior Chef
By
Shopper

(Trophy Club, TX) - July 22, 2014
This is a great apron for little kids. At first I thought it would be too big, but the apron is adjustable and fits my toddler. The imagine and personalization is also very good.

Great gifts!!
By
Sharon M.

(Greenwich, CT) - February 18, 2014 (
See all reviews by this customer
)
My granddaughters absolutely loved the aprons! They are of a great quality, and I took pictures of them to send to family! I highly recommend!

Great quality and most Adorable Aprons
By
Mimi S.

(Los Gatos, CA) - December 12, 2013 (
See all reviews by this customer
)
Ordered 5 for my 5yr old daughter's baking birthday party and they are absolutely adorable!! Great quality! Love love love them!

Gifts for my grandaughters
By
MAUREEN B.

(ERIE, PA) - February 16, 2013 (
See all reviews by this customer
)
My grandaughters received these for Valentines Day and loved them. Their mom sent me a picture of the girls with their aprons on and they were adorable. My grandaughters are 7 and 4 yrs old and the aprons fit well. I was also able to change the hair color to match their own !

So cute!
By
June W.

(Prescott, AZ) - April 21, 2011 (
See all reviews by this customer
)
Love it. Great for my little granddaughter helping out in the kitchen

Awesome Apron for my son!
By
Shopper

(Landing, NJ) - May 28, 2011
It s very hard to find boy-themed cooking aprons out there and this one is perfect! Bought it for my 2 1/2 year old son and had it personalized and I was very impressed with the quality of the product and the design of the little boy on the front. My son has strawberry blonde hair, so I loved how you could choose the type of hair and skin that you wanted from the personalization. I would recommend this product!

Great Product!
By
Shopper

(revere, MA) - June 11, 2011
I got these aprons for my 2 granddaughters, ages 2 and 4. They loved them! The quality of the aprons is wonderful - very heavy, bright colors and printing, and they look like they will hold up well through washings. Very pleased with my choice!