I love it
By
Dora V.

(Cocoa Beach, Florida) - December 24, 2012 (
See all reviews by this customer
)
Perfect gift, I love it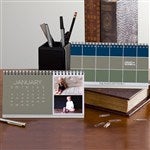 A gift that gives all year!
By
Carol V.

(Canada) - November 16, 2012 (
See all reviews by this customer
)
I am so pleased with my picture perfect desk calendar! It allowed me to put together a personal gift that will be so meaningful to the recipient! The final product was very professionally done, and arrived in a very short time after purchase. It is a gift that will keep on giving all year!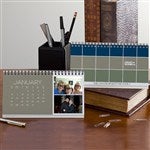 GREAT gift!
By
Danielle G.

(Beverly hills , MI) - August 6, 2012 (
See all reviews by this customer
)
I bought this for my best friend to keep on her desk at work and I was very impressed with how easy the system was to use, how many pictures could go on such a small desk calendar, how well the pictures AND quotes turned out AND how fast it got here! All around it was great! She cried when she saw it. It was perfect!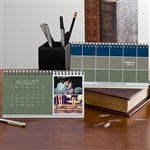 Very Nice
By
Shopper

(Wonder Lake, IL) - December 20, 2011
Pictures downsized into this calender very nice!! Good Product.

Product Features
By
Shopper

(Fall River, MA) - December 29, 2011
Picture Perfect Photo Desk Calendar's title is so true! All photos came out perfect, colors did not change, in fact, it was so clear and the size is a perfect fit for any desk! I will gladly recommend this product to family and friends!

It turned out GREAT!
By
Shopper

(Pleasanton, CA) - December 30, 2011
The pictures looked just as they did in the previews. It turned out to be a much better gift than the goody basket I had originally intended.

good
By
Shopper

(Memphis, TN) - May 13, 2011
The calendar was great and got here quickly.

April fell out
By
Nicholas P.

(Studio City, CA) - January 7, 2012 (
See all reviews by this customer
)
The card for April must've been missed by the machine they use, because it wasn't bound by the rings. It was just a card that fell out and hit the ground as soon as I picked up the calendar. How that got missed, I have no idea. They say they've fixed it and allegedly refunded my shipping (haven't looked), but I can't say it's been fixed since they sent it to my parent's house where I WAS over Christmas when I paid extra to have it by, but am NOW in California. They said they updated it to go to the right place but I ordered 2 calendars (both needed to be fixed); one was sent to California, this one wasn't.

I've had great experiences for their engraved products, but printed items, 0-for-2.

Desktop calendar a hit!
By
JoAnn W.

(Katy, TX) - December 7, 2011 (
See all reviews by this customer
)
This calendar is high-quality and the pictures are vibrant and clear. I can't wait to give this to my friend for her birthday! I've been pleased with everything I've ordered the past three years!

Calendar
By
Shopper

(El Monte, CA) - August 9, 2013
This calendar right when I opened it when it got delivered it felt like something else. Once I opened it, it was just what I wanted and more. This is the perfect gift for my boyfriend that is serving our country in the Marines. He is getting deployed in two weeks and I bought him this calendar as a gift for him to remember our great memories of our pictures in the calendar !! I can't wait for him to open it and look through it. He's going to Love it!!!

Nice gift
By
Shopper

(Atlanta, GA) - October 1, 2013
Nice gift. Love the idea. Clear photo print!

cute!
By
Shopper

(New Hyde Park, NY) - August 9, 2014
Love, adorable on my desk! Practical, desk doesn't get cluttered with frames!

Desk calendar
By
diana D.

(marion, TX) - January 1, 2012 (
See all reviews by this customer
)
Great, thick paper turned out very nice.

Great Little Calendar
By
Shopper

(Chester, VA) - January 7, 2012
I bought the calendar as a gift. I put family photos on there. The recepient of the gift loved it. I will definately order again next time. Also, it's hard to find certain calendars in regular stores, they usually just have the huge ones you put on your desk. But the one I ordered on here was triangle shaped and can fit on a small corner of a desk.

great
By
Shopper

(Virgin Islands (U.S.)) - March 26, 2012
this calendar is beautifully designed, and is a nice gift idea