Heart Pendant
By
Susan M.

(Spring, TX) - May 13, 2014 (
See all reviews by this customer
)
I ordered this necklace for my daughter for Mother's Day. She is pregnant with her first child so I had it engraved with his name. It brought her to tears when she opened the package. She loved it.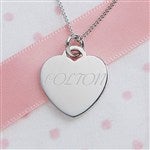 heart
By
Ruth M. K.

(Jenison, MI) - April 25, 2014 (
See all reviews by this customer
)
The size when it came surprised me but then I thought it could be used as a charm or add other items to the necklace. My Granddaughter loved it so that is what counts.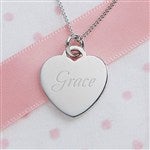 Perfect Gift for Her
By
Nenah E.

(newark, DE) - December 30, 2013 (
See all reviews by this customer
)
My kids' grandmother wanted a necklace for Christmas so we got this for her and she almost cried when she saw it. It is a very beautiful necklace and came out absolutely perfect, however I wish that the chain was a little bit longer.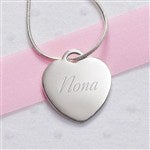 Came out Perfect
By
Shopper

(Terrell, TX) - June 11, 2013
It was better then expected. I loved it. No problems got here really quickly. I'll use this site more.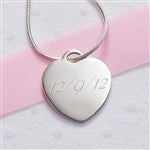 Silver heart
By
Valerie T.

(Rancho Santa Fe, CA) - June 3, 2013 (
See all reviews by this customer
)
I purchased two hearts, one for each of my grand daughters ages 6 and 9. I plan to give the hearts to them in November for their birthdays. They are absolutely beautiful and very appropriate for my grand daughters. The box they came in was also appealing.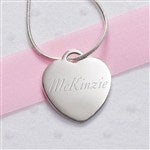 Silver Heart Pendant
By
Shopper

(Centre, AL) - November 28, 2012
I love the pendant! Its very good quality, as well as the chain. It turned out just like I had hoped it would.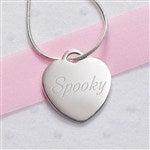 Beautiful birthday gift!
By
Shopper

(Grapevine, TX) - November 3, 2012
Gave this heart as a gift and my niece just loved it. I sent it to another state so haven't seen it but the remarks I received were special.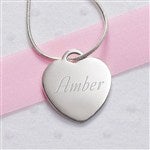 1st time I've been disappointed with a product
I have made numerous purchases over the past year, and everything has exceeded my expectations until now. I bought this as a special early Christmas present for my 29 year old 'namesake' and couldn't wait to get it to her. When she opened it, it was already 'tarnished looking'! I was totally embarrassed since I thought I was giving her something of a higher quality than it appeared. She quickly said she had some silver cleaning 'stuff' at home and would be able to clean it. It looked like I picked it up at a 5 and dime and she has no idea that I spent more than I usually do on a gift for it to look so cheap.

Pendant not as big as I thought.
By
Shopper

(Morrisville, PA) - February 17, 2012
I actually bought this for myself. I liked the chain however the charm was very small to me. What I ended up doing was taking the chain and adding a charm from some bracelets I bought for my daughter and putting that on the chain. I actually thought it looked very nice together; so much so I ordered another set of bracelets and another necklace to make for myself. The original pendant I'll probably add it on an anklet or another charm bracelet. I did like the engraving on the pendant as always very well done.

not very good
By
Shopper

(Maple Grove, MN) - June 21, 2011
I bought this for my daughter in law. She got it and thought it looked very cheap.

VERY DISSAPOINTED
By
Shopper

(miami, FL) - July 25, 2011
Yesterday we received the package with our order, and i must say that i was VERY dissapointed with the item i purchased from you.
To begin with, the so called "sterling silver" heart described in your online catalogue, was not silver at all! The photograph you have online is NOTHING like the dark, opaque metal piece i found in the box. Compared to the chain, the difference is incredible. It looks CHEAP, badly finished and dirty. The front part has the borders all damaged (the kind you see with early rust or time passed) and the back side was totally dark. NOT SILVER LIKE AT ALL.
This present was purchased with time for a very very special and important ocasion. This has now become a headache for me and a burden im not supposed to have, coming from such a respected supplier.
Here i include the pictures i just took with my mobile phone so that you can see for yourselves what i got and what has caused me such great discomfort.
I will be sending you the item in its box just as i received it, and will expect a full purchase refund for all this trouble.
I understand that your policies say that you cannot recieve an already personalized item, but i quote you "...except when there is a quality concern as mentioned above." And this is a HUGE quality concern.



Love it!
By
Shopper

(Punxsutawney, PA) - August 29, 2014
It is great quality! I got it for my niece who is my flower girl in my wedding and I know she is going to love it! She has a unique name that is not found on any of the pre printed name key chains so she will love having something with her name on it.

Darling
By
Jessica C.

(North Bethesda, MD) - January 24, 2014 (
See all reviews by this customer
)
This cute necklace will be a gift for our flower girl. It's delicate looking, yet sturdy. The charm has a large enough loop that it can be moved to a different chain, but the chain that it comes with is decent.

Great Item for your money
By
Shopper

(Philadelphia, PA) - March 19, 2013
I ordered this as a gift for my god daughter for a gift for making her confirmation. I was nervous because I didn't want it to be cheap but it turns out when I received it it was a good quality. The only thing I would suggest is that the engraving be a little darker.

Amazing Necklace
By
Charles D.

(APO, AE) - May 30, 2011 (
See all reviews by this customer
)
She loved it. Didn't see it personally but she was very impressed.

First time ordering
By
Shirley M.

(Austin, TX) - February 22, 2012 (
See all reviews by this customer
)
The necklace is gorgeous! This is my first time shopping at Personalization and was not sure what quality the items would be; I was amazed and my granddaughter loved the necklace.