Love Them!
By
Kelli M.

(Marietta, GA) - October 3, 2011 (
See all reviews by this customer
)
The luggage tags are very sturdy and look great! I have been searching online for luggage tags that wouldn't break the bank and was grateful to find them here. I highly recommend this product to anyone!!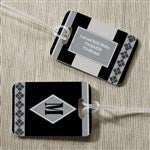 Beautiful
By
Anne S.

(Suwanee, GA) - December 2, 2012 (
See all reviews by this customer
)
Excellent quality...pleanty large and thick, very pretty color...these will last a long time and make great gifts.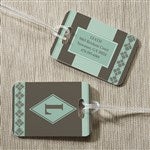 baggage tags
By
Shopper

(La Crescenta, CA, CA) - August 27, 2012
I liked the tags - colorful to make them readily identifiable. I was disappointed I did not get a more useful clip to attach it to my bag.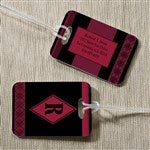 These are perfect!
By
Shopper

(Gladstone, OR) - February 6, 2012
These luggage tags are beautiful. They are not flimsy at all, they are very sturdy, very well made, and the printing on them is just perfect. Can't wait to go on vacation and show them off!

review
By
Shopper

(Summerville, SC) - February 27, 2012
great item, quality far better than i had thought. I am definitely pleased with item and will order again from you. thank you!!!

Exceeded expectations
By
Shopper

(El Paso, TX) - January 12, 2012
Great quality.

Excellent purchase
By
Paul Q.

(New York, NY) - January 20, 2012 (
See all reviews by this customer
)
I bought my luggage tags hoping they were as good as the reviews stated... they were. I am completely satisfied with the end product and will be placing a new order soon. I received something even better than I anticipated... nice to be surprised by getting more than you expected. Thanks.

Fast and easy
By
Shopper

(Tucson, AZ) - May 15, 2012
I use these tags on backpacks, luggage, stroller for air travel....even my son's wheelchair for school. They ship quickly.

Destination Wedding Gift
By
Shopper

(Joliet, IL) - May 15, 2012
I gave these to a co-worker for her wedding shower. She is having a destination wedding, and they fit the theme really well. She loved them. It has her new married name and initial with their new address.

Great Luggage Tags
By
Shopper

(Wellington, FL) - May 8, 2012
These luggage tags were great. They are large and unique.

Luggage tags
By
Joy J.

(Sumter, SC) - April 4, 2012 (
See all reviews by this customer
)
Bought these for my parents, they travel alot. I LOVE them! They are quality items and are VERY attractive! I WILL order more!

Traveler Gift
By
Shopper

(Jamestown, NC) - April 15, 2012
Wonderful quality. Reasonably priced.

Practical gift for a traveler
By
Shopper

(Coon Rapids, MN) - December 29, 2011
Great item, as always it looks just like the preview. Nice design and good price.

Luggage tag review
By
Allen R.

(Washington, DC) - June 24, 2012 (
See all reviews by this customer
)
Order was received timely and the product were accurately printed and were identical to on-line description of the product. My only complaint is the the plastic cords used to attached tags to luggage were too short to securely attach to my American Tourister luggage, and two tags were lost in transit on an international flight. I believe that the problem could best be solved by providing customers with other attaching options in different lengths, or materials (metal or metal-like linking chain?).

excellent quality
By
Barbara K.

(Woodland Hills, CA) - September 28, 2012 (
See all reviews by this customer
)
Ordered the black/gray and the black/red combinations. They arrived quickly; are made of very good, sturdy, quality. The black/gray is a bit brighter w/ a richer contrast than the black/red. Both very easy to see and read

Personalized Luggage Tag Set
By
Shopper

(New Haven , WV) - December 20, 2011
Very pleased. Great quality and price. I would recommend this product.

A little disappointed.
By
Shopper

(Laurel, MD) - January 2, 2013
I ordered a different design for a friend of mine last year and loved them. This year, I ordered for another friend and I was a little disappointed. Details below...

Pros:
-Love the velvet black bag that the tags came in
-Very durable, good for heavy duty traveling

Cons:
-Took longer than expected to arrive
-The colors were different on each side of the tags. I ordered black, gray, and white. One side was actually light blue and black. The image on the website is not what I received.

This will not keep me from ordering other products from personalization mall. However, I feel that they could have done better with this particular design and color scheme.

Bad Color
By
Shopper

(Altona, NY) - December 16, 2011
My son ordered the "red" tags for his godparents for Christmas. They look pink! Pink in nice...but we wanted red. So be cautious ordering this color. Otherwise, they are a nice gift.

Better than Expected!
By
Shopper

(Chapin, SC) - December 12, 2011
The luggage tag set was a higher quality than I expected! The tags were larger and more heavy duty than expected. I have decided they would make a great graduation gift as well!

Nice Gift
By
Francine M. G.

(Washington, DC) - December 28, 2011 (
See all reviews by this customer
)
I purchased this item for a Christmas gift, not expensive and great for the person that travels.

Great "Thank You" gift
By
Shopper

(Owings Mills, MD) - September 23, 2011
Looking for something unique, useful and affordable: try the personalized luggage tags. I bought them as thank you gifts for some dear friends who did something very kind for me and they were a big hit. As usual, Personalization Mall was early in their delivery and the product was perfect.

Luggage Tags
By
Susan B.

(Winder, GA) - December 20, 2012 (
See all reviews by this customer
)
Very nice

Nice
By
Cecile H.

(Orlando, FL) - June 2, 2014 (
See all reviews by this customer
)
Product looks just as pictured.

Luggage Tags!
By
KJ M.

(stockbridge, GA) - May 30, 2012 (
See all reviews by this customer
)
I have to admit, when shopping online, I get pretty skeptical! However, what you see is what you get. It is absolutely amazing! I love my tags. I look forward to doing more buying!

Awesome gift for the traveler
By
Carmeletta S.

(Brook Park, OH) - May 5, 2014 (
See all reviews by this customer
)
I bought this for my sister & a friend of mine for Mother's Day who have recently started traveling more. They had all good things to say about them. It's makes identifying your bag easier at the airport.

Luggage Tags
By
Shopper

(Prescott, AZ) - May 13, 2014
Very pleased with the quality of this product.

Perfect Gift!
By
Cathy C.

(Los Angeles, CA) - April 20, 2014 (
See all reviews by this customer
)
Personalized luggage tags were a birthday gift for someone making their first trip to England. She absolutely LOVED them!

Luggage Tags
By
Patricia M.

(Dushore, PA) - February 2, 2014 (
See all reviews by this customer
)
Awesome item for your luggage. Nice bold initial on front and bold address on the back. Sturdy & nice looking. Five stars!

material is pretty and sturdy
By
Angela P.

(Shreveport, LA) - April 2, 2014 (
See all reviews by this customer
)
Luggage tags as graduation gifts or to identify anything in college! They look very nice and sturdy! Was pleasantly surprised that two came in the set! We love them!!

The executive luggage I.D tags
By
Shopper

(Lovina, MI) - June 8, 2014
This item is very unique , I like the glossy finish for clear and detailed image. The durable plastic for the rough handlers. I haver order seven sets of different images from kids to adult and everyone loved them..thank you hopefully now no more lost luggage.

Luggage Tags
By
Shopper

(Prescott, AZ) - August 3, 2014
The quality of the product is excellent, and shipment was prompt.

great gift
By
Shopper

(Hollywood, FL) - August 6, 2014
good quality and very useful

great product
By
Shopper

(hialeah, FL) - July 26, 2014
the product was really nice. I liked it a lot. I think the person who I gave it loves it as well. It has a great quality and it seems to be something really expensive and chic! I recommend this website to all my friends. I am really pleased with the product.

So elegant
By
Marie S.

(Hampstead, NC) - July 5, 2014 (
See all reviews by this customer
)
These baggage tags are very well constructed and they will be very noticeable when claiming luggage at the airport. Very classy looking.

jostatenisland
By
Shopper

(staten island, NY) - July 8, 2014
Luggage tags are very good quality. the color is perfect. love them

I would recommend luggage tags
By
Susan M.

(Royal Palm Beach, IL) - December 26, 2012 (
See all reviews by this customer
)
Very nice product, very sturdy and well made. Looked exactly like the web site example and even better.

Very Pleased
By
Shopper

(College Station, TX) - January 7, 2013
They looked great! Very sturdy and hard. Better than expected. I am ordering more for my adult children. My husbands comment " Wow, they look better than our luggage". (We just purchased new luggage for Christmas). Never have I been disappointed with any purchase from Personalization .

Just as pictured
By
Shopper

(Omaha, NE) - November 27, 2012
I've had a good experience with personalization mall in the past so I decided to use personalization mall again. I waited until the last minute to order before I needed the item (it was a gift). I received the item when they promised and it was exactly how it was pictured on the site. I am very happy with the quality of the finished product and will definately use this site again!

High Quality
By
Shopper

(murfreesboro, TN) - August 21, 2012
Very pleased when we received the luggage tags. Exactly as described. Although we have not gone on a trip with them, we expect them to hold up well. They look great!

Luggage Tags
By
Shopper

(Hendersonville, TN) - November 6, 2012
I have bought these before - Very nice for a traveler - They show well, Easy to attach - seem not to scratch. There is only two per order, wish there would be at least 3. GREAT ITEM!