An Apple for the teacher
By
Shopper

(Westminster, MD) - December 19, 2011
I purchased this mug for my niece, who is a new teacher. The design and pesonalization are very high quality. The size of the mug and the personalization pleased me very much. The design is unique. I was particulary pleased with the safety opening. I can't wait for my niece to open it on Christmas Day.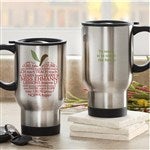 great
By
Gianluca G.

(CHARLOTTESVILLE, VA) - May 20, 2014 (
See all reviews by this customer
)
Good quality. Looks exactly as seen on picture. Shipping was fast.

Teachers mugs
By
Melissa T.

(Diamond Bar, CA) - May 11, 2013 (
See all reviews by this customer
)
Such a wonderful gift with a touch of personality that brings it closer to the heart.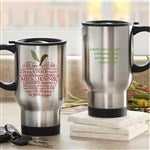 Quality product
By
amanda G.

(Australia) - May 7, 2013 (
See all reviews by this customer
)
Another teacher gift destined for Australia. We have nothing so lovely here. Thanks.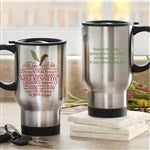 Good buy
By
Krista F.

(Shawnee, OK) - October 11, 2013 (
See all reviews by this customer
)
This mug is nice and sturdy, however it is a lot smaller that I expected it to be. The personalization it artfully done.

Cute but tiny
By
Shopper

(colts neck, NJ) - December 2, 2013
It's adorable and looks really well made/beautiful, but it's so small. I have a feeling the recipient I got it for will never use it, because I've seen her travel mugs and they are way larger than this. But it will be cute to leave on her desk at work or something. I have no idea why anyone would make a travel mug this small unless it was intended for toddlers.

A little underwhelmed
By
Shopper

(Castro Valley, CA) - December 12, 2013
The quality of the mug is good, but the ink color is light. The picture shows it darker than what it truly is.

Not impressed
By
Shopper

(Denver, CO) - June 4, 2011
I bought this as a gift for an art teacher. I had her name and an art quote added to the cup. When it showed up, I was just not impressed. The cup was shorter than it seems and it is just not a high quality cup. Also, under the quote was www.personalizationmall.com...this completely takes away from the sentiment. I was disappointment because the price (40 bucks) was way too much for this mug.

disappointed
By
Shopper

(Stamford, CT) - December 22, 2012
not enough contrast between the printing colors and the background so it is not as vivid an image as appears on the product photo... this was a teacher gift so I was pretty disappointed :(
I wouldn't recommend.

fair
By
Shopper

(copley, OH) - May 14, 2011
The printing is very faded and cannot be put in dishwasher. Attractive design just not vivid.

Perfect teacher gift
By
Rhonda L.

(Montgomery, AL) - April 28, 2014 (
See all reviews by this customer
)
The best teacher gift ever- great quality. Perfect size !

Great mug!
By
Shopper

(Bronx, NY) - December 29, 2012
It came out exactly how I wanted it to!

Missing part
By
Shopper

(DPO, AA) - December 24, 2013
Every product from personalization mall is perfectly done! This is one of my favorite stores but unfortunately with this shipment they forgot to include the mug lid.

I have been trying to reach the costumer service through the email but I haven't received an answer yet.

I just need the lid so I can give away this beautiful gift.

Just Mediocre..
By
Shopper

(Phoenix, AZ) - December 16, 2013
Pretty much looks like the picture, however "personalization.com" is also encrypted and very visible on one side. There is no "just taking a sticker off", or it being on the bottom of the mug. This makes the the mug feel less personable and more like an advertisement. Plus its a little smaller than expected.

Really nice teacher gift
By
Shopper

(Alva, FL) - June 9, 2013
I was very pleased when my item arrived. The personalization was perfect and the mug was good quality. My teacher loved it!

travel mug
By
Shopper

(albuquerque , NM) - May 6, 2014
Very nice gift for my daughter the teacher came with lid .she was very happy with it .