Great family grab bag item
By
Shopper

(Downers Grove, IL) - December 27, 2011
I purchased this for our family grab bag - where the range of family members is a 90 year old woman all the way to a 22 year old man. It's not easy to find something everyone would appreciate. With the nice quote about family on the top and Christmas 2011 on the bottom plus a picture of the entire group of us that evening, the frame was a bit hit!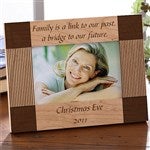 Ranchermontana Meets Sunnyksgirl
By
Linda A.

(Basehor, KS) - December 23, 2011 (
See all reviews by this customer
)
I purchased a wood personalized frame for a Christmas Gift and also a personalized Christmas Card. Both items were very nice and arrived within a few days after I placed my order. I would order from this company again without hesitation.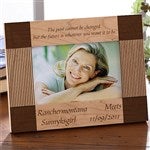 Engraved Frame and card
By
Linda A.

(Basehor, KS) - December 23, 2011 (
See all reviews by this customer
)
I purchased a special engraved wood frame and personalized card for a Christmas Gift. I was very pleased with both and received them very quickly. I would not hesitate to order from them again.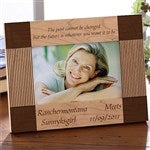 Gorgeous
By
Shopper

(Lester Prairie, MN) - December 7, 2011
Needed a retirement gift for a very special friend. Decided on getting a frame with a special message written on it. Came across this frame and was hesitant on purchasing it but for the price I figured I could always buy something else if this didn't work out. I am SO GLAD I bought this. It's BEAUTIFUL!!!!!! The color of the wood makes it go with any decor. I love it for the fact that it's different from your typical gold, silver or wood frames. Very nice frame, you'll be very happy with it!!!!!!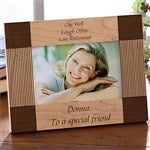 Personalize to individual events and create picture memories
By
Shopper

(Oklahoma City, OK) - November 16, 2011
I love being able to take a simple frame and personalize it any way you want. Adding a quote at the top can relate to why a particular picture is an important event. At the bottom you can give the persons name, date, your name etc. By creative.... it is a unique gift that is always appreciated because you took the time to design it yourself.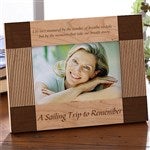 Very fast, looks great
By
Holly L.

(Woodbury, MN) - July 4, 2011 (
See all reviews by this customer
)
i have been very impressed with the personalized frame. They allowed me to put a large number of words and the wood, wood burnt lettering looks very nice (not at all chinsy as I was worried about.
My frame states: "what we have once enjoyed and deeply loved, we can never lose. For what we have loved deeply becomes apart of us" Helen Keller. Bottom: 'My beloved Gin'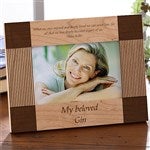 Perfect gift!
By
Roni H.

(Marietta, GA) - June 21, 2011 (
See all reviews by this customer
)
My in-laws can't wait to see what's inside the box when I order from this company! The gifts are always perfect. This frame was for Father's Day. He just returned from a trip to Israel, so he loved the frame.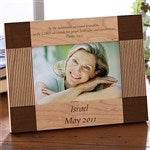 Awesome wedding gift
By
Shopper

(Shelton, CT) - June 12, 2011
I put a verse from our wedding song on the top with the last line of the song and our wedding date on the bottom. It came out so beautiful! I cannot wait to give it to my fiance for a wedding gift! LOVE IT!!!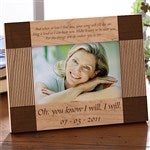 beautiful and you can add lots of letters
By
Candace G.

(Cumming, GA) - June 7, 2011 (
See all reviews by this customer
)
I'd been looking for someway to engrave the Christopher Robin quote onto something for my daughter, who is on her way to college. I wanted to let her know that I think she's wonderful, and to remind her that we're always with her. I couldn't fit the saying on other items, but I managed on this, and it is beautiful! The price is right for such a wonderful keepsake. Here is the quote:"If ever there is tomorrow when we're not together.. there is something you must always remember. you are braver than you believe, stronger than you seem, and smarter than you think. but the most important thing is, even if we're apart.. i'll always be with you."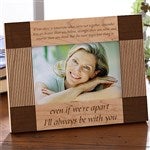 Personalized frame
By
Lisa C.

(Saint Augustine, FL) - August 5, 2013 (
See all reviews by this customer
)
As usual, personalzation mall has turned me into a great gift giver. It was the talk of the party. Affordable and quick! It doesn't get better than that. Thank you!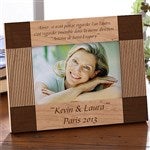 Perfect
By
Shopper

(Millington, TN) - June 4, 2013
I ordered this frame with a saying special to a group of us for a friend. It looked great and made a great gift for her to remember us by.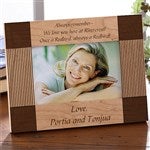 Kathy
By
Shopper

(Golden, IL) - May 26, 2013
I had this item personalized for a confirmation gift. I was fortunate that the confirmation verse was not too long, added the date and it turned out to be a very nice gift.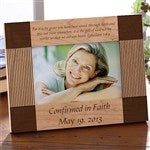 Remember the important things
By
Shopper

(Dawsonville, GA) - March 24, 2013
My husband and I absolutely love the personalized picture frame. We needed something to help us remember what was truly important and this frame helps us do that. It's very well made and turned out even more beautiful than the preview indicated. ... We will happily use Personalization Mall again. Ordering was quick and easy ... and the shipment was on time.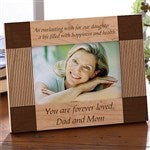 Christmas gift for mom
By
jennifer M.

(san antonio, TX) - January 27, 2013 (
See all reviews by this customer
)
Shipping was fast and my aunts loved it. Truly made my mom Chrsitmas. Order two for her. One for her office and one for her home.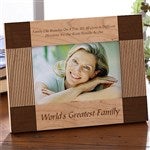 LOVE this Frame Used for Birthmother!!!
By
Kim P.

(Milwaukee, WI) - January 15, 2013 (
See all reviews by this customer
)
I think I bought just about EVERYONE on my Christmas list this frame. I LOVE that you can customize it however you want. I used some for a retirement, my birthmothers, my 69 year old mom who is a Hot Harley Grandma and soooo many more! (I don't plan on giving frames EACH Christmas BUT the recipients might just get a new picture to put in it!) Nicely made frame and the personalization was BEAUTIFUL!!!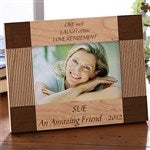 picture frame
By
Shanae C.

(Lakewood, CO) - November 30, 2012 (
See all reviews by this customer
)
Great product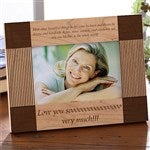 Perfect
By
Shopper

(Mount Carmel, PA) - November 16, 2012
This picture frame turned out exactly as advertised and was a great gift!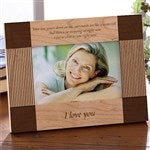 How I'm using the product
By
Pamela J.

(Cincinnati,, OH) - August 24, 2012 (
See all reviews by this customer
)
A very close friend and coworker just became a grandma by adoption of a gorgeous little boy from China and I thought this would be the perfect gift for her on her birthday in 2 days. I loved the verse I picked out for her and I hope she does also.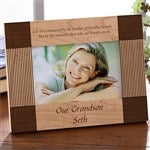 Really happy
By
Amanda G.

(Canada) - July 18, 2012 (
See all reviews by this customer
)
I am really pleased with my whole order. This frame is good quality and the personalized msg on it turned out perfect. My husband who usually couldn't care less about this sort of thing LOVED it. It is a gift for his parents this Christmas. Thank you!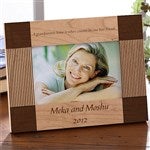 Perfect
By
Shawnee S.

(Henderson, KY) - May 18, 2012 (
See all reviews by this customer
)
This gift came to me with no trouble! The engraving was very well done and it was a great graduation present.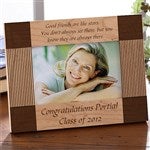 LOVE LOVE LOVE IT!!!
By
Shopper

(Anaheim, CA) - April 29, 2012
The quality and personalization is perfect! I purchased two of these frames for great grandparents with the names of great grandchildren under the picture. They were a huge hit and will be cherished for years to come. Thank you so much for the great customer service, quality, and personalization! The description of this item was clearly defined so I knew exactly what I was ordering. Personalizing the items was easy and I love the fact that I could see what the frame would look like, with the personalization, before I placed my order!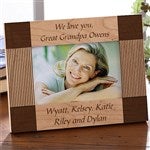 Great retirement gift idea
By
Shopper

(Chapel Hill, NC) - February 27, 2012
This was a wonderful idea for a retirement gift for a friend. She loves pictures and this personalized frame was so impressive. I recommend this website to find the perfect gift.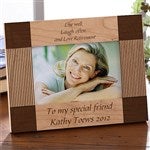 Beautiful
By
Shopper

(West Leechburg, PA) - February 18, 2012
My daughter bought this for her dad for Valentine's Day. She had a special message engraved and it turned out beautiful. My husband was very surprised by the special message written on the frame with a picture of him & my daughter. It is special to both of them and we are very pleased with our purchase.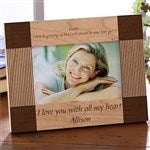 Perfect!
By
Kristen B.

(Groves, TX) - June 24, 2011 (
See all reviews by this customer
)
I ordered this frame for my husband from our kiddo's for Father's Day. Found a quote I liked and it fit perfect! Couldn't have looked any better! Another awesome purchase from Personalizationmall.com.

Perfect
By
Shopper

(Cabin John, MD) - May 6, 2014
This frame was absolutely perfect. It was sturdy and looked professional. Perfect gift!

Great product, not delivered on time
By
Shopper

(New Rochelle, NY) - February 26, 2014
The frame itself is beautiful, and they did a great job on the engraving as well. It was just unfortunate that the item did not arrive on time (for Valentine's Day) and that day was sort of ruined because I had that specially made to complete the night.

Wood Photo Frame
By
Karen D.

(Omaha, NE) - September 26, 2011 (
See all reviews by this customer
)
I was very pleased with the wood photo frame. The wood is very pretty and the engraving is outstanding. Overall, the frame is very expensive looking and is very well made.

Beautifully done!
By
Shopper

(Elizabeth City, NC) - November 15, 2011
The picture frames arrived exactly as I had ordered and looked great! Very nice details. I am extremely pleased with my purchase.

Perfect Retirement Gift
By
Lois C.

(Placentia, CA) - June 3, 2011 (
See all reviews by this customer
)
This was the perfect gift for the girl who has everything! We added "A career spent taking care of hearts while taking care of business" and her name. She loved it. Thanks for the opportunity to provide such personal gifts at a reasonable cost.

We love it!
By
Shopper

(Colorado Springs, CO) - May 14, 2011
This frame turned out so perfect! We were able to add a quote meaningful to the occasion and add the individual's name to the lovely frame. It really looks great. Thank you for such fantastic service. So happy we found you.

great gift... great price!
By
Shopper

(Morganville, NJ) - June 11, 2011
With this frame I was able to create my own words!! They gave you more than enough space to write whatever you wish!! It was a great gift and the price was amazing considering all that I wrote was free!! I looked around in personalization stores and online. No one can beat the quality of these wood frames or the price!!

Very nice!
By
Shopper

(Pikesville, MD) - July 7, 2014
Item was exactly as it appeared in the online preview. The quality is excellent and delivery was extremely fast.

great gift
By
Dianne J.

(Brentwood, NY) - August 6, 2012 (
See all reviews by this customer
)
it's really a great gift they just love it well done

Absolutely Beautiful Frame
By
Shopper

(Studio City, CA) - February 20, 2012
This picture frame was for my father-in-law's birthday. I was hoping the quality of the frame (and the engraving) would look nice, and it far surpassed my every expectation. The quality of the wood on the frame is exquisite, far better than anything I've seen on store shelves. And the engraving was done with such precision and expertise, that it gave this frame a true "wow factor"! I would highly recommend this item.

Personalized engraved frame
By
Nicole B.

(France) - February 10, 2012 (
See all reviews by this customer
)
See five star rating - nothing more to add

Amazing Quality!
By
Shopper

(Mobile, AL) - June 12, 2012
Amazing gift to customize! Everyone loves it who has seen it. Great quality.

Quick and Quality
By
Shopper

(Bonita Springs, FL) - December 28, 2012
Personalized, delivered quickly, and made of pretty good quality...and at a great price. Looks just like the photo.

Just as pictured
By
Shopper

(Maplewood, MO) - November 25, 2012
Very nice product. Well priced, shipped very quickly, looks just as pictured. I'm pleased.

Loved it.
By
Shopper

(Waterbury, CT) - February 1, 2013
This was exactly what I wanted, and can not wait to give it to my sister for her birthday!

Perfect for Work!!
By
Shopper

(Bedford, MA) - December 5, 2011
I've been purchasing these frames for work for the past 2 years and they're just great. If you are looking for a nice gift that's affordable then I would definitely recommend this frame.