A- Tool Kit
By
Allison G.

(Saltillo, TX) - December 13, 2011 (
See all reviews by this customer
)
I bought this tool kit for my nephew. The product is well made and exactly what I wanted! If I could change one thing about this tool kit I would add the construction hat to the package. The price is too high!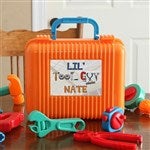 Great Gift
By
Shopper

(North Andover, MA) - December 2, 2011
I bought these tools to go with the Construction Crew hat. They are very sturdy and should last for quite some time. The kids love them because the tools have sound effects as you use them.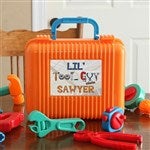 Good Gift for Toddler Boys
By
Shopper

(Eagleville, PA) - November 30, 2011
The personalization of this toy tool kit makes it much more special than it would be otherwise. The quality is standard for a plastic toy--it seems like it will stand up to a toddler banging it around a bit. The tools inside are large and colorful and they seem sturdy enough too. I'm happy with this purchase and I think the birthday boy (he's turing two) we bought it for will like it a lot.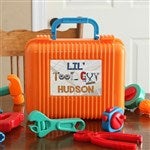 So cute!
This is a perfect gift for a little boy. You pay the same at a toy store and this has their name on it which makes it that much better!!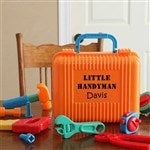 Tool Kit
By
Julie E.

(Wamego, KS) - June 12, 2011 (
See all reviews by this customer
)
I bought this for a birthday gift for my nephew! Simply adorable!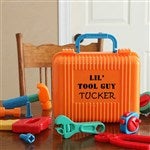 Great for the big brother!
By
Shopper

(Chicago, IL) - May 9, 2011
I gave this gift to a new big brother and personalized it with
Big Bro
Tools
He absolutely loved the tools and has been using them every day since they arrived. Cute great product. I do wish the hat came with. You can order it as well but it seemed like a lot. Anyway, love this gift and so does he!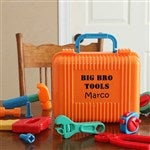 Toolbox
By
Julie W.

(Goodlettsville, TN) - April 15, 2014 (
See all reviews by this customer
)
It was so cute and well made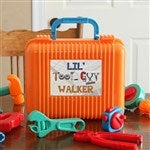 Nurse
By
Diane K.

(Colorado Springs, CO) - December 15, 2013 (
See all reviews by this customer
)
Great gift for my great-grandson who is 2!!!!&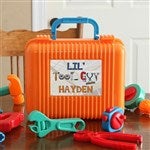 Pleased
By
James B.

(Macon, GA) - December 10, 2013 (
See all reviews by this customer
)
Bought this for grandson for Christmas like personalization only concern is latches which may break in time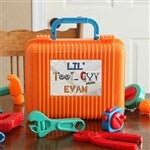 present for my niece
By
Shopper

(Philadelphia, PA) - December 30, 2012
I bought this because my 2 year old niece, Katrina wanted a tool box. Her dad works on his own cars, so she sees him use tools all the time. Apparently she said "ooh" when she opened it, and she really loves it! The only thing I would change is the wording "Lil' tool guy." It's too bad there's not a "Lil' tool girl."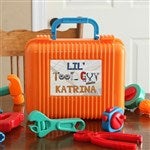 Little Mr. Fix It
By
Dinah R.

(Citronelle, AL) - December 25, 2012 (
See all reviews by this customer
)
I purchased this tool kit for my 2 year old Grandson for Christmas and he just loved it. Several of the tools make sounds when in use and are easy for him to manage. The tools and the box are very sturdy and I expect they will hold up nicely to the workout "Litle Mr. Fix It" will put them through. The name on the tool box makes it extra special. I'm so glad I decided to order this for him.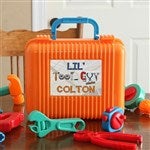 More than Anticipated
By
Shopper

(Lake City, PA) - December 14, 2012
I was excited to see a personalized tool box for my nephew, but was even more excited when I open it up and saw more tools than expected! Came with nuts & bolts and add'l tools. Yay!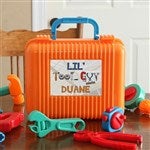 Tool Girl???
I saw this and wanted it right away, but the problem is I have a daughter. It would be perfect if it also came as LIL' TOOL GIRL...............

Cute
By
kristia D.

(Anchorage, AK) - November 30, 2010 (
See all reviews by this customer
)
This was ordered and shipped very timely. Looks cute on the outside, but tool case is rather flimsy and not very high quality for the price.

Not Excited
By
Carina A.

(Wethersfield, CT) - October 1, 2010 (
See all reviews by this customer
)
This gift is okay, definitely overpriced. I was attracted to the personalization part of it, but would have been happier going to a toy store and getting something better quality for my nephew. Definitely over priced, but cute.

It is what it is.
By
Kathleen M.

(Devon , PA) - December 22, 2009 (
See all reviews by this customer
)
Not alot fo 29.95. The picture is totally misleading be/c they make you think you get the hat too and it is not included, but you can have it for another 19.00. So for $30.00 you're getting the tool box and plastic tools inside. It looks really cute. I'm sure my nephew will enjoy it, however, it would be a much sounder buy if the hat were included. $50.00 for all is totally unreasonable.


Great gift
By
Sarah T.

(Fargo, ND) - September 29, 2010 (
See all reviews by this customer
)
My son will love this gift. He loves to play with tools and he is now recognizing his name, everything about this item is great except I do question the latch and how durable it is? I do still reccomend you buy as a gift for someone special!

Tool Box
By
Stephanie C.

(Lees Summit, MO) - December 24, 2009 (
See all reviews by this customer
)
What a darling gift for my son!

Favorite toy now
By
Shopper

(Reserve, LA) - April 7, 2012
My little carpenter walks around all day now with case in tow.This really keeps him occupied.

Best gift for a young boy
By
Jennifer K.

(Cheektowaga, NY) - December 27, 2011 (
See all reviews by this customer
)
This is the 3rd one I have bought for a gift. Amazing quality and super cute.

cute tool kit
By
LAURIE G.

(LUFKIN, TX) - December 27, 2013 (
See all reviews by this customer
)
got 2 of these as Christmas gifts. One for our 1 1/2 year old neighbors son and one for our 3 year old grandson. They both started playing with the tools immediately! They were a hit!

A happy toy
By
Shopper

(Livonia, MI) - October 20, 2012
This little tool kit was a hit birthday gift. My three year old nephew and his five year old sister spent all morning "fixing things".
The personalization made it even better and was good for the two kids to learn about sharing.
Big kid asked little kid if he would share. Beautiful.

Great 1st birthday gift
By
Shopper

(Plain City, OH) - April 8, 2011
I bought this for a 1st birthday gift and absolutely LOVE it! Sturdy plastic a reasonable price!

Perfect gift
By
NELLA M.

(SCHENECTADY, NY) - July 13, 2010 (
See all reviews by this customer
)
This will be a Christmas gift for my son who is only 7 months old now, but I'm sure he will love it. The case is bigger than I thought, but very sturdy, with locking tabs that are still easy to open, and a whole bag of tools inside. These will come in handy when he wants to help his daddy "build" something.

He love the gift!!!
By
Carolina A.

(Miami, FL) - May 19, 2010 (
See all reviews by this customer
)
I sent it as a gift. The baby 1 year old love it. He wanted to sleep with it.

Perfect!!
By
Shopper

(Ravenna, MI) - March 8, 2011
My nephew just turned 2 and he loves to try to fix things right now. He is going to love this tool set. The tools are thick plastic and the pieces are mostly big so they won't be a choking hazard for his little sister. I can't wait to give this to him :)

Loved it!
By
Melanie C.

(San Juan, PR) - December 23, 2010 (
See all reviews by this customer
)
My 2 year old, who found the gift before Christmas, can't get enough of her tools. I love that the colors are unisex, so I don't feel I gave a tool toy to my daughter who looks like if it was more for her boy cousins. She loves it!