1st birthday gift
By
Cheryll S.

(Norristown, PA) - March 18, 2014 (
See all reviews by this customer
)
This item is adorable. Perfect size to hold beach towel, sand toys and sun screen. We are ready for the beach.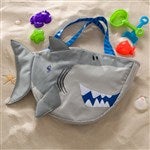 Tote
By
Shopper

(Danvers, MA) - March 16, 2014
Exactly as pictured and described - Adorable!! Happy and excited to give it as a gift!!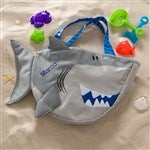 Great Beach Bag for Boys! Great Gift!
By
Irene D.

(Riverview, FL) - June 9, 2013 (
See all reviews by this customer
)
I saw the reviews for this Beach Tote and they were right! This is a wonderful little tote with toy set! I also purchased the dolphin for my daughter. The children loved them! The older child is 6 yrs. old and they still loved it! It also makes for a great gift! I definitely recommend this Tote with Toy Set!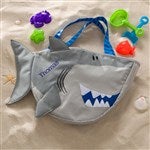 PERSONALIZATION MALL exceeds my expectations AGAIN!
By
Shopper

(Morris, IL) - April 30, 2013
Great bag, great quality, larger than expected, embroidery is perfect!

Very Cute
By
Shopper

(Ashland, NH) - April 27, 2013
Very cute, exactly what I wanted and expected. Material seems to be good quality and will hold up well.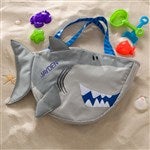 Great gift!
By
Shopper

(Grapevine, TX) - March 12, 2013
I got this gift for my three year old nephew who has "everything" and he loved it! It is such a neat design and like that it can be personalized.

Right size for the beach
By
Jeanne L.

(Methuen, MA) - August 17, 2012 (
See all reviews by this customer
)
My son is 7 years old. He LOVED to get his bag to put all his items in one bag for the beach. We have a house at the beach, so we spend a lot of time there. It is great for him to have his own bag so that he can take his own things back and forth from the house to the beach. It gives him a great sense of pride and responsibility! Additionally, I did not realize the bag came with some of the plastic items for digging, etc. This was a nice added bonus!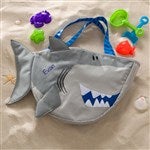 Awesome
By
Paula C.

(Levittown, NY) - April 27, 2012 (
See all reviews by this customer
)
We bought these for our ring bearers and they loved them.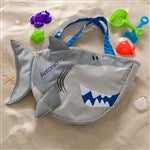 Totally Adorable
By
Shopper

(Dyer, IN) - November 18, 2011
This is a good gift for a kid who has "everything." It's not a big plastic toy that plays music...it's unique and cute. It is very manageable for little hands, and is perfect for toddlers. Easily storable for the colder months as well.

Great Beach Bag for kids
By
Robyn D.

(Oak Brook, IL) - August 1, 2011 (
See all reviews by this customer
)
I personally like this beach bag very much. I disagree with the other reviewers though. If you want your little ones to carry their own beach toys, if you had this bag any bigger and put more toys in it, your little one wouldn't be able to carry it themselves. I would buy this again, it makes a great present especially since it comes with a few beach toys already. When the gift is received, at least the parents know what it is meant for.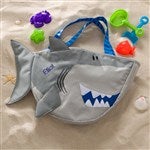 shark beach tote
By
Jaime B.

(San Antonio, TX) - July 31, 2011 (
See all reviews by this customer
)
Very cute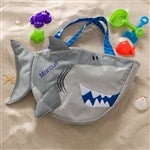 Cute beach tote!
By
Shopper

(Marion, KY) - September 30, 2013
Cute bag. We haven't used yet, but plan to use in a couple of weeks. I think my 3 year grandson will love carrying his beach toys in it. The only thing I don't like about the bag is that it does not have anything to close it with. I plan on putting some velcro on. That should take care of toys falling out. Maybe the company will take care of this on future bags.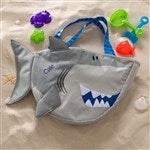 Cute gift
By
Shopper

(Nocona, TX) - August 12, 2013
Item was exactly as described online. It turned out to be really cute, especially with the name embroidered on it. The sand toys were a little inexpensive looking, but I bought several water guns, etc. to place in the bag also to add to the gift value and make it appeal to a child a little older. I'm sure he will love this gift! Really cute!

Shark Tote
By
Shopper

(Silverdale, WA) - August 2, 2012
This tote is super cute and came exactly as pictured. I can't wait to see my son use this tote at the beach with his Grandma.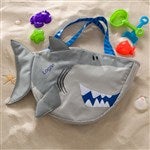 Small But Great Bag
By
Shopper

(Mechanicsville, VA) - July 19, 2011
Bought this bag for my son for his first beach trip. The bag is small in size but was very cute and good quality. I was overall happy with the purchase.

Welcome home gift
By
Sherry S.

(Watkinsville, GA) - July 8, 2011 (
See all reviews by this customer
)
I bought the shark beach bag for my new grandson to use on our upcoming trip to the beach and welcome his family to their new home. He will love it and it is just the right size for suits, towels and toys.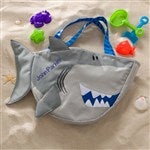 Awesome!
By
Shopper

(Fort Pierce , FL) - May 15, 2013
Love it, super awesome! :)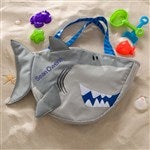 Beach Tote review
By
Pat T.

(Aberdeen, NC) - July 11, 2011 (
See all reviews by this customer
)
This items was a disappointment. Very small and altho cute was cheaply made. I added velcro so toys would stay in bag. Not worth the money!