Very well made
By
Shelley B.

(Apex, NC) - August 23, 2011 (
See all reviews by this customer
)
Amazingly wonderful wall hanging. I really appreciate the creativity of the design, and the colors worked perfectly for my home. Print is perfect size and personalized portion looked just like the rest of the print that is dictated. Great product! A friend of mine will be ordering one shortly because she loved mine so much!

Awesome wedding gift idea!
By
Sandra F.

(Columbus, IN) - August 23, 2011 (
See all reviews by this customer
)
I was shopping for a personalized ornament and after completing my order noticed there were other wedding gifts. I was looking for a unique shower gift for my daughter that would be something other than kitchen or bathroom accessories. This is the perfect gift! It brought her to tears when she read everything and it was really great knowing I chose something that meant so much to her.

Just what I had in mind!
By
Shopper

(Litchfield, MN) - August 22, 2011
I wanted to find something more personal for my brother and his new wife for their wedding gift instead of the typical wedding gift of kitchen items and gift cards. I was so excited when I found this on this website as it was just what I had in mind and I couldn't have been happier with how it turned out!! I ordered it mainly based upon other customer's reviews. So, thank you fellow reviewers and you personalization mall for helping find the perfect gift! I will use this site again no doubt!!

Shower gift
By
Shopper

(Zwingle, IA) - August 22, 2011
I purchased the personalized canvas artwork for my daughter and her fiance. I fell in love with it the moment I opened it! I knew for sure that the two of them would love it as well. It was great capturing words and phrases that are important to them. Actually, what are the odds of the the couple receiving a duplicate personalized canvas at the shower? Well, they did! The two canvas's were different in the sense that they did not both have the same words/phrases, however, there were some duplicates. My daughter and her fiance plan to hang one in their bedroom and the other in their living room. I told the sister of the groom who ordered the 2nd canvas that it meant that she had good taste. My daugther cried when she opened the gift, she was very touched by it. Thank you, I will certainly be ordering from you again.

I have a comment/suggestion: Currently, you only offer one color scheme for the border and text. The mocho/brown color worked out perfectly in our situation, however, it would be nice to be able to have other color choices as alternative options.

Our Life Together Personalized Canvas Art
By
Barbara P.

(Sharon, PA) - August 21, 2011 (
See all reviews by this customer
)
I purchased this item for my daughter and her fiance and I gave it to her at her bridal shower. It is quite a unique gift, as it can be personalized with many people, things and places, etc., that mean something to them. For example, I included their high school on the canvas, their college, their pet's name, vacation sites, places of employment, hobbies and the like. My daughter and the entire group of people at the shower loved this gift! I have ordered many different items from personalizationmall.com and have been extremely pleased with all of them. Like I said before, these are unique gifts and I never worry that there will be "doubles" on such gifts!!! I will continue to order from your company----the quality is excellent!!!

gift
By
Dawn B.

(La Crosse, WI) - August 21, 2011 (
See all reviews by this customer
)
My Aunt and Uncle loved this personalized gift. She couldn't figure out how I made made it. I will keep this in mind for future gifts.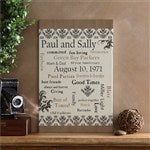 love it!
By
Shopper

(Walnut Creek, CA) - August 21, 2011
i was very pleased with my purchase.. It looks great!

The Perfect Wedding Present
By
Dana F.

(Effingham, IL) - August 20, 2011 (
See all reviews by this customer
)
I bought the Our Life Together© Personalized Canvas Art for my girlfriend's bridal shower. I had never been so excited to give someone a wedding gift, than I was to give this one. She absolutely loved it and so did everyone else!

Best gift of the year
By
Donna L.

(Albany, NY) - August 20, 2011 (
See all reviews by this customer
)
(Best gift of the year) is what the future bride said. she was in tears when she saw how personalized the gift was and all the memories it had. I love shopping on this site everything I have purchased has always been great and the persons who have recieved the gifts love them.

1st Anniversary gift
By
Kelly M.

(Benton, AR) - August 19, 2011 (
See all reviews by this customer
)
I wanted something unique for my son and daughter-in-law's 1st anniversary and this canvas art was the perfect gift! I asked them both to give me words that reminded them of their wedding. I had some words of my own and after putting them all together on the canvas, it turned out perfect!! My Daughter-in-law cried and my son was so pleased with the art! Now they can hang those words in their home and be reminded of all the special thoughts of their wedding day!

Great anniversary gift
By
Shopper

(Langhorne, PA) - August 16, 2011
my husband loved it. It looks like something that took a lot of thought but in reality it was very easy to personalize and make it my own. The size is perfect. Big enough to read easily but not so big you can't find a place to put it. Great gift!

Amazing anniversary gift
By
Darla A.

(Slaton, TX) - August 15, 2011 (
See all reviews by this customer
)
This is a professionally produced print that is unique and personal to your relationship. It was completed lightening fast and will become a family heirloom to treasure.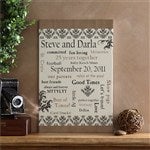 personalized canvas art
By
James B.

(Carneys Point, NJ) - August 14, 2011 (
See all reviews by this customer
)
This was a wedding gift for our daughter and her new husband. We were so pleased when it arrived. It was perfect. we liked the way we could make it so personal and create a memory they will enjoy for a lifetime. Thanks again for your prompt service and fantastic quality.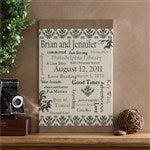 The Perfect Wedding Gift!
By
Debbie W.

(Dyer, IN) - August 9, 2011 (
See all reviews by this customer
)
Ordered the "Our Life Together" canvas art and when it arrived I could not have been more pleased. It is just perfect! So very special and personalized. Thanks for always having just what I want.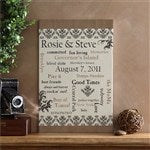 Beautiful Wedding Gift
By
Jennifer F.

(Dayton, OH) - August 9, 2011 (
See all reviews by this customer
)
I bought this canvas as a wedding gift and could not have been more pleased. It is in ready to hang condition and is packaged well to protect it in transit.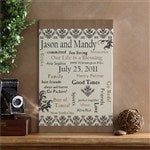 amazing
By
Shopper

(Hampton, VA) - August 8, 2011
I have so many complements on this artwork. I got it for our 6th anniversary and I surprised my husband with this and some other gifts when he arrived from work. He found it beautiful, very cool and romantic. I love it!

The Perfect Gift
By
Shopper

(Petal, MS) - August 8, 2011
Wonderful item. Fantastic Gift

Beautiful gift
By
Shopper

(Windsor, CT) - August 1, 2011
I bought this item for a wedding gift. It was delivered in less then a week, and was beautiful. It is a perfect size to hang on a wall, and of wonderful quality. I use this site all the time, and have yet to be disappointed.

Superior Quality!!
By
Joyce E.

(USAF Academy, CO) - July 26, 2011 (
See all reviews by this customer
)
First of all, I love the ability to preview how MY product will look. It gave me the ability to move things around to my satisfaction. And I was blown away by how wonderful it actually was when it arrived. Friends who have seen it immediately ask for the website and cost. All are very impressed at how affordable. Most express surprise because they expect it to cost two or three times more than it did.
I will certainly be looking for more things to buy as gifts. Thank you for such a high quality, affordable piece of personalized art.

Stunning!
By
Shopper

(Casselberry, FL) - July 25, 2011
This is just a stunning memory of many years... LOVED this!

perfect
By
Sarah Beth M.

(Norfolk, VA) - July 24, 2011 (
See all reviews by this customer
)
I bought this for my husband for his birthday and he loved it. I love the fact that I could personalize it with anything I wanted to say, they give you examples for each line, and I could preview each line to put them exactly where I wanted them also. I have bought products from personalizationmall.com before and I have never been disappointed. Most websites and tv will show you products that look amazing and then when you receive them they look nothing like what was shown, but here you get exactly when they show you, only it looks better when you get it!! This just adds to the list of things I love from here. Thank you personalizationmall.com!!!

5 year anniversary
By
Brooke M.

(Lincoln, NE) - September 1, 2014 (
See all reviews by this customer
)
Gave this to my husband for our anniversary and he loved it. Normally he doesn't like anything with quotes/words but said this brought back some of our best memories and put a smile on his face.. It is a great size and looks wonderful. I do wish it came in more color choices or you could change some of the words that come on it but all in all a great gift I would recommend.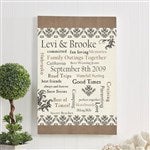 Alternative idea
By
Kirsten A.

(Eau Claire, WI) - June 16, 2014 (
See all reviews by this customer
)
I made one of these as a high school graduation gift for our daughter. I titled it, "Oh the places we've been", and filled in the blanks with the different places we've visited over the years. I liked being able to preview it before submitting it; other sites don't allow that; and it's very affordable and fast. My only criticsm is that there were words on the canvas that I couldn't change or delete. However, it turned out beautiful anyway! Hopefully, it will bring back great memories of our vacations over the years.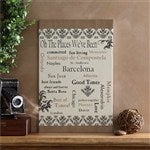 Well received
By
Roland A.

(San Diego, CA) - February 20, 2014 (
See all reviews by this customer
)
My wife loved it! Great V-day gift. Only thing I would change is that some of the wording you can't change, and I would have picked other things to say. Other than that, I thought it was great. Wife really loved it.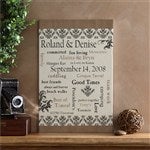 False advertise
By
Shopper

(Vancouver, WA) - February 20, 2014
Love the pic came out very nice!

But you shouldn't advertise guaranteed by a certain day if you can't back it up .....
Rain, snow, or shine

Family story
By
Janet G.

(Seaford, NY) - February 1, 2014 (
See all reviews by this customer
)
Easy website to follow. The wall plaque tells it's own story. Looks great on the wall and made a wonderful anniversary gift.

Frame not necessary
By
Shopper

(Forest, VA) - September 1, 2013
I purchased the frame for $20 extra and it's simply not necessary. The colors don't really coordinate. Something I would change is perhaps the non-personalized lines on the canvas (ie. Good times, Best of times!). Both my husband and I weren't really a fan when we saw it in person. A little cheesy.
Other than that, looks good!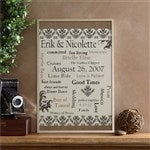 Wonderful way to personalize a wedding gift
By
Mary L.

(Abingdon, MD) - July 1, 2013 (
See all reviews by this customer
)
Was looking for something unique that would capture the happy couple's life together and the personalized canvas art was perfect. Only negative is it's a little smaller than I'd like.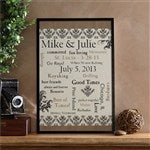 Unique Gift
By
Shopper

(San Benito, TX) - June 10, 2013
I really like this canvas - so easy to personalize. I wish the tan at the top and bottom was a different color. Great gift for the price and you don't have to worry about them already having one!

Anniversary Gift
By
Shopper

(Elkhorn, NE) - June 9, 2013
Not as high quality (light weight) as I expected for $40, but a really cool and nice. Will be easy to display.

Great personal gift!
By
Shopper

(North East, MD) - June 5, 2013
Although I have not seem the gift in person the recipients were thrilled with it!

Great for all occasions
By
Shopper

(Bloomfield , NY) - May 1, 2013
I loved that I got to see the item personalized before I ordered it. I wish there were a few m ore slots for words and I wish there weren't any preset words some of them didn't pertain to me and my boyfriend but overall I was very happy with it.

finished product was beautiful!
By
Shopper

(Twentynine Palms , CA) - April 25, 2013
I loved the way this came out! Personalization does not look like an add on. The canvas was perfect. Similar items on other sites cost 3 times as much. Be careful though, description does not include that some words are not picked by you. commitment, fun loving, best friends, good times. They all come with it. Limits who you can buy it for.

great personalized gift
By
Shopper

(Phoenix, AZ) - March 10, 2013
i loved the ease of creating this gift for a soon-to-be married friend. the final product was just as pictured in the proof, and quick delivery. received in 7 days!

Choked up
By
Greg G.

(Middleburg, FL) - March 1, 2013 (
See all reviews by this customer
)
When I gave this to my wife for our 22nd anniversary she got all choked up. She loved it.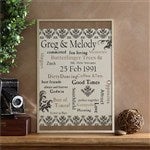 Valentine Gift
By
Shopper

(Armada, MI) - February 16, 2013
I have ordered from PM many times and have always been pleased with the result. This is no exception. Their quality is extremely good and the items arrive very fast. I will continue to order from PM for gifts for family and friends.


Great gift!
By
mirella N.

(tucson, AZ) - January 21, 2013 (
See all reviews by this customer
)
I really like the canvas, allows you to give it a very personal touch. Friends have commented how they like it, and want to know where I got it so they can get one for their family and friends.

Very nice
By
Shopper

(Erlanger, KY) - December 16, 2012
It was a gift that actually meant something. Well received. Wish I had purchased one with frame.

Unique Wedding gift
By
Shopper

(Jacksonville, FL) - October 1, 2012
Overall I am very pleased with how the product came out. One criticism I would have is when creating the text it would be helpful seeing the placement as you go and also to determine where the line is placed and which ones are duplicated.

Could be better, Could be worse
By
karen M.

(Denver, CO) - August 31, 2012 (
See all reviews by this customer
)
I do really like the custom options, and the product looks very nice. It's much larger than I'd anticipated, but that's my fault for not looking at the measurements more closely. But overall I am pleased with how it turned out.