A great gift
By
renee A.

(poughkeepsie, NY) - December 30, 2011 (
See all reviews by this customer
)
This was a great find. When it arrived and I opened it to inspect it I was surprised to have found it wrapped and placed inside a beautiful black bag. When I gave the gift to my husband he loved it. I am very happy with this company. This is the 5th different business card holder I have ordered and they all are great hits.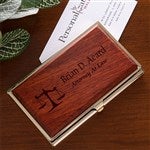 Great Products, Great Service - Never Disappointed
By
Shopper

(Mount Prospect, IL) - November 30, 2011
If you ever want a great gift from a company that produces them and gives great service too, then I unequivocally recommend Personalization Mall. I have NEVER been disappointed with any gift I have bought from them. Do yourself a favor and see their online catalog. Make a purchase and you will be thoroughly delighted with your purchase as will anyone you give a Personalization Mall gift to. And, no, I do not work for Personalization Mall! You will find out that their craftsmanship and service is the best in the business!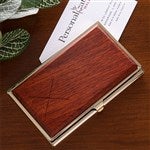 Good Quality
By
Linda K.

(Canada) - October 18, 2011 (
See all reviews by this customer
)
Wow, looks awesome. My sister was very happy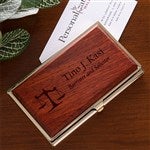 Elegant Reflection on Owner
By
P. Melanie V.

(La Mirada, CA) - December 10, 2013 (
See all reviews by this customer
)
I scoured the Internet to ensure that I made an informed decision before selecting a card case that would represent me as a new attorney with style and class. I am so glad that I didn't purchase the first case I found but continued looking until--and after--I found your rosewood case! Wood has a warmth and elegance that goes beyond the purely metal cases I found in my search, and rosewood is such an uncommonly beautiful wood, that no other case was worthy of my consideration in comparison. The engraving is sharp and clear, with the characters displayed darker than the surface of the wood. Unlike my previous case (from another source), this case's clasp holds firmly so that I need not fear that it may come open in my purse. Upon opening it, I was struck by the high shine of the inside of the lid and realized immediately that, whether intentionally or not, you had provided me with an excellent mirror in which to check that my own personal look was as professional as that of my new case.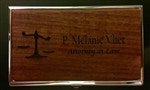 Excellent Quality
By
Shopper

(Colchester, CT) - June 20, 2012
I bought this personalized card case for my niece who graduated from Law School and just passed the Bar ;) It looked nice online but I was pleasantly surprised when it arrived. it was packaged inside a beautiful velvet pouch. The quality of the case and the engraving are outstanding. It has surpassed my expectations. Standard delivery was quick also. Will be back for more gifts in the future.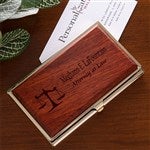 Great Looking Product
By
Bradley J.

(dover, TN) - May 21, 2012 (
See all reviews by this customer
)
I bought this for my wife soon after her passing her bar exam. Recieved it very quickly and it is beautiful. My Wife Loves it!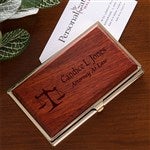 What craftmanship!
By
Patricia F.

(Kentwood, MI) - February 13, 2012 (
See all reviews by this customer
)
I order three rosewood business card cases with the scale of justice logo. I cannot tell you how great the quality of this product was. These gifts are for people that work in the law enforcement field, and they absolutely love them. Thank you for the lovely work that you do.

Rosewood Business Card Case
By
Marie C.

(Lockport, NY) - April 22, 2012 (
See all reviews by this customer
)
This product was as beautiful in my hands as it was on the computer screen. I can not wait to give it to our soon-to-be law school graduate! We know she will be pleased.

Wow
By
Brittany R.

(Houston, TX) - August 9, 2013 (
See all reviews by this customer
)
I love it! My boss loved it too!

Personalized Rosewood Business Card Case
By
Shopper

(Pittsboro, NC) - January 15, 2012
I am VERY happy with this item and cannot wait to give it as a gift. The quality is excellent and the personalizing beautiful. It arrived with standard shipping in only a few days after it was ordered.

Superior Experience
By
Shopper

(Goldsboro, NC) - April 30, 2012
Everything about my the business card holder I purchased for my boyfriend was excellent. It made a great law school graduation gift. I would definitely order again and recommend it to a friend. Please don't hesitate to order, you will be thoroughly IMPRESSED!!!

Love it!!
By
Shopper

(Malta, NY) - December 4, 2012
Bought this as a Christmas gift for my son who will be thrilled with it I'm sure!
The quality is better than expected. Ordered the deluxe box and was disappointed in that but the item itself is fantastic. The card case looks expensive too!

Great Gift
By
Alan F.

(Framingham, MA) - December 5, 2012 (
See all reviews by this customer
)
Bought one for myself a couple of weeks earlier. Loved it so much, I bought one as a gift for my son. The best attributes are the quality, and the professional look it projects.

Great gift...
By
Elana G.

(Northridge, CA) - December 4, 2013 (
See all reviews by this customer
)
I purchased this for my nephew, who just passed the Bar. I'm sure he will enjoy it- great gift for the $$$.

Beautiful
By
Shopper

(Easton, PA) - November 28, 2012
This item is so nice. It arrived in a timely manner. Would order again.

Great gift!
By
Shopper

(Charlotte, NC) - April 30, 2012
Very accurate and professional. Absolutely loved the quality of it.

great gift
By
Shopper

(Babylon, NY) - May 4, 2012
great product, great service with quick delivery

stylish without being gaudy
By
Alan F.

(Framingham, MA) - November 19, 2012 (
See all reviews by this customer
)
Case is well made. It is stylish without being gaudy. Bought it for myself, but would make a perfect gift which would be cherished by the recipient.