Aunt Hellen
By
Joseph L.

(plattsburgh, NY) - June 5, 2012 (
See all reviews by this customer
)
Thank you , this memorial stake is just what Iv'e been looking for.My Aunts grave stone is level with the ground and can be hard to find for some.Now it will be easy.
NICE JOB !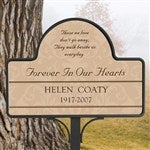 In Memory Of My Grandmother
By
Angel N.

(Bordentown, NJ) - May 10, 2012 (
See all reviews by this customer
)
I will like to say that I am very satisfied with the purchased I decided to get. It looks just like the finialization of my order... I would recommend anyone to use this service. A very satified customer..

Very nice
By
Amy T.

(Charleston, SC) - May 6, 2012 (
See all reviews by this customer
)
I purchased this for my moms grave site until we can order a headstone, I had read a review from another person about how nice it was, and they were VERY correct. The quality is SUPER nice for its price! Company did a great job! Only wish that you could add something to the back perhaps for an additional charge.

MEMORIAL STAKE
By
vickie P.

(moorefield, WV) - May 6, 2012 (
See all reviews by this customer
)
The memorial stake we order for our loved one was perfect. Thanks for having such a fine gift at a resonable price.

Love It!!
By
Shopper

(Schaller, IA) - April 29, 2012
I recently purchased this item, quick delivery!! I love it! I got it for my fathers grave. I did not relize the entire front is magnetic! I haven't yet put it on his grave so I don't know how it holds up in the weather but I love the look of it in person!!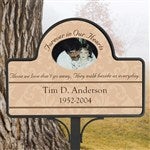 memorial stake with magnet
By
Shopper

(West Lafayette, OH) - April 22, 2012
This was appropriate for a grave marker since I had little money to work with. The stake is well built and secure. The magnet is heavy enough to withstand high winds. The wording is just as I ordered it. Thank you for a product that is well worth the price and shipping.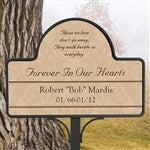 Beautiful way to commemorate my dad
By
Wendy B.

(Hewitt, TX) - April 17, 2012 (
See all reviews by this customer
)
We put this stake in our garden in memory of my dad who loved to garden. We had a picture of him in his gardening hat and all of his veggies. I just needed a medium to display this photo and remember dad every time we tend our garden. This stake is absolutely perfect! It looks to be well made and and seems as though it will withstand the elements well!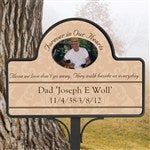 sentimental
By
Shopper

(Ventnor, NJ) - April 9, 2012
Worked perfectly until the gravestone came in. Well made.

Memorial Plague for my beloved son's one year death anniversary
By
Shopper

(Garden City, NY) - December 13, 2011
We purchased this memorial plague to be placed on our son's gravesite for his one year death anniversary. We weren't ready for a headstone yet but wanted something placed there. I put in my order and realized hours later that I had put in the wrong year of death (had entered 2011 instead of 2010. I tried calling but they were closed for the nite. I sent off an email and when I called the next morning first thing they said they had already corrected the error per my email request. Besides this wonderful experience with the customer service dept. (who also offered me their condolences), the plague itself is beautiful. The sentiment on it is comforting and it is so nice for me to now have a picture of my son to look at when I visit him. I would highly recommend this and will definitely be using this company for any other personalization needs I may have in the future.

great quality product
By
VIVIAN N.

(NORWOOD, MA) - December 9, 2011 (
See all reviews by this customer
)
I buy the garden stake,and i love it,best quality product,i will recomend to anyone to order one.I my self will trust this company for any future orders.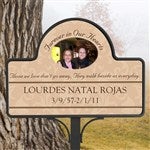 Put this on my sisters grave
By
Deborah A.

(Mechanicsburg , OH) - November 30, 2011 (
See all reviews by this customer
)
I really was pleased with the product it was a heavy stake exceeded my expectations thanks so much for providing this so we can place this on our loved ones graves . The picture came out perfect i uploaded . I surely would recommend this to my friends and family . I loved the verse also was told by friends what a lovely verse .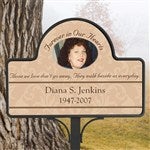 Colorful and nice large size
By
CHARLENE B.

(Stroudsburg, PA) - October 14, 2011 (
See all reviews by this customer
)
We buried our faithful pet underneath our tree and this stake is a nice colorful memory. I was thinking about getting a stone with a photo but with the snow coming, I didn't want it buried. It's nice, colorful and doesn't need any installation. Be sure to buy it as a set (stake and photo).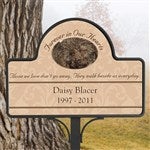 Great Quality, Fast Delivery
By
Shopper

(Sandyville , WV) - August 15, 2011
I was very pleased with the product. I purchased it to put at the gravesite since there is such a wait for the actual headstone. The picture I uploaded was from a cell phone & I was concerned about how the quality of the image would appear. The quality definately exceeded my expectations. We are so happy with this product as it allows us to pay tribute to someone recently lost & missed dearly. Delivery was unbelievably fast too!

love it! super fast shipping!
By
Shopper

(FLEMINGTON, NJ) - August 6, 2011
absolutely beautiful!!!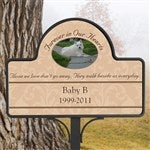 Perfect
By
Pamela W.

(Joppa, MD) - July 17, 2011 (
See all reviews by this customer
)
Received exactly the way it looked online. Very nice.

Memorial Stake
By
Shopper

(Roscoe, IL) - July 10, 2011
Was very pleased with item, in house order to delivery in three days.

Remembering a Loved One...
By
Aimee H.

(Mansfield, TX) - July 5, 2011 (
See all reviews by this customer
)
I bought this to remember my cousin who passed away December 2010. I thought this would be a great item for my Aunt & Uncle to put in their yard where they planted a memorial tree. It was a Fabulous surprise for them, and I am very glad I saw this item and bought it. I have purchased some of the other yard stakes and seasonal magnets, and they are very well made. I was glad when I saw this new photo memorial stake. It is great to be able to remember those who passed and have a small memorial for them. This is a great item.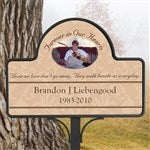 Love it
By
BRENDA G.

(SPARTA, TN) - June 25, 2011 (
See all reviews by this customer
)
I was very pleased with this item.It seems well made and sturdy.The picture looked great.The perfect memorial marker.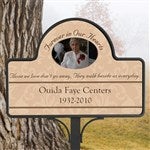 Very Special
By
Amanda B.

(Plainfield, VT) - June 23, 2011 (
See all reviews by this customer
)
I got this for my husband's family who lost their mother/grandmother/friend a month after our wedding. I put it up at our camp where she loved to spend her time and it's just really special for all the family. I always purchase items from personalizationmall.com for all kinds of birthdays but this was the first time I purchased something monumental like this...and I don't regret it at all!

i loved it...
By
Shopper

(Grimes, CA) - June 22, 2011
I Love it!!
it was way netter that i pictured it
and i think im going to order more..

Love it!!!
By
Tiffannie B.

(Clinton, UT) - June 6, 2011 (
See all reviews by this customer
)
It is so cute, way better than I pictured it to look! I love it - thank you!

Beautiful Item
By
Shopper

(Elkton, FL) - July 23, 2013
This a beautiful item, it is well made and the inscription is excellent.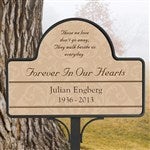 Beautiful Tribute
By
Denise K.

(North Port, FL) - June 12, 2011 (
See all reviews by this customer
)
My 27 year old son died in January, I was looking for a way to honor his name. I ordered two of these markers. One for ashes we are placing this summer and one for our home. We have a tree planted in our yard.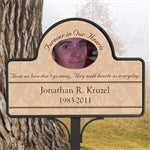 hopeful
By
Patricia E.

(Lorain, OH) - March 24, 2014 (
See all reviews by this customer
)
I was surprised to find the personalization of this item was a printed type of paper that sticks onto the plaque. I am so hoping it won't peel off when exposed to the weather since it is an outdoor plaque. Only time will tell...so I am going to be hopeful. I will advise this fall when I bring the plaque in from my memorial flower garden.

Loved it just wish it was bigger
By
Kelli F.

(Lake Tapps, WA) - October 13, 2013 (
See all reviews by this customer
)
It is beautiful I used it for a roadside memorial but it is too small

Looks good but poor quality
By
Shopper

(Fort Davis, TX) - September 7, 2012
The magnet is really great looking but the stake part is very bad quality. We were trying to just gently push it into soft ground and the whole top part bent in half. There is no way to get it in the ground without bending the extremely soft metal stake.