Great gift
By
GIna L.

(Washington, MO) - August 26, 2014 (
See all reviews by this customer
)
We purchased this item as a gift. It turned out great! The embroidery looked great and the head cover is a good size!

Product features that you like
By
Shopper

(Coral Springs, FL) - August 1, 2014
The Performance Golf Club Cover were an extremely classy, personalized gift item for the boss from staff members! He loved them and even suggested it was time to purchase new golf clubs! We will need to order more covers to accommodate the new clubs! Thank you Personalization Mall for the great gift idea!

Very professional job
By
Michelle S.

(Waldorf, MD) - June 24, 2014 (
See all reviews by this customer
)
The personalization is well centered, perfect lined & looks professionally done. The item itself is well made too.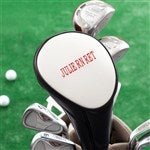 Love it!
By
Shopper

(Memphis, TN) - June 11, 2014
Great equality!! Nicely made and the gift box that you can order is perfect. Also, very quick turn around.

amazing
By
Shopper

(stafford springs, CT) - February 25, 2014
exactly what I expected and the personalization was perfect! can't wait to show it off come spring!

Great gift! Great quality!
By
Sally I.

(Austin, TX) - December 29, 2013 (
See all reviews by this customer
)
I bought this for my 25 year old son! It looks great and he was very pleased. I would certainly order another one if I need a gift for a golfer!

Sally, Austin, TX.

Great piece!
By
Shopper

(Aurora, OH) - December 14, 2013
I think any golf enthusiast would love it! The personalization is perfect and it came in good condition!

unique head cover
By
Shopper

(TURLOCK, CA) - December 10, 2013
I bought two of these for Christmas presents and very pleased with the product. The quality of the product is excellent.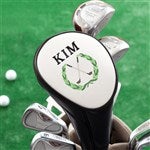 Great Seller, Wonderful Product
By
Shopper

(Fort Lauderdale, FL) - December 5, 2013
I've used the Personalization Mall a few times and I am never disappointed. This item is of great quality. It arrived earlier than expected and was well-packed. I will definitely be shopping at this site again.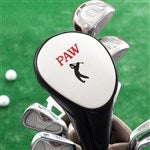 Great Product
By
Shopper

(Jacksonville , FL) - September 25, 2013
I know absolutely nothing about golf and bought this for a golfer. He LOVED it.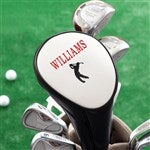 Exactly as pictured
By
Shopper

(Hazelwood, MO) - June 16, 2013
I have not given this gift yet and will know more after it is given to the golfer for whom it was purchased, but from the looks of it, it's exactly as pictured--seems sturdy enough, and is quite attractive. I especially like that it opens and can hold extra tees and markers. I also appreciate the fact that it is pictured so well, my directions were followed, and the service/delivery were prompt. I think it will be a much welcomed item to an avid golfer.

Love the nice surprises
By
Amanda B.

(Canada) - June 10, 2013 (
See all reviews by this customer
)
Maybe I didnt read the product description properly but I had a couple nice surprises when I opened this product! First its a really nice leather type, its on the bigger side so good for your biggest driver. The very top unzips to reveal spaces to keep your tees which is very cool! also the area along the tube is magnetic closure no zipper so its very easy to put on and remove onto the driver (I tried). The leather also continues through the whole cover, where usually on other ones it is a bit like sock material. I also like how everything including the name is stitched in nicely rather than printed on, very good quality. Bought it for my dad for fathers day he is going to love it I recommend this product for the golf lovers out there!

Very High Quality
By
Lenore B.

(Plymouth, MI) - June 3, 2013 (
See all reviews by this customer
)
This product is a very high quality. The embroidery is perfect, and the colors are vibrant. Great addition to my Father's Day gifts for Dad.

Great Looking Head cover
By
Steve D.

(Stockton, CA) - December 24, 2012 (
See all reviews by this customer
)
Head cover was delivered exactly as ordered. The zippered top opens to hold tees. the magnetic sleeve is very convenient for quick off and on. The head cover is in fact large enough for the biggest legal driver. Will be a great gift for my golfer son. May have to order one for me.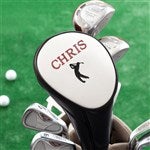 Just what I expected
By
Beth K.

(Gill, MA) - December 24, 2012 (
See all reviews by this customer
)
I love that this site has the "preview" feature. It looks exactly the way I hoped it would.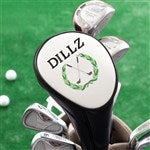 Golfer gift
By
Loraine A.

(Buchanan, NY) - December 10, 2012 (
See all reviews by this customer
)
Not sure what to give a golfer? This item is a perfect suggestion. Good quality, name embroided makes it original.

Great gift for Gil lovers
By
Shopper

(Chino, CA) - November 2, 2012
I bought this gift for my golf coach and it turned out great! Really good quality and I am excited to giv it to my coach this year.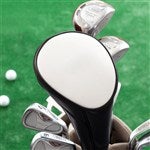 Great gift item!!! Bigger than expected
By
Irene K.

(Canada) - October 15, 2012 (
See all reviews by this customer
)
the name turned out PERFECT ! the cover itself was bigger than expected but it was great. The quality is wonderful. I splurged for the gift box - and it was wrapped better than i could have done. thank you !



Came Quickly and Looks great
By
Shopper

(Hernando, MS) - September 15, 2012
I ordered one of these as a present for my father. It came quickly and looked great--done well. I'm sure he's going to love it. Thank you so much.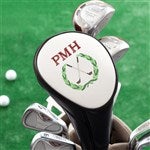 GREAT GIFT FOR GULF GUYS!
By
Shopper

(Chatham, IL) - August 2, 2012
I LOVE Personalization mall - I have ordered several items from them, as well as referred several friends to the site (who also have become great fans)! There hasn't been one item I've ordered so far that I've been anything less than overly happy with. The golf club cover is of high quality leather & is a very nice, personalized gift, for that special golfer in your life!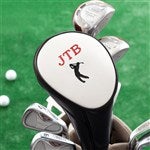 Perfect present!
By
Shopper

(Chula Vista, CA) - July 8, 2012
My boyfriend's daughter knew she wanted to get her dad something for his 35th birthday that he could use when he was golfing, so I got online and found this and another one and sent her the photos so she could choose from them. We recently gave him a guide to texting for Father's Day because she's 12 and in the teenage years, so when it came time to decide what to put as the personalization, we put "143 Daddy" on his club cover. I was on the phone with him when he opened his present and to hear the delight in his voice was sooo worth it! Great gift - thanks again!!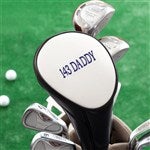 Father's Day Gift
By
Kristin M.

(Mankato, MN) - June 23, 2012 (
See all reviews by this customer
)
Great gift for Father's Day! Dad loved it!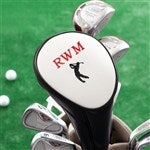 happy
By
catherine C.

(chalfont, PA) - June 23, 2012 (
See all reviews by this customer
)
I was thrilled with my order.
first of all, I was concerned as I was ordering for fathers day and worried it woulnt't get here on time.I was late ordering. The golf head cover was perfect and great quality. thank you. i would recommend you to anyone.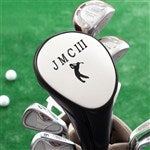 Great quality
By
Tracie S.

(Lake Orion, MI) - June 18, 2012 (
See all reviews by this customer
)
Very unique and the perfect gift for Father's Day!!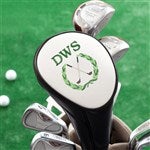 Classy
By
Joan A.

(Skokie, IL) - April 29, 2012 (
See all reviews by this customer
)
My dad LOVED this. He was excited about how it closes magnetically.

GRKGolfClubCover
By
George K.

(Chesapeake, VA) - April 20, 2012 (
See all reviews by this customer
)
The personalized golf club cover is great and certainly exceeds my expectations.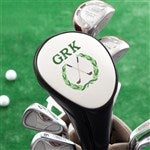 best gift for a husband who likes golf
By
Jennifer N.

(Westminster, CO) - April 2, 2012 (
See all reviews by this customer
)
At first I wasn't sure if my husband would like this gift, or if it would even be the right size. Turns out not only did my husband live it, but his friends thought it was such a cool gift! I'm so glad I did this! :)

extremely satisfied
By
Shopper

(Clarence, NY) - March 26, 2012
I was very happy with the wonderful job that was done on my order. I was a little worried ordering it online and how it would look but it was absolutely perfect and I will not hesitate to order gifts from your company again. Thank you!!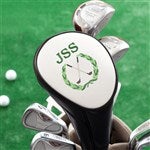 Perfect for dad who has everything!
By
Shopper

(Hamilton, MS) - December 26, 2011
My dad loved this gift. He would never get him one personalized
himself so this was a great idea.

Personalized driver cover
By
Debbie C.

(Putnam Valley, NY) - December 26, 2011 (
See all reviews by this customer
)
The stitching is well done and the colors are clear. My husband loved it!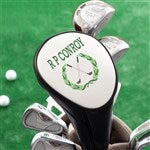 A Birthday Hit!
By
Jamie M.

(Queen Creek, AZ) - September 23, 2011 (
See all reviews by this customer
)
I purchased this cover as a birthday gift for my husband and he loves it! He especially likes the fact that it has a magnetic close. The personalization was great, I had his nickname done in the red thread. It looks great in his UGA themed bag. Many thanks!

Awesome!
By
Swati S.

(Boyds, MD) - September 19, 2011 (
See all reviews by this customer
)
I bought this for my husband for his birthday. He's an avid sports fan - especially football & golf - so this was perfect! I received it a couple days after ordering it and it came exactly the way it was supposed to.
Personalization Mall is pretty awesome - everything I've ever ordered from there has been perfect!!


Great Birthday Gift
By
Shopper

(Clinton, MD) - August 26, 2011
My dad is a golf fanatic and he absolutely loved the personalized golf club cover! The emerald green color only made the gift that much more interesting! I LOVE PersonalizationMall!!!

Perfect replacement for a lost driver cover
By
Lynda K.

(Woodland Hills, CA. 91364, CA) - August 21, 2011 (
See all reviews by this customer
)
A few months ago I bought a new set of Calloway Clubs with black and white leather covers and, unfortunately, lost the driver cover which could not be replaced by Calloway. The cover from Personalized Memories looks as good as the orignal from Calloway and fits my driver perfect. Very Happy! Lynda

unique and classy
By
Shopper

(Commerce, MI) - August 21, 2011
High quality and well made.I am very satisfied with this purchase.

really well made
By
Richard V.

(Snellville, GA) - July 10, 2011 (
See all reviews by this customer
)
I Loved everything about this item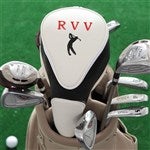 Great Golfer Gift
By
Shopper

(Libertyville, IL) - July 9, 2011
I gave the covers to my husband for Father's Day. He loved them. My brother raved about them so much we just got them for him for his birthday. They look great on their clubs! Would buy again for another golfer!

Excellent
By
Shopper

(Binghamton, NY) - July 5, 2011
Very nice quality and shipped very fast!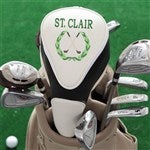 Unique Head Cover E-Z to use
By
Denise M.

(Hicksville, NY) - June 21, 2011 (
See all reviews by this customer
)
My husband was very impressed with this unique headcover. It has a separate little compartment to hold extra tees, but what he liked most about it was the ease of use getting it on and off his new driver. This cover has magnetic closure so there is no need to struggle pulling it on or off - just lift apart the sides and he's ready to go. The quality is very well made and he liked the personalization on the top as well! It is a great gift for the golfer in your life.

Club head covers
By
Adam D.

(Henrietta, NY) - May 15, 2011 (
See all reviews by this customer
)
I ordered the club head covers for my groomsmen in my wedding. They arrived very quickly and seem to be very high quality products. Overall, I am very pleased.