Beautiful
By
Shopper

(Verona, WI) - December 18, 2013
I got this for my mom, in memory of my grandma. She will love this, and likely cry when she opens it for Christmas. Nice product, good quality, fast shipping, and easy to order.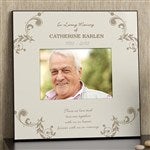 Beautiful but...
By
Shopper

(Trenton, MI) - March 23, 2012
This is a very beautiful frame. I ordered one after my sister passed and then again when my niece passed. It is much nicer in person than it looks online. You will not be disappointed. The only thing I would change is give us a choice to put either a vertical or horizontal picture in the frame. Before you order note that this frame is only for a horizontal picture, Luckily, my fiance is good with photoshop.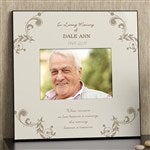 Very pleased
By
Shopper

(BROWNSVILLE, PA) - January 2, 2012
When i presented my husband with this personalized memory dedicated to his mother for christmas he was very moved. It was beautiful and very well done...Thanks for a cherished memory...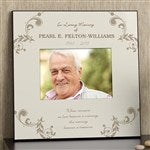 As Shown
By
Carol T.

(Manchester, NH) - January 19, 2014 (
See all reviews by this customer
)
This is a beautiful frame and was given as a gift for a passes co-worker that passed.

In Loving Memory 5x7 Personalized Wall Frame
By
Shopper

(Port Orchard, WA) - October 29, 2011
The frame turned out very nice. I would recommend this item to anyone.

Great Gift
By
Darcie N.

(Crawford, CO) - December 18, 2013 (
See all reviews by this customer
)
I ordered this as a Christmas gift for my mother in-law. It's a beautiful frame. My only disappointment was, you can't stand it up, only hang on the wall.
Hoping she likes it. I will update my review after she receives it.

Cannot sit on table
By
Dennis F.

(Kingsville, MD) - April 30, 2012 (
See all reviews by this customer
)
I think this item is overpriced and it does not sit on a table, it must hang on a wall.

Don't look to closelty and it's OK
By
Kelly M.

(Arbutus , MD) - January 15, 2012 (
See all reviews by this customer
)
I purchased this item in loving memory of my uncle. The color looks better on my computer screen, the actual product has a yellowish tint to it. The text comes out a little fuzzy so if you are a few steps back it is OK but don't look from too close. I would say the workmanship is also poor. Whoever put the laminate on it didn't realize there was a blue thread on the paper and laminated it anyway. I would not recommend this product.

happy, happy, happy!
By
Shopper

(San Bruno, CA) - June 21, 2013
Loved the memory frame, it came so fast, and just what I wanted, just wish it came in a stand up frame too.

Very pleased
By
Shopper

(Kokomo, IN) - December 10, 2012
I was quiet pleased with my purchase. This frame is a lot nicer in real life than the site makes it appear.

In Loving Memory wall frame
By
Shopper

(Canada) - July 23, 2013
This is beautiful, excellent quality. So nice that I could get something like this.

Memorial Frame
By
crystal K.

(goodyear, AZ) - July 3, 2013 (
See all reviews by this customer
)
I bought this frame to have a nice memorial photo of my father. I love this frame. It's sturdy and of good quality. I have no complaints on the frame. I would recommend anyone who is looking for a nice memorial frame to give this frame a shot. It was delivered quickly and priced reasonably.

Nice!
By
Marley Betty S.

(Green Bay, WI) - March 31, 2014 (
See all reviews by this customer
)
Another great product!

Memorial frame
By
Shopper

(Louisville, KY) - November 27, 2013
Very, very nice. Looks expensive and being personalized makes it special.

Beautiful memorial
By
Lynn R.

(Franklin, TN) - August 24, 2012 (
See all reviews by this customer
)
I purchased this frame in memory of my friend's mother who had recently passed away. I loved it because it is more personal than a donation to a charity, and something that the family will always see and treasure. She loved the frame and even chose to use the selected verse on the epitaph. Quite a tribute to Personalization Mall!

Very nice way to remmber a loved one's passing
By
Karen A.

(Rochester, NY) - May 4, 2012 (
See all reviews by this customer
)
I purchased this frame for a relative. He was so overwhelmed at the thoughtfulness, as well as the tribute it served for his Dad and his passing.

Beautiful frame!
By
Randi S.

(Yorkville, IL) - February 22, 2013 (
See all reviews by this customer
)
Got this as a gift for my mother-in-law after she lost her mother. It matches her house decor perfect and is of great quality. She bought a wood tripod like thing to set it on on a shelf instead of hanging on the wall (it is a large frame) and it looks very classy in her house. Was such a nicer gift than flowers that don't last long!

Perfect
By
Shopper

(smithtown, NY) - February 11, 2013
After reading prior reviews I went ahead and ordered I love it - Although it appears to be a true black and white on line - Mine appears to have a ivory case Which I love....very soft. The only negitive is there is no hardwear to hang only a slide hole to accomindate a nail...But overall I love it!