Fun gift
By
Shopper

(Horn Lake, MS) - February 22, 2014
I ordered these books for my grandchildren. A fun gift to give! My Grandchildren love them, were very excited to see their name throughout the book!

Allmost perfect
By
Shopper

(WILLISTON, ND) - February 20, 2014
The coloring books we received for our grandchildren were wonderful, very special. However, we were disappointed that they did not arrive on time due to the recent snow storm. It was interesting that one of the books was delivered on time to a different state.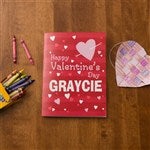 Kids loved them
By
laura Z.

(north wales, PA) - February 14, 2014 (
See all reviews by this customer
)
I gave these books to my kids and they both loved them

Clever, fun gift!
By
sandra H.

(merrick, NY) - February 14, 2014 (
See all reviews by this customer
)
Get Valentine's day gift - Better than candy for little children!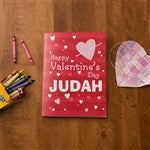 Great Kid Gift
By
Shopper

(Sarasota, FL) - February 12, 2014
I was extremely happy with the quality of the coloring book; from the size of the book to the activities, it is a good product. I ordered for preschoolers, so between the time spent with parents and the pages with their names on it, this special gift won't be soon forgotten!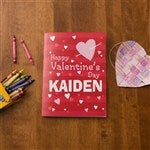 Sweet Gift!
By
Shopper

(POWELL, OH) - February 8, 2014
My 5 yr old grandson just beamed when he opened the crayons and coloring book. He flipped the pages and found his name again and again. There was a little boy that looked a lot like him and had his name!! It was a special gift at a very reasonable price.

size of the book
By
joseph R.

(wallkill, NY) - February 8, 2014 (
See all reviews by this customer
)
my grandchildren loved them, crayons too, I especially liked the personalized cards that I ordered too very pleased with that particular choice!!


clever and cute
By
MILES F.

(NEW YORK, NY) - January 25, 2014 (
See all reviews by this customer
)
I love to give my granddaughter personalized things and she loves to color and draw -- so this item was a serendipitous discovery. Her parents can read it to her and then she can color the drawings which accompany the story which features her name. The box of crayons is a nice addition.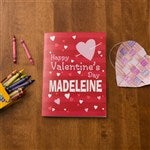 Adorable gift for a child
By
Maribeth K.

(Lisle, IL) - January 13, 2014 (
See all reviews by this customer
)
Thank you for your promptness and ease of receiving this cute color book! Thanks!

Grandson Loves It.
By
Suzanne P.

(Cleveland, TN) - February 16, 2013 (
See all reviews by this customer
)
He loved the fact that it has his name on it. He loved doing the puzzles and coloring his personalized valentines. I have orderd from Personalization Mall for years and have been very satisfied with everything, from order changes,returns or any questions I may have. When I need a unique gift this is the only website I use.

Too Cute!
By
Pamela P.

(Madera, CA) - February 15, 2013 (
See all reviews by this customer
)
Sent these to my great nieces and nephew. The look on their faces in the pic their mom took is pure joy and excitement. Their ages are 5 and twins age 2. They're not only coloring books (box of crayons comes with them) but they're activity books as well. Love the fact their names are on the front cover - no fighting over them (I hope). As usual another 5 star for this site's product!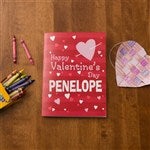 Coloring book
By
Becky S.

(Canton, MI) - February 12, 2013 (
See all reviews by this customer
)
Kids will love these. Thanks

Love it!
By
Shopper

(Belleville, NJ) - February 5, 2013
This product is adorable. I cant wait to give it to my son for Valentines Day!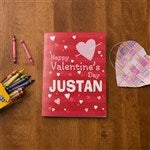 Great quality products
By
Shopper

(Mabank , TX) - January 26, 2013
The gifts I ordered definently exceeded my expectations. They were just perfect for my lil' sweethearts!

Great Valentine's Day gift for my granddaughters!
By
Shopper

(Zephyrhills, FL) - January 23, 2013
I absolutely just love this coloring book! Couldn't have found a more perfect gift for my granddaughters who I know will just love them, especially when they see their very own name not only on the front, but also throughout the entire coloring book . The quality is excellent, sturdy, perfect size, plus with the crayons included, just can't beat it!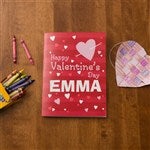 Activity book
By
Shopper

(Richmond, VA, VA) - January 14, 2013
The grandchildren will love seeing their name throughout the activities! Great value!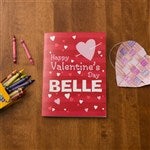 Very Sweet
By
Shopper

(Peosta, IA) - February 20, 2012
I gave this to my 7 year old daughter for Valentine's Day. She thought it was cool that her name was used throughout the coloring book. We have enjoyed one-on-one time coloring together. Great product!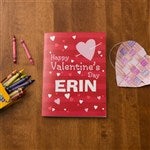 granddaughter just loved it, especially when she saw her name in it!
By
Shopper

(Nanticoke, PA) - February 18, 2012
Very happy with the purchase. Bought it on a hope that it would be nice. It was! My granddaughter thought it was so nice her name was in it, she was thrilled! She is a smart 3 year old!

Happy Valentine's Day!!!!!!!!!!!!!!
By
Julie M.

(North Street, MI) - February 16, 2012 (
See all reviews by this customer
)
I bought 2 of these for my Goddaughters - and they LOVED them - the fact they had their names thru the whole book was so cute! Price was good too!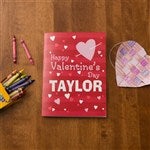 So Pleased!
By
Kristin J.

(Rudolph, WI) - February 16, 2012 (
See all reviews by this customer
)
I was in distress as to what to get my grandchildren that would be special, but I was on a time constraint. I found this site and ordered these and they were fantastic!!! They arrived in a few short days, with no extra charge, and the kids just loved them.

Review
By
Shopper

(Siler City, NC) - February 16, 2012
Very pleased with the products I purchased. Grandkids loved the personalized Valentine coloring books & tee shirt.

Unique Gift
By
Thomas M.

(Louisville, KY) - February 16, 2012 (
See all reviews by this customer
)
My son and daughters, all in their 20's loved this unique Valentines day gift. Inexpensive, fun gift! Great idea!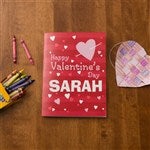 Awesome Happy!
By
Shopper

(Bogue Chitto, MS) - February 14, 2012
My nieces loved their coloring/activity books. Very pleased with this purchase! I wish they offered these is a generic theme as well!

Valentine's gift
By
TONYA M.

(BRONX, NY) - February 11, 2012 (
See all reviews by this customer
)
My niece love the coloring book and seeing her name on the page's great gift!


Amazing
By
Amanda O.

(Elkridge, MD) - February 6, 2012 (
See all reviews by this customer
)
We ordered these books for our two kids for Valentine's Day...and also to announce to them that we are having another baby! We wrote messages on the second page in the conversation hearts and we are going to watch them to see how long it takes them to figure it out. The books are so cute and well worth the cost!

celebrating Raven
By
Shopper

(Lewes, DE) - February 3, 2012
The size of the book was perfect for a 4 year old. The personalization was extremely well done and made the child feel so very special (as she is). She was proud to share it with others and encouraged them to ask their "aunt" to get one for them also.
Thanks for an excellent gift. It was far better even, than the advertisement for it!!!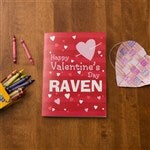 Great gift
By
Shopper

(alto, NM) - January 31, 2012
My grandchildren are going to love this gift! It is of good quality and actually has CRAYOLA crayons with it! This company's products come exactly as described and they ship fast.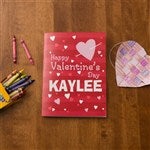 Cute coloring books
By
Shopper

(Naples, FL) - January 29, 2012
Very cute. Nice mix of pictures, puzzles and valentines. Young readers will love seeing their names printed through out the book.

Always top quality
By
Shopper

(Franklin Lakes, NJ) - January 23, 2012
These books are exactly as described. This is a great website.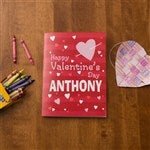 Personalized coloring books
By
Shopper

(Henderson, NV) - January 29, 2014
Realley cute books....the kids love their name on them.
Totally a great gift and exactly as shown in the view when
ordering.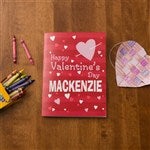 Very cute!
By
Shopper

(River Falls, WI) - February 20, 2012
I thought the book was very cute! The only thing that I didn't like was how the front & the back of the book was easily scratched. It was like the red color of the book was coming off. Other than that, I thought it was very cute.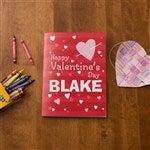 personalized coloring book
By
Shopper

(danville, CA) - January 27, 2012
not what i expected as it is so not worth the money and shipping expense. Looks cheap. Looks as if it came from dollar store. So not happy with this and so surprised as every other product has been good.I hope this is not the way products are going to be as I will not use again.