CLASSY DESIGN
By
Jennifer E.

(Oklahoma City, OK) - August 26, 2013 (
See all reviews by this customer
)
This banner adds charm to the outside of our house and the cost was incredibly low! Recommend this to family and friends!

great product
By
Shopper

(Harrisburg, PA) - August 24, 2013
It was perfect!

Love it!
By
Kim H.

(Derby, KS) - July 28, 2013 (
See all reviews by this customer
)
My flag looks great in my yard. I have had several compliments. It has good quality and color.

My Garden Flag
By
Pamela H.

(Murfreesboro, TN) - July 21, 2013 (
See all reviews by this customer
)
Love my Personalized Garden Flag. Says welcome to our guest in a very elegant way.

Indeed Elegant!
By
Terry A.

(Daphne, AL) - July 1, 2013 (
See all reviews by this customer
)
This beautiful flag is elegant in every way and looks amazing in my front yard. My husband even commented on how nice it is--which is an impressive compliment indeed! Both the lettering and color options I chose are awesome. Once again, Personalization Mall does NOT disappoint! LOVE it!

Classy Flag
By
Amanda H.

(Salt Lake City, UT) - June 16, 2013 (
See all reviews by this customer
)
This flag looks great, is of high quality, and looks elegant. The only down side is it is smaller than I thought, so make sure to read the measurements; but even though it's smaller than expected, it's still a great garden flag! I highly recommend this product.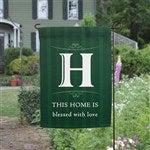 Awesome quality
By
Shopper

(Isanti, MN) - May 15, 2013
This turned out great! It is like a satin fabric. Great quality! I have gotten lots of compliments on it since getting it last week. I put it near my front entrance and it is amazing how much nicer it has made the whole front yard look with just a couple of potted flower plants nearby!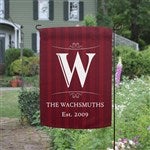 Great Purchase
By
Lee Ann L.

(Fresno, CA) - April 22, 2013 (
See all reviews by this customer
)
I am very pleased with my purchase. Every time I walk up my front steps the personalized flag makes me :-). I would recommend it to anyone who likes a clean and preppy style to be reflected. The black color pops against my beige colored home.

Wonderful gift.
By
Shopper

(Marion, OH) - April 9, 2013
I love gifts that can say exactly what you want and what will mean so much to the person receiving the gift. Highly recommend

Great and Unique!
By
Shopper

(Burleson, TX) - April 8, 2013
I knew I wanted to get my mom a personalized garden flag for part of her birthday present and this was perfect! My mom loved it!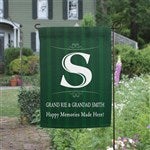 Garden Flag
By
Shopper

(Dudley, GA) - March 19, 2013
Purchased this for 2 individuals. Excellent quality and the personalization provides that special touch you can't find at local retail stores. One of the flags was a HIT at a bridal shower and the other one a family member loves. Love it.

Loved it!
By
Shopper

(Guin, AL) - March 18, 2013
Loved our flag! It's beautiful and just what I wanted. Very fast shipping too.

Great product
By
Jill B.

(Fayetteville, GA) - January 15, 2013 (
See all reviews by this customer
)
My Garden flagged arrived very quickly and looks great...just like the picture. Thanks so much!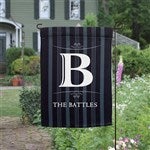 Wonderful product
By
Marie G.

(Springdale, PA) - December 30, 2012 (
See all reviews by this customer
)
I am usually skeptical about ordering on-line, but I was extremely pleased with all the flags I bought. The quality was more than I thought it would be and the writing was on both sides...a definite bonus. The recipient was very pleased and excited, also.

Exactly as I wanted
By
Shopper

(Cuyahoga falls, OH) - December 27, 2012
Ordered the burgandy flag as a christmas gift and it turned out perfect.

Great Flag
By
Mary B.

(Overland Park, KS) - December 26, 2012 (
See all reviews by this customer
)
The flag was very pretty and seems like a high quality fabric. I was very happy with it when it arrived

Awesome!
By
Shopper

(Springfield, VA) - December 20, 2012
So much better quality than expected with 2 sided printing and softness. Ordered several and all were wonderful and correct and fast shipping!

I Love These
By
Feras A.

(Kingston, RI) - December 10, 2012 (
See all reviews by this customer
)
I ordered 5 of these, one of each color and put the names of my family members on each. They are made of a really nice fabric and the lettering isn't just printed on it's within the fabric itself it's very very nice.

Turned out awesome!
By
Ashley N.

(Lakemoor, IL) - December 5, 2012 (
See all reviews by this customer
)
Love the way this turned out. Can't wait to give it to my parents, they will LOVE it!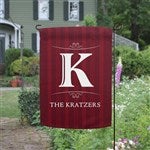 Monogram Personalize Garden Flag
By
DebbieM M.

(New Bern, NC) - November 18, 2012 (
See all reviews by this customer
)
I am thrilled with the appearance of this garden flag. My daughter was recently married and her last name now begins with a Q. This letter is almost impossible to find on any premonogrammed item, (believe me, I've looked long and hard). I am so pleased with this product, as it does indeed look very elegant, and I was able to place their wedding date on the flag as well as their initial. The service could not have been better. The flag arrived within days of my placing the order. I am so pleased I have now placed an order for the monogrammed door mat. Thank you for a terrific product!

Awesome gift idea
By
Shopper

(Flushing, MI) - November 16, 2012
Quality garden flag, looks good.

Extremely pleased
By
Shopper

(Neenah, WI) - October 21, 2012
This flag is beautiful and the quality is excellent. This was purchased as a gift and I am excited to give it. I can see ordering more for weddings, house warmings etc. It arrived in just a few days as well.

Monogram Personalized Garden Flag
By
Charlotte H.

(Belmont, NC) - October 19, 2012 (
See all reviews by this customer
)
We have enjoyed having our garden flag. It is a made of a good quality material. We have never had any kind of flag before and now I have ordered others to change out during the seasons. Great Deal and price on this item and Great seller. would Recommend to purchase from this seller again and again.

Lovely Flag
By
Natasha L.

(Cary, NC) - September 24, 2012 (
See all reviews by this customer
)
This flag is even better than I expected! It's very well made and looks classy.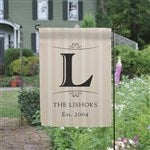 FABULOUS!!
By
Karla W.

(Canada) - September 18, 2012 (
See all reviews by this customer
)
Got this item today and it's just awesome! Flag is made of a nice silky feeling material so it hangs nice and looks beautiful - the preview photo is exactly how the final product looks. I'm super pleased with this and it goes perfectly with the flag stand: well worth the price for both items (flag & stand).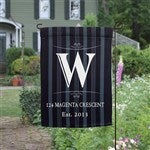 Great Quality and Fast Delivery
By
Courtney F.

(Fort Loudon, PA) - August 21, 2012 (
See all reviews by this customer
)
This product exceeded my exspectations! It arrived very quickly with standard deliervy and of great quailty.

Great wedding shower gift
By
Shopper

(Middletown, CT) - August 19, 2012
This was a great wedding shower gift. The bride loved it. I want one now too!

In Love With It!
By
Katrina S.

(Huntington, WV) - August 3, 2012 (
See all reviews by this customer
)
I'm always wary when it comes to ordering monogrammed items off of the internet but I must say this is the third purchase I've made from PersonalizationMall.com. Their products never fail to be amazing. This flag is of great quality. The monogram looks as though it's something that was intentionally made for a home-goods store. I find that the personalization of it is virtually seamless. I'm very pleased with this product!

Nice Quality
By
Shopper

(Indianapolis, IN) - August 2, 2012
Ordered this flag in the green to hang outside our home. Was very pleased with the quality. I thought the green would be more of a hunter green color but it was more of an olive green. Nonetheless, I love it and was very pleased.

Received so many compliments!
By
Ashley P.

(Thompson, OH) - August 2, 2012 (
See all reviews by this customer
)
Everyone asks "where can I get one of those?" Great quality and extremely sharp looking!

Happy Customer!
By
Elizabeth W.

(US Air Force Academy, CO) - July 29, 2012 (
See all reviews by this customer
)
I ordered a personalized garden flag and the ordering process was so easy. Shipping was also quick! I received my flag and stand in 3 days. The quality is superb! I will be ordering from this company again. Thank you!

excellent
By
Shopper

(louisburg, NC) - July 16, 2012
Very good quality and priced well. Very satisfied. Would recommend.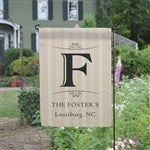 We love this flag!!
By
Shopper

(Neon, KY) - July 5, 2012
I work in a shop that sells flags, and this is one of the better quality flags I have seen. We are "happy campers" and plan to keep it in our RV to use at the edge of our driveway at the campground....I am sure we will be recommending your products to many campers as well. I love the fact that it reads from either side!!

Beautiful Flag!
By
Shopper

(Yukon, OK) - July 2, 2012
I ordered the flag in burgandy, it was beautiful! It almost felt as silk and the monogramming was perfect! So far it looks great in front of our house. I was very pleased!

Real nice flag
By
Bliss H.

(Blytheville, AR) - July 2, 2012 (
See all reviews by this customer
)
I was so excited about this flag. When I received it I was ready to put it out for all to see right away. It's real nice quality material, silky. I just love it!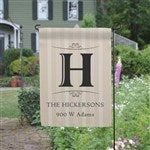 Very Nice!
By
Meredith K.

(Rock Rapids, IA) - June 25, 2012 (
See all reviews by this customer
)
Ended up getting the black K for our cabin at lake. So many compliments!! Super nice!!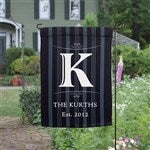 Great Product
By
Shopper

(Jacksonville, FL) - June 22, 2012
Purchased to hang outside, but my husband liked it so much I framed it and hung on wall inside home. Highly recommend!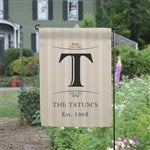 Excellent quality!
By
Margaret K.

(Arlington Heights, IL) - June 22, 2012 (
See all reviews by this customer
)
I ordered this garden flag to mark my daughter's wedding date and it came out beautifully! I am very particular, and this flag exceeded my expectations. The flag was monogramed with their last initial, first names, and their wedding date. Navy blue is one of her colors, so the navy flag worked out great! The flag looks wonderful in our front yard for all to see and admire! I would order another in a heart beat! Fast service and delivery, too!

Very Impressed!
By
Christina H.

(Atlanta, GA) - June 15, 2012 (
See all reviews by this customer
)
After discovering I was too late to order a monogrammed item from a local shop, I was desperate to find a hostess/thank you gift for an upcoming wedding shower. I scoured the internet and found Personalization Mall. I went with this item in good faith based on the reviews others had written and boy was I pleasantly surprised. The quality of the two flags I ordered was great-the material was really nice and very soft. A friend commented that she was going to order herself one because they were so nice. Definitely a great gift or a nice treat for yourself. Both hostesses that received the flags loved them. Thanks Personalization Mall!

You exceed my expectations again!
By
Shopper

(Morris, IL) - June 12, 2012
Beautiful product, looks even nicer in person than online. Great quality, so excited to give as a gift. I want my own now!