Great Gifts
By
Samantha M.

(Silver Spring, MD) - August 29, 2014 (
See all reviews by this customer
)
The quality is excellent. I am completely satisfied with this product

Extra birthday gifts
By
Beverley R.

(Skokie, IL) - August 29, 2014 (
See all reviews by this customer
)
I wanted a little extra present for my two granddaughters birthdays. I couldn't be more pleased--the
mugs are great and the service was outstanding. I have ordered items from you before and will continue
to do so again

Personalized mugs
By
Elizabeth G.

(Trussville, AL) - August 26, 2014 (
See all reviews by this customer
)
These mugs were absolutely fantastic looking and were enhanced with the black handle and black around the lip. The colors came out great and the design was the best I have seen for a personalized mug... I plan to purchase more for Christmas gifts...my granddaughters are so excited to have their own mugs for their hot chocolate. Great buy for the money!!! Great company to do business with and mugs arrived very promptly in time for the girls' birthday...

MY FAVORITE GIFT TO GIVE.
By
felicia R.

(detroit, MI) - August 23, 2014 (
See all reviews by this customer
)
In the past 2 years I have ordered 20 mugs as gifts for friends and family. Everyone loves them and wonder where I got them from.THE COLORS AND QUALITY IS EXCELLENT.

Exactly as you enter name(s)
By
Joyce S.

(Sterling Heights, MI) - August 18, 2014 (
See all reviews by this customer
)
After changing the color combinations multiple times~~our cup arrived looking exactly as the picture. The size - 15 ounces is true.
This is our 4th purchase from this site (varying merchandise) and without a doubt, will make purchases in the future !

Happy Customer!
By
Shopper

(Meridian, ID) - August 16, 2014
The mug I ordered arrived very fast.
The quality is A+.
I will definitely order from Personalization again.

Great Quality
By
Shopper

(Raymore, MO) - August 15, 2014
This is the only place I go for personalized mugs! Great quality, amazing price!

Beautiful mug!
By
Shopper

(Del Valle , TX) - August 11, 2014
Simply beautiful! Mug feels and looks of good high quality. You will not be disappointed

Cup of Love
By
John J.

(Arlington, VA) - August 10, 2014 (
See all reviews by this customer
)
I've given this mug to many, many of my family, friends and associates. Their responses are always the same - "wow! This is great! I really, really love it"! You'll never go wrong in getting this mug for yourself, or others. Looks great, and great quality.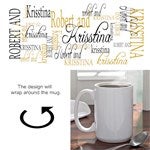 Always Beautiful!
By
Randy P.

(Florence, AZ) - August 5, 2014 (
See all reviews by this customer
)
I have bought so many of these, & they are always perfect! I will be buying more.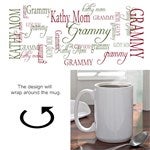 Personalized coffee mugs are SPECTACULAR!
By
Susan K.

(Thousand Oaks, CA) - July 27, 2014 (
See all reviews by this customer
)
Once again, Personalization Mall has a winner! I was looking for something very special to use for our 40th high school reunion as gifts and raffle prizes. This mug turned out exceptionally! The quality is wonderful and I am always amazed at the speed with which they can turn around an order. There are occasional sales but even if I ordered it at full price IT'S WORTH IT!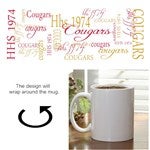 Signature Style Personalized Coffee Mug - 11 oz
By
Sherry G.

(Plano, TX) - July 26, 2014 (
See all reviews by this customer
)
I LOVE my coffee mug! My order arrived within days, was packaged so that there was no risk of breakage, was EXACTLY what I ordered, and was of high quality...I'm only upset that I didn't order a full set...that's exactly what I'll be doing next week, too! I will order all my personalizations here in the future!

Quality!
By
Raul S.

(New Lenox, IL) - July 25, 2014 (
See all reviews by this customer
)
I have several coffee cups but I do not have a personalized cup. I made up my mind to get one personalized for me a and my girl friend. When it arrived it was packaged really well. I took the cup out of the packaging box and could not believe the quality of the cup and how nice the personalizing looked. I think this is my favorite cup and I have several. My girl friend loves her's too.

Shows ownership
By
Joanne L.

(Kent, WA) - July 25, 2014 (
See all reviews by this customer
)
This is a quality cup and is great for myself because I live in a Senior Apartment Bldg.

Perfect gift
By
Susan B.

(Albemarle, NC) - July 21, 2014 (
See all reviews by this customer
)
The personalized mug arrived quickly and was beautifully crafted. The friend I ordered it for was thrilled to get such a special item!


Beautiful!
By
Trudy M.

(Broomfield, CO) - July 19, 2014 (
See all reviews by this customer
)
I am so happy with the quality and look of the mug I ordered. So pretty! In addition, it was so nicely packaged and delivery was very prompt. I am excited to place my next order from Personalization Mall. What a fun place to buy one-of-a-kind gifts.

Fun gift idea
By
Kay P.

(Huntersville, NC) - July 18, 2014 (
See all reviews by this customer
)
One of a kind personal coffee mug. Unique, you choose the colors. Will buy this item again.

Great mug design & quality!
By
Shopper

(Irvine, CA) - July 15, 2014
Ordered this for myself! Great design & high quality printing. Good large size as well. Plan on using it at work so I no longer lose my tea mugs. definitely recommend it.

Awesome gifts! Perfect for large (or small) gatherings
By
Shopper

(Choctaw, OK) - July 4, 2014
I bought these for family members attending reunions or get togethers. They are perfect because everyone has their own mug and they don't mixed up! We all bring them every time we get together and they are great! Good quality. Do watch though - there are two different sizes. I didn't realize that at first and when I placed the second order - they came in different sizes. Not that big a deal but just be aware there is a choice.

My CNA's Loved Them!!
By
Shopper

(Sumrall, MS) - June 27, 2014
I purchased 7 and they were all very pretty! Now more staff members are asking! I used the red and pink with black as my colors.

Perfect Mug
By
Krysten S.

(Alexandria, VA) - June 23, 2014 (
See all reviews by this customer
)
I bought this mug as a bridal shower gift and it was absolutely perfect! I will definitely buy more and even one for myself! :)

Love it
By
Shopper

(Salisbury, MD) - June 22, 2014
This came out better than expected. It was a great gift for my sister and she loved it. I put her name along with her family nickname on it.

Exactly as advertised
By
Cecilia R.

(San Jose, CA) - June 22, 2014 (
See all reviews by this customer
)
Using these as a gift for our bridesmaids and they look great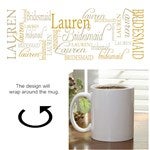 Really great mug
By
Shopper

(Lorena, TX) - June 20, 2014
I ordered this for my son's step dad for Father's Day and was surprised at the quality. It is really great and the names are done in beautiful script. I am completely satisfied.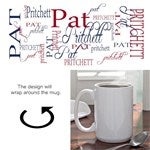 Coffee Mugs
By
Shopper

(Framingham, MA) - June 14, 2014
Just as the picture gave an example of names on a coffee mugs, my present of coffee mugs were exactly the same . The purchase was easy and user friendly and the arrival of the mugs came within a couple of days. This is my second coffee mug purchase

Great item!
By
Jennifer M.

(Cheektowaga, NY) - June 10, 2014 (
See all reviews by this customer
)
Can't wait to give as a gift. Great quality, vibrant colors...would definitely buy again!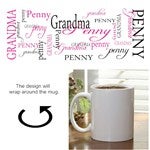 Everyone was happy with the surprise cups, the colors matched the occasion.
By
Shopper

(Colorado Springs, CO) - June 3, 2014
All 4 cups were well received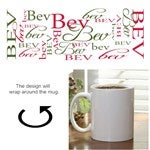 CLASSY & GORGEOUS MUGS (& CARDS)!!
As usual, this website is the BEST! My hubby and I ordered this mug for his son's Father's Day present and also ordered a personalized card - as well. We also ordered one mug for his wife's (our daughter-in-law) birthday on June 12th and a card, too. I also got a personalized card to add to a housewarming gift for my best friend and fiancé in southwest Florida. The gifts from this website always garner much attention. The 3 cards (EACH ONE) are in their own very sturdy cardboard holders and the mugs, too, are in their very own sturdy mug boxes. Love, love, love this website - never a mistake or cheap looking gifts!

Another great gift item from this store!
By
Shopper

(Athens, TN) - May 27, 2014
This is a quality item with a great look that I was proud to give. It looked exactly as expected.

I love ordering from Personalization Mall and always get compliments on the gifts I give. The customer service is excellent and the turnaround time is super-fast, In fact, I ordered this mug on a Monday and received it on Thursday.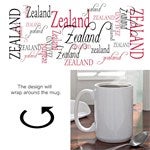 Turned out great!
By
Shopper

(Wichita, KS) - May 27, 2014
Bought this for a special birthday and was very satisfied. Really enjoyed "designing" it myself. Delivery was fast and efficient. Will order again.

Excellent service
By
Shopper

(KINGSVILLE, TX) - May 26, 2014
We needed two Fathers Day-themed items for our monthly church fundraiser and Personalization.com came through with flying colors. The mugs were clearly the crowd favorites.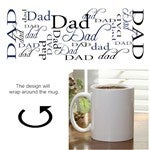 very nice cups
By
Shopper

(Farina, IL) - May 26, 2014
would order again.....love the choice of text colors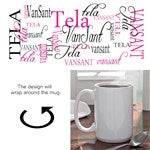 These are lovely!
By
Randy P.

(Florence, AZ) - May 26, 2014 (
See all reviews by this customer
)
These mugs are so cute! I have ordered so many for gifts, & everyone loves them & ask where I get them.
I will be ordering more.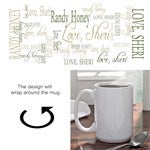 Beutiful!
By
Patricia C.

(Eatontown, NJ) - May 23, 2014 (
See all reviews by this customer
)
The graphics were crisp and the colors true. Love the look of the mug. I combined the first name of a friend with her favorite saying. Looks great! Had fun trying different color combinations and text.

Best Mug Ever!!
By
hae jung K.

(los angeles, CA) - May 23, 2014 (
See all reviews by this customer
)
The printing on the mug looks gorgeous and the quality of the mug is strong. I bought 4 cups and plan to buy more in the future. My bridesmaids would love this mug along with their morning coffee. Highly recommended! :)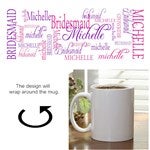 Nice Wedding Gift
By
Shopper

(Florence, SC) - May 19, 2014
I ordered several of these for gifts. On the ones I previously ordered, I ordered those in the college colors for each recipient. I have been pleased with everything I have ordered from PM and even pleasantly surprised with the quality of the merchandise. I have ordered merchandise from them before and will definitely be ordering from them again.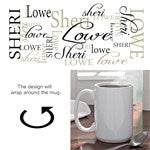 Best Personalized Mug EVER!!
By
Theresa L.

(McKean, PA) - May 15, 2014 (
See all reviews by this customer
)
Not only does the mug look great but the handle is comfortable to hold and it's just the right size for a decent amount of coffee or tea.

Coffee mug
By
Shopper

(Philadelphia , PA) - May 13, 2014
I am very happy with this website from the extremely user friendlyness to the quality of the product to the on time delivery. I will definetly be back and will recommend this site to family n friends

Great company...great mugs!
By
Shirley G.

(Cornelius, NC) - May 12, 2014 (
See all reviews by this customer
)
This isn't the first time I've ordered mugs from this company. Each time the order arrived in a very timely manor and the merchandise was exactly what I expected. Good prices, good merchandise...cannot go wrong ordering your personalized merchandise from this source.

Excellent choice
By
Joyce M.

(Nantucket, MA) - May 10, 2014 (
See all reviews by this customer
)
Hi, just received the mugs I had personalized for the "unique ladies" of Unique Standard Poodles. The mugs are perfect thank you gifts for the group.

Your site allowed me the option of selecting different color combos for the mugs and allowed me to see the finished product before my purchase. The mugs were exactly printed as ordered. Thank you for your attention to detail and speedy delivery service, It was great doing business with such a reliable firm. I will be back shopping again in the near future.