A Perfect Baptism Memento
By
Shopper

(Queens Village, NY) - October 28, 2013
I had this medallion shipped directly to the recipient, and it was so well received and enjoyed. It's a wonderful permanent memento of a very special day and was just the type of gift for which I was searching. I am so glad I took a look at the suggestions at PersonalizationMall.com.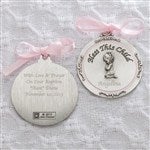 Excellent Item
By
Shannon H.

(Brainerd, MN) - October 1, 2013 (
See all reviews by this customer
)
We couldn't be happier with this purchase. I was worried because I didn't find the same one we ordered for our son 3 years ago that had a saint on it, but this worked as a replacement. Very nice quality piece, the personalization was exactly as ordered and it shipped out the very next day! We are very satisfied and will continue to order from personalizationmall.com! Thank you.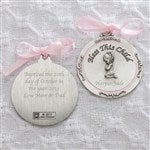 Lovely
By
Kim L.

(Lynnfield, MA) - September 18, 2013 (
See all reviews by this customer
)
I was very pleased with this medallion. It's solid and feels nicely heavy like a quality medallion should.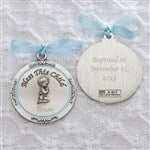 Wonderful
By
Judy W.

(Pearl, MS) - September 9, 2013 (
See all reviews by this customer
)
I was so happy to come across the opportunity to order this medallion. It is a precious keepsake and already carries deep sentimental value. I am quite pleased with this product; it will be cherished. The quality is impeccable. Thank you so much.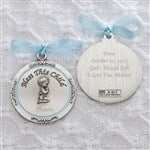 Wonderful gift
By
Shopper

(Brookfield, WI) - August 25, 2013
This is a beautiful new baby or Baptism gift! Can easily be untied from the crib and place under the mattress as the child gets older.

Crib Medal
By
Gretchen C.

(Torrington, WY) - July 26, 2013 (
See all reviews by this customer
)
The medallion is of high quality. The personalization, however, should be bolder. It's somewhat difficult to read.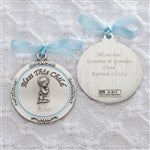 Crib Medallion
By
Pamela C. R.

(North Charleston,, SC) - July 25, 2013 (
See all reviews by this customer
)
Beautiful item and it arrived right on time.

Great baptism gift
By
Kathryn P.

(Davie, FL) - June 29, 2013 (
See all reviews by this customer
)
I have ordered several items and I have been so pleased. This was just adorable for my grandson on his special day.A perfect gift!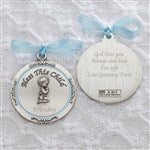 Great gift for expecting friends
By
Shopper

(MEDFORD, MA) - June 17, 2013
Friends loved it. Very original, and personal.

crib medallion
By
Shopper

(Mount Juliet, TN) - April 13, 2013
It was a little bigger than I had thought it would be, but it was perfect.

Perfect gift
By
Judith O.

(Tampa, FL) - March 17, 2013 (
See all reviews by this customer
)
It looked great. A keep sake for sure. Very happy with this.

love it!!
By
Shopper

(Bloomfield, NJ) - February 5, 2013
This item is fit for a prince!! Very great quality!!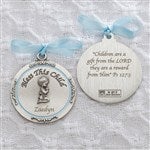 Great gift for a baptism!
By
Shopper

(Leesburg , VA) - January 21, 2013
Great gift and it delivered before the arrival date.

Beautiful Crib Medallion
By
Patricia T.

(Waterford, PA) - January 21, 2013 (
See all reviews by this customer
)
Again Personalization Mall has gone above my expectations !! I ordered this crib medallion for my new granddaughter Olivia and it is beautiful-- medallion is very good quality, personalization was exactly what I requested and it came in a beautiful velvet bag! I`ve never been disappointed by anything I have gotten from Personalization Mall and the recipients always give me rave reviews! Price was very reasonable and of course, personalization was free which in today`s times is a true deal !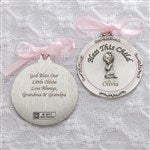 Better than I even anticipated!
By
Shopper

(Cape Coral, FL) - January 14, 2013
I have been ordering from this company since 2011, I have also turned my daughters on to this company and all our orders have arrived on time and the quality far surpasses our expectations!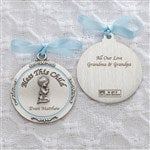 Beautiful
By
margie S.

(cumming, GA) - January 11, 2013 (
See all reviews by this customer
)
It was even better than I expected. My daughter and son-in-law loved it. I will buy this again for another Christening

Absolutely Perfect!!!
By
Shopper

(West Park, FL) - December 24, 2012
I got this for my Godson and I was pleasantly surprised as it is absolutely perfect!! The attention to detail is just awesome!!

Beautiful
By
D H.

(El Paso, TX) - December 21, 2012 (
See all reviews by this customer
)
This is so beautiful! Thank you. I am always so pleased with all the purchases that I have received. Always on time as well.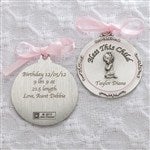 Beautiful!
By
Shopper

(Arlington, TX) - December 8, 2012
Very nicely engraved & a great gift. Was smaller than I had expected but it is beautiful. Will be nice for child to keep forever!

for my granddaughter's dedication day
By
brenda T.

(tioga, LA) - September 11, 2012 (
See all reviews by this customer
)
I was extremely pleased with the crib medallion. My son and daughter-in-law loved it. The medallion was very well made and wasn't cheap looking. The font and inscription was beautiful.

Personalized Crib Medallion - Boy
By
Rosanne E.

(Canada) - September 6, 2012 (
See all reviews by this customer
)
The Medallion was larger than I anticipated so I was surprised and delighted by that as well as the weight. However, I was disappointed in the length of time it took to arrive and the cost of delivery was more than the gift. I did not like the 'gift bag' it came in as it had advertising written all over it.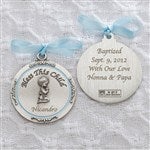 Perfect size
By
Shopper

(fort myers, FL) - August 20, 2012
I wanted to find something that wasnt to big for a keepsake. This is perfect. Looks really nice.

Debbie
By
Deborah T.

(Boothbay, ME) - August 18, 2012 (
See all reviews by this customer
)
Very nice item for the price. Made a great christening gift.


Great gift!
By
Stephanie M.

(South Bend, IN) - August 7, 2012 (
See all reviews by this customer
)
Medallion was an exact replica of the preview I viewed before purchasing. Very happy with the product! Parents loves the gift due to the engraving. Great personal touch.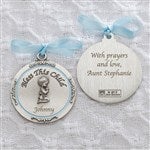 medallion for boy
By
Maria Rose R.

(yonkers, NY) - July 20, 2012 (
See all reviews by this customer
)
I got this for my niece's baby baptism. I wanted to give something that was more personal than just giving a cash gift. This reminded me of the medal my mother had pinned to my tee shirt when I was small but mine never had my name on it and I couldn't put it on a chain to wear. This is much nicer than just a medal with a favorite saint. The pewter is very nice and if worn around neck won't tarnish like a silver one will. I am considering getting more for my grand children so they could have one too.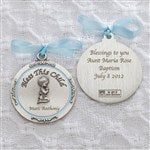 Gorgeous
By
Annette K.

(Rosenberg, TX) - July 13, 2012 (
See all reviews by this customer
)
This medallion for our little grandson was produced quickly, yet with very good quality. There were absolutely no scratches or odd marks on it at all. I am so pleased with PersonalizationMall.com. This is a great company that really cares about the quality of their work and the timely delivery of their products. Thank you PersonalizationMall.com. I have already bookmarked this site for all of my future purchases!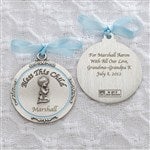 Beautiful
By
Stephanie D.

(Shreveport, LA) - July 11, 2012 (
See all reviews by this customer
)
Great quality, very pretty. The only thing I wish was different was having a pin attached to the ribbon that way I could pin it to the crib sheet instead of having to find something to tie it to. All in all I'm 100% satisfied with it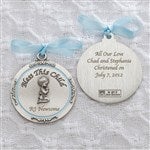 Bless This Child
By
Cindy B.

(Clermont, FL) - June 9, 2012 (
See all reviews by this customer
)
I was very satisfied with this purchase and the quality of it. I know that my grandchild will have this keepsake forever.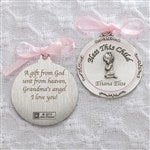 great gift for a bby
By
jean P.

(Central Islip, NY) - May 11, 2012 (
See all reviews by this customer
)
The bless this child crib medallion is a very nice gift selection. at first I thought it was going to be very small and cheap looking, but to my surprise it was just the right size and looks great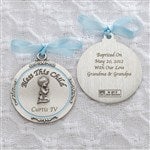 Beautiful Memento
By
Shopper

(philadelphia, PA) - May 8, 2012
I was pleasantly surprised at just how beautiful this crib medallion was in person. I also appreciated how much "space" I could use to personalize the engraving on the back. The perfect gift to commemorate my grandniece's dedication. My only complaint would be that her engraved name didn't appear deep or dark enough, but aside from that....beautiful!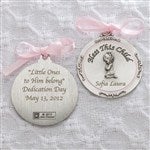 Wonderful gift for baptism
By
Mary K R.

(Wooster, OH) - May 4, 2012 (
See all reviews by this customer
)
This pewter medallion is sharp looking and a lasting gift for my grandson to keep from me to commemorate his baptism. I could not be more pleased with
Personalization Mall. They are efficient, and shipping was on time as they promised. I would buy from them again and would recommend them to everyone.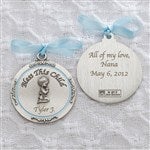 Nice Medallion
By
Shopper

(Saint John, IN) - September 7, 2013
Puchased this for nephew's Christening with date engraved on the back. Don't know if they will pin it in the crib, but it will be a nice keepsake for the ocassion.

Perfect keepsake
By
Pamela I.

(Bloomingdale, IL) - May 26, 2013 (
See all reviews by this customer
)
The Crib Medallion arrived on time, and was shipped very securely wrapped in tissue, bubble wrap & a black pull string bag. It's the perfect keepsake. It's larger & heavier than I expected. I do wish the personalized engraving was bolder to match the rest of the medallion, so my granddaughter's name stood out more.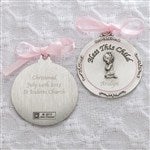 Cute Metal
By
Shopper

(Beaumont, CA) - May 18, 2013
Very nice little metal I got for a baptism, but I had Lauren engraved on the front and it was really small. There was definitely room to go bigger. The name came a lot smaller then the picture looked on the preview.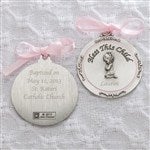 Satisfied
By
Shopper

(Hamilton, IN) - April 13, 2013
I thought the crib medallion was cute and a great gift, I only wish the name engraved on the front could have some how been darker. I found the name was hard to read. I'm still satisfied with the product.

Nice
By
Shopper

(Miller, SD) - February 17, 2013
This is nice quality. Was larger than i envisioned but did not look at size before i bought it. Made a nice gift for baptism.

crib medallioj\n
By
Shopper

(Collierville, TN) - February 4, 2013
Great except the pre-engraved portion is so much deeper than the personalized engraved portion. It is so lightly engraved its very hard to read.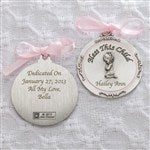 Lovely Gift!
By
Anna B.

(Pineville, LA) - December 25, 2012 (
See all reviews by this customer
)
Beautiful gift. The inscription was a little hard to see, but overall, just beautiful!

keepsake
By
Shopper

(Cornwall, NY) - December 16, 2012
I am happy with keepsake for a new baby.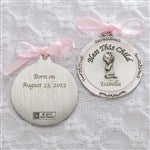 Very special
By
Shopper

(Bennington, VT) - November 13, 2012
Better than I imagined. They are bigger than I thought and would make a great gift for any baby. The only complaint is that I wish the name appeared a little darker hard to read as it is very light lettering.